FREE SHIPPING USA ONLY. International Customers: Please add international shipping: http://m.onesmedia.com/category/313432
THE CARTER SISTERS
OLD TIME RADIO - 1 CD - 16 mp3 - Total Playtime: 3:33:00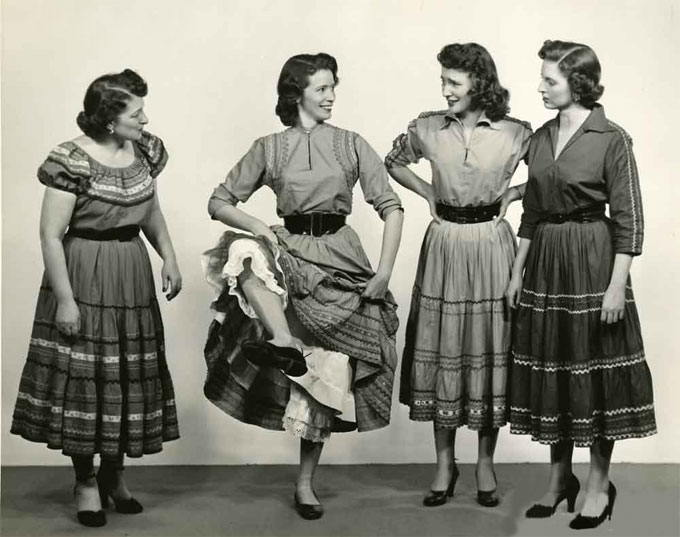 The Carter Sisters, (better known as their later moniker, The Carter Family) were an American singing quartet consisting of Maybelle Carter and her daughters June Carter Cash, Helen Carter, and Anita Carter. Formed during World War II, the group recorded and performed into the 1990s.
In the 1920s through the early 1940s, Maybelle Carter was part of the historic country music trio The Carter Family with her cousin Sara Carter and Sara's husband A. P. Carter. Maybelle's contribution to the group was singing harmony to Sara's lead vocal as well as playing guitar. Maybelle was married to A.P.'s brother Ezra Carter and had three children: June, Helen, and Anita.
In March 1943, when the original Carter Family trio stopped recording together after their WBT-AM contract ended, Maybelle Carter formed "Maybelle Carter & the Carter Sisters" with her three daughters June, Helen and Anita. Maybelle's daughters had frequently appeared with The Carter Family on their radio broadcasts of the early 1940s. The girls were young when the new act began: June at age 14; Helen, 16; and Anita, the youngest, at age 10.
The group was said to have been a mix of traditional songs of the original Carter Family with pop, gospel, and vaudeville comedy. Each daughter made her own contribution to the band.

Helen: vocals, guitar, and accordion
Anita: vocals, guitar, and bass fiddle
June: vocals, autoharp, guitar, banjo, piano, dance, and comedy (Although she could carry a tune, June struggled with pitch problems and soon began to focus more on her comedic addition to the group than her singing.)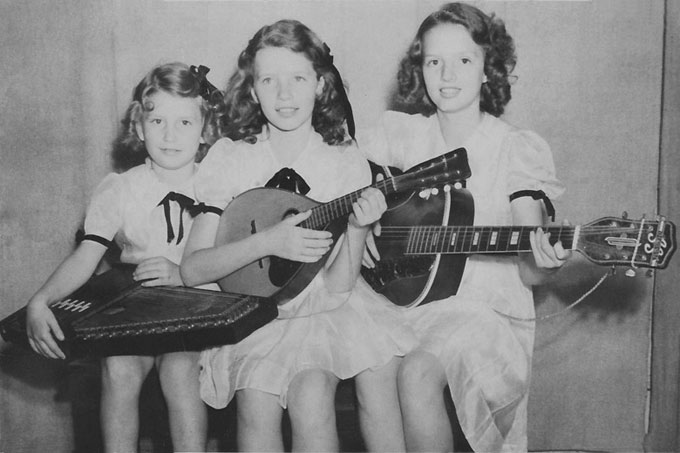 The group (originally from Poor Valley, Virginia) made their first move to Richmond, Virginia in 1943. (They were reported as having kept their travel low key, with their father Ezra driving the group in a van to and from their destinations.) The new group first aired on radio station WRNL in Richmond on June 1, 1943. This broadcast would serve as their first commercially sponsored program and their first radio debut as "Mother Maybelle and the Carter Sisters." The girls' next big break was offered to them by "Sunshine Sue" of WRVA-AM. In September 1946 the group was asked to be a part of The Old Dominion Barn Dance on WRVA. The show had just begun and started small, however by the end of its first year was selling out its 1,400 seat theater twice a night, every Saturday. The group soon became a headliner for the show. Having spent five years in Richmond, the girls were yet again offered a job opportunity, this time in Knoxville, Tennessee.
In 1948, towards the end of their time in Richmond, the girls were offered the chance to work for WNOX-AM in Knoxville. They accepted and were then played on both the evening show, Tennessee Barn Dance; and the daily show, Mid-Day Merry-Go-Round.
Now known as The Carter Sisters, the group released its first record on February 2, 1949, produced in Atlanta, Georgia through RCA Victor records. The group recorded many singles in the 1950s. The sisters also individually released occasional single records but none of their recordings in this era were particularly successful, despite their fame and popularity as a concert act.
In June 1950 the group was offered a job at the Grand Ole Opry in Nashville, Tennessee. They accepted and their performances became some of their most famous and valued work. They performed with famous names such as Elvis Presley, Carl Smith (June's husband at the time), Ernest Tubb, and Johnny Cash and spent roughly ten years working the Grand Ole Opry as well as on various other radio broadcasts. They beacme members of the Opry in the early 1950s. June also began making frequent solo performances in concert and on television during this era.
Following the death of A. P. Carter in 1960, Maybelle officially renamed the girls' group "The Carter Family" after the original act. In 1963 The Carter Family joined the Johnny Cash road show. During this period, all four members of the group occasionally recorded as solo artists; June and Helen released a number of singles that failed to chart (June would later have a solo hit in 1971 with "A Good Man" and many very successful duets with husband Johnny Cash); Anita had several minor chart records and a hit duet with Waylon Jennings, "I Got You", in 1967. Maybelle Carter recorded a number of solo albums, mostly instrumental performances, and in 1967 reunited with Sara Carter for an album of old-timey music.
In 1969 it was announced that the group would disband, but in truth the act continued and actually enjoyed its greatest success in the early 1970s with regular appearances on television's The Johnny Cash Show and the first major chart hit records of their career. In 1973, the act won "Favorite Country Vocal Group" on the American Music Awards, a surprise victory over the more commercially successful The Statler Brothers and The Osborne Brothers.
In 1989 The Carter Sisters joined The Nitty Gritty Dirt Band for the recording of their Country Music Association's Album of the Year, the followup Will the Circle Be Unbroken, Vol. 2. In 1990, the album was celebrated on the PBS music television program Austin City Limits, which featured a performance by The Carter Sisters of "Keep on the Sunny Side" and with the full ensemble on the Carter Family song, "Will The Circle Be Unbroken", from the original 1972 album.
 
EPISODES LIST
Carter Sisters (01) First Song - Cimmaron (Audition)
Carter Sisters (02) First Song - Country Girl
Carter Sisters (05) First Song - No Vacancies
Carter Sisters (06) First Song - Eight More Miles To Louisville
Carter Sisters (08) First Song - Plain Old Country Girl
Carter Sisters (13) First Song - Stay A Little Longer
Carter Sisters (14) First Song - Wish I Had A Nickel
Carter Sisters (15) First Song - Sugar Hill
Carter Sisters (17) First Song - Divorce C.O.D.
Carter Sisters (18) First Song - An Old Fashioned Hoedown
Carter Sisters (19) First Song - Skip To My Loo
Carter Sisters (20) First Song - Oklahoma City
Carter Sisters (21) First Song - Cindy
Carter Sisters (22) First Song - Sourwood Mountian
Carter Sisters (23) First Song - A Feudin, A Fussin, and A Fightin
Carter Sisters (24) First Song - The Beautiful Morning Glory
THESE ARE MP3 RECORDINGS
THEY WILL NOT PLAY IN REGULAR CD PLAYERS
CLICK HERE TO KNOW MORE ABOUT mp3
CLICK HERE TO LEARN MORE ABOUT OUR PRODUCTS
We guarantee delivery of your item. If your item doesn't get there or is damaged, please notify us and we'll reship for you.
FULL REFUND IF NOT SATISFIED
Item number
OTR-1CD-CarterSisters
Currently there are no reviews available for this product. Be the first to write a review.