FREE SHIPPING USA ONLY. International Customers: Please add international shipping: http://m.onesmedia.com/category/313432
THE ADVENTURES OF LEONIDAS WITHERALL
OLD TIME RADIO - 1 CD - 8 mp3 - Total Playtime: 3:45:16
The Adventures of Leonidas Witherall was a radio mystery series broadcast on Mutual in the mid-1940s.
Based on the novels of Phoebe Atwood Taylor (writing as Alice Tilton), the 30-minute dramas were produced by Roger Bower and starred Walter Hampden as Leonidas Witherall, a New England boys' school instructor in Dalton, Massachusetts, a fictional Boston suburb. Witherall, who resembled William Shakespeare, is an amateur detective and the accomplished author of the "popular Lieutenant Hazeltine stories."
His housekeeper Mrs. Mollett, who in the novels is constantly offering her "candied opinion", was played by Ethel Remey (1895-1979) and Agnes Moorehead and Jack MacBryde appeared as Police Sgt. McCloud. The announcer was Carl Caruso. Milton Kane supplied the music. The series began June 4, 1944 and continued until May 6, 1945.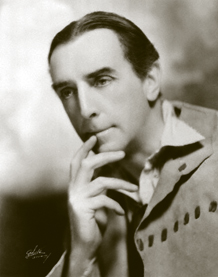 Walter Hampden was one of the great American stage actors and the only performer, aside from Maurice Evans, to play Hamlet three times on Broadway in the post-World War I-era. Born Walter Hampden Dougherty on June 30, 1879, in Brooklyn, New York, he learned his craft in London, where he made his debut as a professional actor in 1901 with the Frank Benson Stock Company. He spent six years apprenticing in England, where he was thoroughly trained as a classical actor. When he returned to the US in 1907, he toured with the great Russian actress Alla Nazimova in a presentation of the plays of Henrik Ibsen.
Hampden played "Hamlet" on Broadway in 1918-1919, in 1925 (with Ethel Barrymore as his Ophelia at his own Hampden's Theatre), and in 1934. His greatest role was that of Edmond Rostand's "Cyrano de Bergerac," a part he first performed in 1923 and that he repeated four more times on the Great White Way.
In 1925 he took over management of the Colonial Theatre, a vaudeville house on Upper Broadway, and renamed it Hampden's Theatre. After christening his house with his second Hamlet on October 10, 1925, he played there with his own company through 1930. Later, Hampden helped launch the American Repertory Theatre, playing Cardinal Wolsey in William Shakespeare's "Henry VIII."
Hampden became revered as the grand old man of the American theater. He was president of the Players' Club for 27 years. His last distinguished role on Broadway was in Arthur Millers parable of McCarthyism, "The Crucible," capping a career that spanned a half-century.
Walter Hampden died on June 11, 1955, just three weeks shy of his 76th birthday.
EPISODES LIST
Leonidas Witherall 440604 - Square Nazi Jack Boot
Leonidas Witherall 440723 - The Case of the Vanishing Housekeeper
Leonidas Witherall 440730 - Mrs Mullet Disappears
Leonidas Witherall 440907 - The Four Killers
Leonidas Witherall 440914 - Murder at Dandy's Dream
Leonidas Witherall 440924 - Murder at the State Fair
Leonidas Witherall 441008 - Murder on the Train
Leonidas Witherall 450422 - The Corpse Meets a Deadline
THESE ARE MP3 RECORDINGS
THEY WILL NOT PLAY IN REGULAR CD PLAYERS
CLICK HERE TO KNOW MORE ABOUT mp3
CLICK HERE TO LEARN MORE ABOUT OUR PRODUCTS
We guarantee delivery of your item. If your item doesn't get there or is damaged, please notify us and we'll reship for you.
FULL REFUND IF NOT SATISFIED
Item number
OTR-1CD-LeonidasWitherall
Currently there are no reviews available for this product. Be the first to write a review.