FREE SHIPPING USA ONLY. International Customers: Please add international shipping: http://m.onesmedia.com/category/313432
KEN MURRAY COLLECTION
OLD TIME RADIO - 1 mp3 CD - 25 Shows - Total Playtime: 20:49:20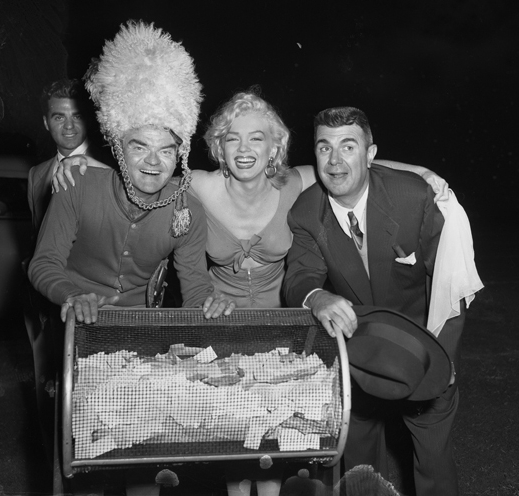 Ken Murray (July 14, 1903 – October 12, 1988) was an American comedian, actor, radio and television personality and author.
Murray was born Kenneth Abner Doncourt in New York City to a family of vaudeville performers. He had an older brother, Joseph. According to Murray's autobiography Life on a Pogo Stick, as a teenager he learned that Joseph was actually his father and the couple whom he thought were his parents were in fact his grandparents. The family withheld the truth from Murray because Joseph, who was also a vaudevillian, did not want the public to know that he had a young son. Joseph had divorced Murray's mother and decided that his parents would provide a more stable life than he was able to as a traveling performer. Murray also wrote of his quest to find his mother in his later years.

Before embarking on a career in show business, Murray changed his name because he did not want to ride the coattails of his father's success; he wanted to make a name for himself.
Vaudeville and stage

Murray got his start in show business on the stage in 1920s as a stand up comedian. He performed his comedy act on the vaudeville circuit and in burlesque. He found success as a stage performer after appearing in Earl Carroll's Vanities on Broadway in 1935.

In the 1940s, Murray became famous for his Blackouts, a racy, stage variety show featuring Marie Wilson (among others) at the El Capitan Theatre on Vine Street in Hollywood. The Blackouts played to "standing room only" audiences for 3,844 performances, ending in 1949. Later that year, the show moved to Broadway with Marie Windsor replacing Marie Wilson. It received devastating reviews and closed after six weeks.

Murray revived the Blackouts on the Las Vegas stage in 1956. The show was a hit and ran for three years.

After finding success on the stage, Murray made his film debut in the 1929 romantic drama Half Marriage, followed by a role in Leathernecking in 1930. During World War II, Murray was one of the many celebrities to volunteer at the Hollywood Canteen. He later was the original host (1945–57) of Queen for a Day, on the Mutual Broadcasting System radio broadcast, which was simulcast on KTSL (now KCBS-TV), Channel 2 in Los Angeles. In 1947, he produced Bill and Coo, a feature film using trained birds and other animals as actors. Bill and Coo won a special Academy Award for "novel and entertaining use of the medium of motion picture" and "artistry and patience" . He was also the host of The Ken Murray Show, a weekly music and comedy show on CBS Television that ran from 1950 and 1953. The show was the first to win a Freedom Foundation Award. Murray also guest starred on several television series including The Ford Show, Starring Tennessee Ernie Ford and The Bing Crosby Show.

Over the course of his career, Murray filmed Hollywood celebrities using his 16mm home movie camera. He began filming the footage to send back home to his grandparents in lieu of writing letters. His grandmother saved the footage which featured Hollywood stars including Douglas Fairbanks, Mary Pickford, Charlie Chaplin and Jean Harlow. Murray later assembled the footage in compilation films such as Hollywood Without Make-Up (1963). Footage filmed by Murray was also used in several television specials including Hollywood: My Home Town and the feature length film Ken Murray's Shooting Stars. In 1966, he appeared in the Walt Disney film Follow Me, Boys!.

Murray was also the author of a number of books, including his autobiography published in 1960, The Golden Days of San Simeon (1971), and the only complete life story in print of Broadway theatre impresario Earl Carroll entitled The Body Merchant (1976)
Ken Murray died on October 12, 1988 at Saint Joseph Medical Center in Burbank, California, aged 85. For his contribution to the radio industry, Murray has a star on the Hollywood Walk of Fame at 1724 Vine Street.
SHOWS LIST
Big Show 50-12-31 Vivian Blaine, Jose Ferrer
Bob Hope Show 470211 Robert Montgomery
Chesterfield Show 51-06-27 Guest - Burl Ives and Ken Murray
Edgar Bergen Show 480404 Barbara Bel Geddes
Mail Call 44-11-29 Bing Crosby
Texaco Star Theater 390913 Valley Forge, Ken Murrey pt1
Texaco Star Theater 390913 Valley Forge, Ken Murrey pt2
Texaco Star Theater 390920 Hedda Hopper, Saturday's Children
Texaco Star Theater 390927 Guest Dale Carnegie, Play 'Secrets'
Texaco Star Theater 391011 Quiz Shows, Kind Lady
Texaco Star Theater 391018 KMurray, FLankford, KBaker E R Burroughs
Texaco Star Theater 391108 Another Language, Theta Bera
Texaco Star Theater 391115 Criminal Code with Bela Lugosi
Texaco Star Theater 391122 Ken Murray Candlelight
Texaco Star Theater 391129 Maurice Evans in Berkley Square
Texaco Star Theater 391206 The Bishop Misbehaves
Texaco Star Theater 391220 Santa Claus Goose Hangs High
Texaco Star Theater 391227 The Great Adventure
Texaco Star Theater 400103 Romance
Texaco Star Theater 400103Romance
Texaco Star Theater 400110 KMurray, FLankford, KBaker Dr Clitterhouse
Texaco Star Theater 400110 Ken Murray, FLankford, K Baker Dr Clitterhouse
Texaco Star Theater 400117 Front Page
Texaco Star Theater 400207 Frances Langford, Kick In
Which is Which 44-12-06 Sydney Greenstreet
THESE ARE MP3 RECORDINGS
THEY WILL NOT PLAY IN REGULAR CD PLAYERS
CLICK HERE TO KNOW MORE ABOUT mp3
CLICK HERE TO LEARN MORE ABOUT OUR PRODUCTS
We guarantee delivery of your item. If your item doesn't get there or is damaged, please notify us and we'll reship for you.
FULL REFUND IF NOT SATISFIED
Item number
OTR-1CD-KenMurray
Currently there are no reviews available for this product. Be the first to write a review.