FREE SHIPPING USA ONLY. International Customers: Please add international shipping: http://m.onesmedia.com/category/313432
TENNESSEE JED SLOAN
OLD TIME RADIO - 1 CD - 22 mp3 - Total Playtime: 6:09:57
Tennessee Jed Sloan aired from 1945 to 1948 was the deadliest man with a rifle ever to ride the plains in the early days of the West. Tennessee Jed was a man who upheld the law.
SHOWS LIST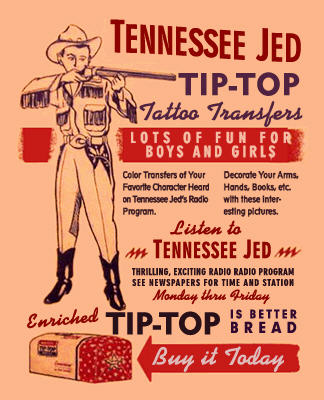 Tennessee Jed 450000 (xxx) Dalton Trouble
Tennessee Jed 450000 (xxx) Gideon Gordon Circle S & Gold
Tennessee Jed 450810 (095) Circle K Cattle Have Hoof And Mouth Disease
Tennessee Jed 451200 (xxx) A Mate for Smokey
Tennessee Jed 451201 (xxx) Dinner Celebration
Tennessee Jed 451205 (064) Captured By Indians
Tennessee Jed 451207 (066) Celebration At The Circle K
Tennessee Jed 451213 (074) The White Stallion
Tennessee Jed 451225 (082) Tennessee Stops A Wagon
Tennessee Jed 451226 (083) Dalton Wants to Renew Civil War
Tennessee Jed 451227 (084) Tennessee Taken To Dalton's Hideout
Tennessee Jed 451228 (085) Dalton Tells The Rat To Kill Tennessee
Tennessee Jed 460111 (095) Dalton Questions Tennessee
Tennessee Jed 460117 (099) Deputy Returns Injured
Tennessee Jed 460122 (102) Tennessee Thwarts A Hanging
Tennessee Jed 460213 (118) Cookstove And Tennessee Held Captive
Tennessee Jed 460306 (133) Bigfoot Tom Plots To Steal Circle K Horses
Tennessee Jed 460311 (136) Rod And Tennessee Caught In Quicksand
Tennessee Jed 460514 (182) Man With Crooked Knife
Tennessee Jed 460521 (187) Slater Tries To Ambush Tennessee
Tennessee Jed 460524 (190) Tennessee And Pancho Switch Stagecoaches
Tennessee Jed 460528 (192) Stagecoach Pushed Off Cliff
THESE ARE MP3 RECORDINGS
THEY WILL NOT PLAY IN REGULAR CD PLAYERS
CLICK HERE TO KNOW MORE ABOUT mp3
CLICK HERE TO LEARN MORE ABOUT OUR PRODUCTS
We guarantee delivery of your item. If your item doesn't get there or is damaged, please notify us and we'll reship for you.
FULL REFUND IF NOT SATISFIED
Item number
OTR-1CD-TenneesseeJed
Currently there are no reviews available for this product. Be the first to write a review.