FREE SHIPPING USA ONLY. International Customers: Please add international shipping: http://m.onesmedia.com/category/313432
LETS GO TO THE OPERA
OLD TIME RADIO - 1 CD - 5 mp3 - Total Playtime: 2:24:08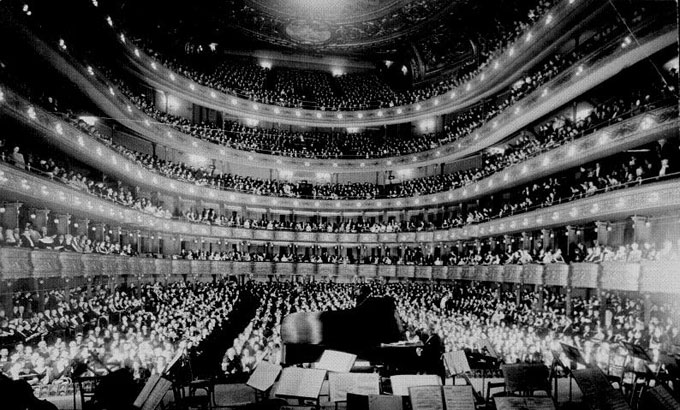 During the war The Book-of-the-Month Club had held its membership to 600,000 because of paper rationing but after the war it launched an aggressive campaign for new members. By the end of March, it had 900,000 members and would pass the million member mark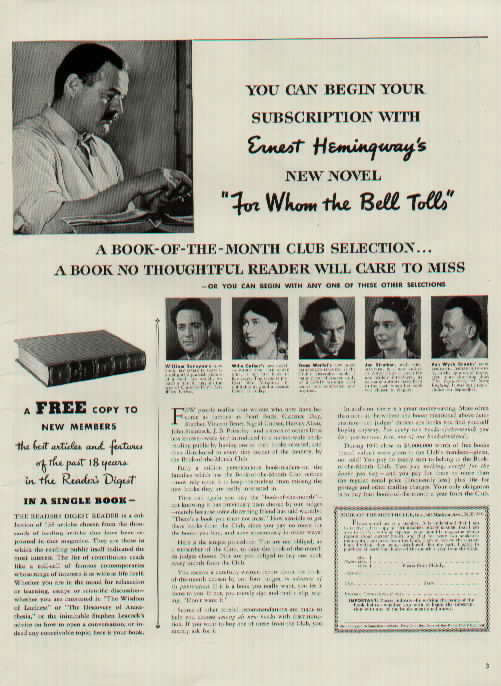 by the year's end. A five member editorial board selected a mix of mass appeal and more "literary" fiction as well as occasional non-fiction books as the club's monthly offerings. Although many titles were offered at publisher prices, members received a free dividend book for every two books that they bought and dual selections some months offered two books for little more than the price of one. BOMC members liked to think of themselves as sophisticated readers: 61 percent of them took the January selection, Brideshead Revisited, well above the average level.

In April the club offered a dual selection of Man Eaters of Kumaon by Jim Corbett, an autobiographical account from a tiger hunter and naturalist about his adventures in India and The Snake Pit, by Mary Jane Ward, a semi-autobiographical novel about a woman confined to a New York state institution after a mental breakdown, best remembered today for the 1948 Academy Award-nominated movie adaptation.

Earlier in the year BOMC had offered Erich Maria Remarque's Arch of Triumph and The Autobiography of William Allen White, both of which were on the bestseller lists this week. Upcoming choices included My Three Years with Eisenhower by Harry C. Butcher, a personal account of World War Two by an officer who had served alongside Eisenhower; The Hucksters by Frederic Wakeman, a satirical novel about Madison Avenue ad agencies and the radio shows they sponsored, sort of a forerunner of "Mad Men" and Britannia Mews by Margery Sharp, a romantic novel about a woman's life from her youth in Victorian Britain to World War Two London. In September members could choose to receive George Orwell's Animal Farm.

BOMC had a broadcast division that was among the 24 applicants vying in 1946 for one of the nine unassigned New York FM radio station frequencies. BOMC sponsored a radio show, "The Author Meets the Critics," on WHN. In May the show moved to WQXR as the Literary Guild took over the WHN slot. The Book-of-the-Month Club announced sponsorship of the radio show "Lets Go to Opera," which began airing April 29 on Sundays at 7 PM on WOR. It featured a famous singer paired with an up-and-coming young artist. Although the show would air on Mutual network stations in other cities, the BOMC ads would run only in New York, at least initially. The ads would be aimed at selling books rather than promoting image.
SHOWS LIST
Lets Go to the Opera 46-08-14 (15) The Secret Of Suzanne
Lets Go to the Opera 46-09-22 (22) The King's Prayer
Lets Go to the Opera 46-09-23 (23) The Empresario
Lets Go to the Opera 46-10-05 (24) The Flying Dutchman
Lets Go to the Opera 46-10-13 (25) Derosian Cavalier
THESE ARE MP3 RECORDINGS
THEY WILL NOT PLAY IN REGULAR CD PLAYERS
CLICK HERE TO KNOW MORE ABOUT mp3
CLICK HERE TO LEARN MORE ABOUT OUR PRODUCTS
We guarantee delivery of your item. If your item doesn't get there or is damaged, please notify us and we'll reship for you.
FULL REFUND IF NOT SATISFIED
 
Item number
OTR-1CD-LetsGoToTheOpera
Currently there are no reviews available for this product. Be the first to write a review.