FREE SHIPPING USA ONLY. International Customers: Please add international shipping: http://m.onesmedia.com/category/313432
THE LONE RANGER
OLD TIME RADIO - 5 DVD-ROM - 2170 mp3 - Total Playtime: 991:42:40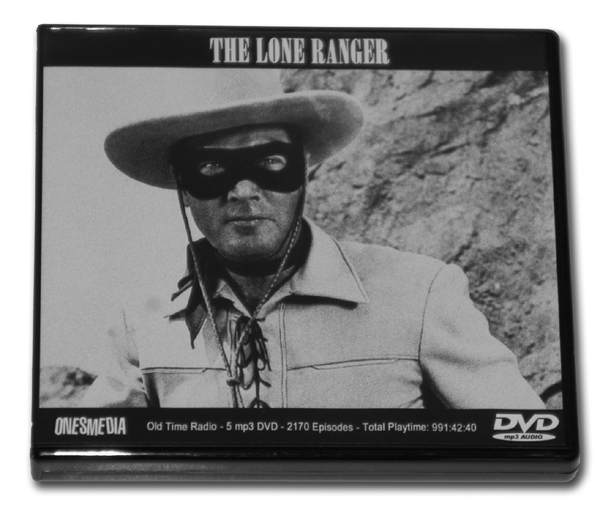 The Lone Ranger is an American radio and television show created by George W. Trendle and developed by writer Fran Striker.

The eponymous character is a masked Texas Ranger in the American Old West, originally played by Paul Halliwell, who gallops about righting injustices with the aid of his clever, laconic Indian sidekick, Tonto. Departing on his white horse Silver, the Ranger would famously say "Hi-yo, Silver, away!" as the horse galloped toward the setting sun.
On the radio and TV-series, the usual opening announcement was:
"A fiery horse with the speed of light, a cloud of dust, and a hearty "Hi-yo, Silver!", The Lone Ranger!
"There existed another title sequence, one created for the second post-TV series feature film The Lone Ranger and the Lost City of Gold (see below), briefly telling the Ranger's origin and how he first met Tonto. The theme was sung by a male chorus, and the lyrics are as follows:
"Six Texas Rangers (Hi-ho, hi-ho) rode in the sun (Hi-ho, hi-ho); Six men of justice rode into an ambush, and dead were all but one.
One lone survivor (Hi-yo, hi-yo) lay on the trail (Hi-yo, hi-yo); Found there by Tonto, the brave Injun Tonto, he lived to tell the tale.
(Hi-yo Silver, Hi-yo Silver away! Hi-yo Silver, Hi-yo Silver away!)
His wounds quickly mended (Hi-yo, hi-yo) and then in the night (Hi-yo, hi-yo), Six graves were put there to hide from the outlaws that one had lived to fight. He chose silver bullets (Hi-yo, hi-yo) the sign of his name (Hi-yo, hi-yo); A mask to disguise him, a great silver stallion, and thus began his fame. (Hi-yo Silver, Hi-yo Silver away! Hi-yo Silver, Hi-yo Silver away! THE LONE RANGER IS HIS NAME!)"
In later episodes the opening narration ended with: "With his faithful Indian companion, Tonto, the daring and resourceful masked rider of the plains led the fight for law and order in the early western United States. Nowhere in the pages of history can one find a greater champion of justice. Return with us now to those thrilling days of yesteryear. From out of the past come the thundering hoofbeats of the great horse Silver! The Lone Ranger rides again!" Episodes usually concluded with one of the characters lamenting the fact that they never learned the hero's name ("Who was that masked man?"), only to be told, "Why, he's the Lone Ranger!" as he and Tonto ride away.
EPISODES LIST:

Click here to download a Word document with the full Old Time Radio episodes list
THESE ARE MP3 DVD RECORDING
WILL NOT PLAY IN REGULAR CD PLAYERS INCLUDING mp3 CD PLAYERS
This DVD will play in your computer.  You can, also, upload the mp3 files to your ipod or itune and finally you can burn CD from your favorite shows and play them in you home or car mp3 CD player.
CLICK HERE TO KNOW MORE ABOUT mp3
CLICK HERE TO LEARN MORE ABOUT OUR PRODUCTS
We guarantee delivery of your item. If your item doesn't get there or is damaged, please notify us and we'll reship for you.
FULL REFUND IF NOT SATISFIED
Item number
OTR-5DVD-LoneRanger
Currently there are no reviews available for this product. Be the first to write a review.