FREE SHIPPING USA ONLY. International Customers: Please add international shipping: http://m.onesmedia.com/category/313432
McGARRY AND HIS MOUSE
OLD TIME RADIO - 1 CD - 3 mp3 - Total Playtime: 1:26:19
Debuting in September of 1940, Matt Taylor's 'McGarry and His Mouse' series appeared in 'This Week' magazine inserts in newspapers throughout America. The initial series was illustrated by no less than James Montgomery Flagg, famous for the iconic patriotic images of 'Uncle Sam' throughout the era.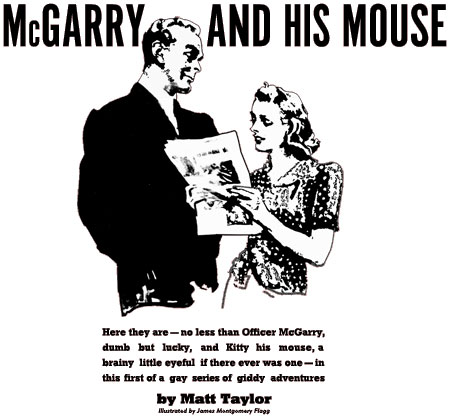 Matthew 'Matt' Taylor launched his hapless, but loveable character Detective Danny McGarry in 1940 with a series of short stories that appeared in "This Week" news magazine inserts syndicated with the Sunday newspapers of the era. Quickly rising in popularity, Taylor's amusing tales of rookie detective Danny McGarry and his clever girl friend, Kitty Archer--or "The Mouse" as McGarry lovingly referred to her, McGarry and His Mouse continued to captivate North American Sunday readers throughout the World War II years.

As the War began to wind down, McGarry and His Mouse caught the attention of the National Broadcasting Company (NBC). NBC thought enough of the franchise's potential to order a 1945 audition of "McGarry and The Mouse." Featuring William Gargan as Detective Dan McGarry and Ruth Warrick as 'The Mouse,' the audition--and project--languished until the Spring of 1946. Apparently Bristol-Myers thought enough of its potential to buy the series from General Amusement Corporation and renamed the commercial series back to Taylor's original "McGarry and His Mouse."
Dan McGarry and his'Mouse' take to the airwaves over NBC

Debuting on June 26th 1946, McGarry and His Mouse initially featured Wendell Corey as Detective Dan McGarry and Peggy Conklin as Kitty Archer. A Summer replacement for its popular The Eddie Cantor Show, Bristol-Myers promoted its Ipana toothpaste and Vitalis hair tonic lines throughout the NBC Run. Supporting Wendell Corey and Peggy Conklin were Betty Garde as Kitty Archer's mother, Thelma Ritter as Kitty's best friend Bernice and Arnold Robertson as Dan's uncle Detective Inspector Matthew McGarry.

By the fifth installment of McGarry and His Mouse, durable character actress Shirley Mitchell replaced Peggy Conklin as Kitty Archer. By at least the seventh installment, rugged character actor Ted deCorsia replaced Wendell Corey as Dan McGarry.
McGarry and His Mouse move to Mutual for General Foods

The NBC Summer series not having been picked up for its Fall lineup, McGarry and His Mouse languished for the remainder of 1946 until the Mutual Broadcasting System (MBS) picked up the series for sponsor General Foods and it's Sanka Coffee brand. While the concept remained the same, Roger Pryor replaced Ted deCorsia as Dan McGarry with Shirley Mitchell continuing in the role of Kitty Archer. While Ted de Corsia had been slated to star in the MBS run, a Hollywood film project kept him too busy to take the role. The series almost lost it's costar, Shirley Mitchell, as well, owing to her recent marriage. But at the last minute another project called the newlywed couple back to New York, providing Mitchell the opportunity to continue on in the role of Kitty.

Premiering over Mutual on January 6th 1947, the Sanka-sponsored series ran for thirteen episodes, leaving the air for good on March 31st 1947. But that wasn't quite the end of the line for McGarry and His Mouse.

Dan McGarry and 'The Mouse' make the jump to TV . . . almost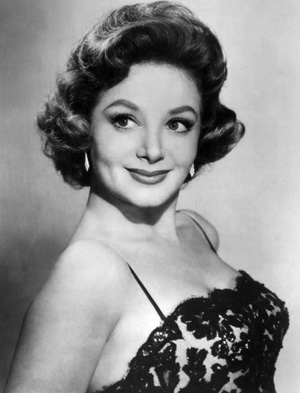 Matt Taylor's delightful little franchise had pretty much run its course by the Summer of 1947. But in 1957, an opportunity to air the series over Television presented itself. Hollywood Film star couple Virginia Mayo and Michael O'Shea agreed to star in a pilot for the proposed television series in December of 1957. The couple filmed the pilot--proposed for a Fall 1958 series--beginning on January 6th 1958, but by the time 1958's Fall season rolled around, McGarry and His Mouse was sadly absent.

But the fact remains that Matt Taylor's endearing Dan McGarry and his Mouse were still strong enough in concept to attract Film stars Virginia Mayo and Michael O'Shea to their first screen performance together in over fourteen years. Kitty Archer would approve.
Principal Actors: (Audition): William Gargan, Ruth Warrick, John Brown, Eddie Marr, Sydney Miller, Sara Berner

(Commercial run): Wendell Corey, Peggy Conklin, Ted de Corsia, Shirley Mitchell, Betty Garde, Thelma Ritter, Arnold Robertson, Roger Pryor, Patsy Campbell, Carl Eastman
Recurring Characters: Detective Sergeant Dan McGarry [Wendell Corey/ Ted deCorsia / Roger Pryor]; Kitty 'The Mouse' Archer [Peggy Conklin/ Shirley Mitchell / Patsy Campbell]; The Sarge [Ted de Corsia]; Inspector Matthew McGarry, Dan's Uncle [Arnold Robertson]; Bernice, Kitty's best friend [Thelma Ritter] ; Kitty's Mother [Betty Garde]
SHOWS LIST
McGarry And His Mouse 46-06-26 (01) Gambling At The Police Station
McGarry And His Mouse 46-07-10 (03) Singing In The Glee Club
McGarry And His Mouse 46-07-24 (05) Uncle Clarence And The Bank Robbers
THESE ARE MP3 RECORDINGS
THEY WILL NOT PLAY IN REGULAR CD PLAYERS
CLICK HERE TO KNOW MORE ABOUT mp3
CLICK HERE TO LEARN MORE ABOUT OUR PRODUCTS
We guarantee delivery of your item. If your item doesn't get there or is damaged, please notify us and we'll reship for you.
FULL REFUND IF NOT SATISFIED
Item number
OTR-1CD-McGerryAndHisMouse
Currently there are no reviews available for this product. Be the first to write a review.