FREE SHIPPING USA ONLY. International Customers: Please add international shipping: http://m.onesmedia.com/category/313432
ANSON WEEKS ORCHESTRA
OLD TIME RADIO - 1 CD - 14 mp3 - Total Playtime: 3:19:14
 
Anson Weeks (1896-1969) was leader of a popular West Coast dance band in the late 1920s through the 1960s, primarily in San Francisco (he made his first recording in Oakland on February 7, 1925, but it was rejected).
He pioneered the "hotel" band sound and spent years at the Mark Hopkins Hotel in San Francisco, using the slogan "Dancin' With Anson".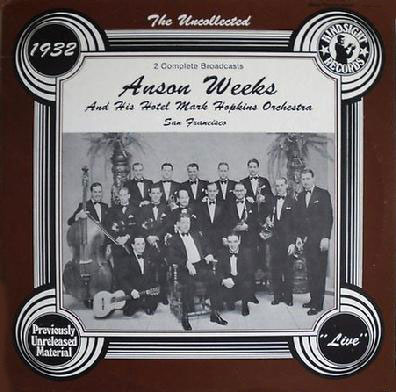 He formed his first band in 1924 and had key hotel jobs in Oakland and Sacramento. By the late 1920s he was a popular regional orchestra and started recording for Columbia in 1928. In 1932, he signed with Brunswick and recorded for them through 1935, during this time, his was one of their premier and most popular bands. He later did a session for Decca in 1937.
He gained nationwise attention in late 1931 on the 'Lucky Strike Magic Carpet" radio program. Among his key vocalists were Art Wilson, Harriet Lee, Donald Novis, Bob Crosby, Carl Ravazza, Kay St. Germaine, and Bob Gage. His Brunswick records were quite popular.
Weeks was involved in an auto accident in 1941 and was out of the band business for several years, starting up again in the late 1940s.
He signed to the local Fantasy label in the early 1950s and did a series of dance albums, which were quite regionally popular.
Weeks also composed songs including "I'm Writing You This Little Melody" (theme song), "I'm Sorry Dear", "Senorita", "That Same Old Dream", and "We'll Get A Bang Out Of Life".
 
EPISODES LIST
Anson Weeks 31-01-21 (xx) First Song - You Try Somebody Else
Anson Weeks 31-03-10 (03) First Song - Dancing On The Ceiling
Anson Weeks 31-xx-xx (17) First Song - Goodnight, Little Girl, Goodnight
Anson Weeks 31-xx-xx (18) First Song - You're Blase
Anson Weeks 32-01-09 (xx) First Song - Lazy Day
Anson Weeks 32-02-04 (10) First Song - What Price Love
Anson Weeks 32-02-24 (16) First Song - I'll See You Again
Anson Weeks 32-xx-xx (xx) First Song - Love Me Tonight
Anson Weeks 34-04-21 (18) First Song - You're My Everything
Anson Weeks xx-xx-xx (xx) First Song - Everybody Says I Love You
Anson Weeks 01 - 1932 Anson Weeks A
Anson Weeks 01 - 1932 Anson Weeks B
Anson Weeks 02 - 1932 Anson Weeks A
Anson Weeks 02 - 1932 Anson Weeks B
THESE ARE MP3 RECORDINGS
THEY WILL NOT PLAY IN REGULAR CD PLAYERS
CLICK HERE TO KNOW MORE ABOUT mp3
CLICK HERE TO LEARN MORE ABOUT OUR PRODUCTS
We guarantee delivery of your item. If your item doesn't get there or is damaged, please notify us and we'll reship for you.
FULL REFUND IF NOT SATISFIED
Item number
OTR-1CD-AnsonWeek
Currently there are no reviews available for this product. Be the first to write a review.