FREE SHIPPING USA ONLY. International Customers: Please add international shipping: http://m.onesmedia.com/category/313432
BETTY HUTTON COLLECTION
OLD TIME RADIO - 1 CD - 20 mp3 - Total Playtime: 10:38:54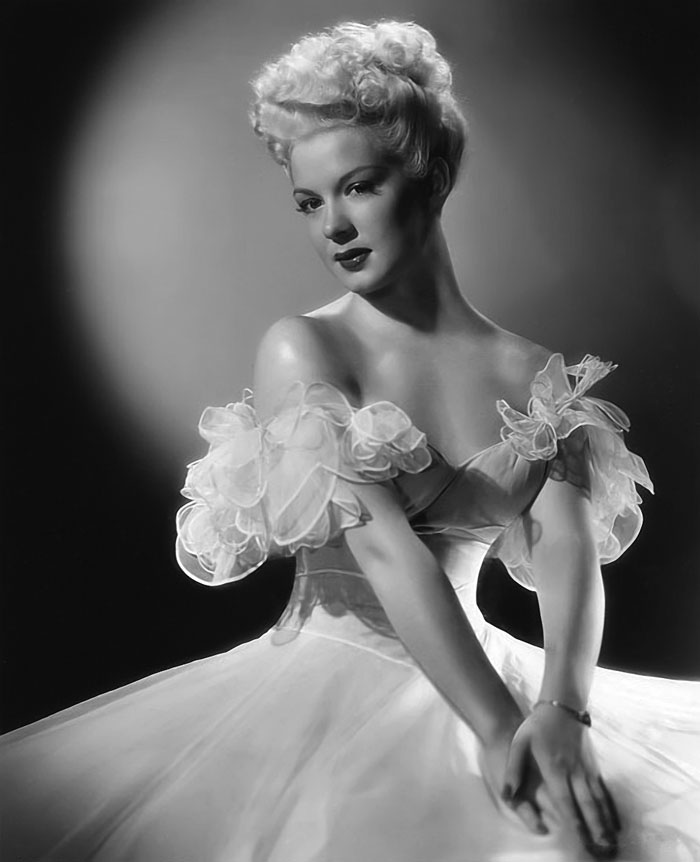 There were a lot of women from Hollywood's Golden Age who could be called great beauties, great stars, and great actresses; but there were only a few great entertainers who were in the same league with Betty Hutton. Betty was an incredible dynamo on stage and screen; the likes of which are seldom ever seen since. Betty will be remembered for her aggressive vocal stylings and humorous material, but her film roles are perhaps her most enduring legacy. Because of her exuberance and energy she became known as the "Blonde Bombshell." Her reign at the top of the film world was a brief eleven years (1942-1952), during which she made 20 feature films. At her peak she was a national treasure, one of the most beloved stars and biggest box office attractions on the screen. Moviegoers in 1950 named her the year's Best Actress in a Photoplay magazine poll. On the tenth anniversary of her feature film debut, Betty Hutton was hotter than ever. She had been Paramount's top female draw for several years, and now MGM wanted desperately to add her to its star roster. Variety named her 1952's number one female box office attraction, yet one year later her career in film was all but over. Betty gamely continued on in television and in-person appearances, yet her career was never quite the same. Fortunately, her greatest performances are forever captured on film and continue to delight movie buffs throughout the world today.

Betty was born Betty June Thornburg on February 26, 1921, in Battle Creek Michigan. Her father, a railroad worker, abandoned the family when Betty was only two-years-old. In order to support her two daughters, Marion and young Betty, mother Mabel began to bootleg, running several speakeasies during the Prohibition Era. When she was only three, Betty and her sister began singing for the patrons. Their family situation was made worse by the Great Depression, and by Mabel's growing dependence on the bottle. Trouble with police kept the family on the move and eventually they ended up in Detroit where Mrs. Thornburg was employed for a while at an auto assembly plant.

At 13, Betty landed her first professional job with a summer resort band. She continued to sing professionally with a number of local bands until at age 15 she decided it was time to go to New York and give Broadway a try. Told that she'd never make it on the stage, she returned home to Detroit.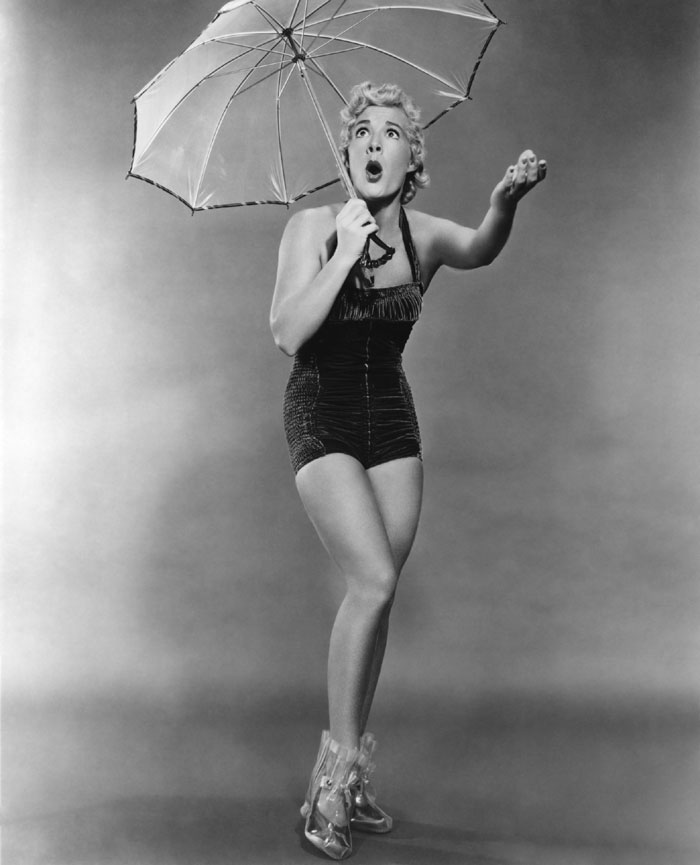 In 1937, at age 16, Betty finally got her big break. It appeared she was on her way to a successful career as a band vocalist when orchestra leader Vincent Lopez spotted the teenager singing in a Detroit nightclub and signed her on the spot for $65 a week. Betty soon began making a name for herself in the entertainment world. During 1939, she appeared in several movie musical shorts and in 1940, she left Lopez for a role in the Broadway musical revue, Two for the Show. Soon after, producer B.G. DeSylva signed her for a part in his Broadway musical, Panama Hattie. When DeSylva took over the production reins at Paramount studios in late 1941, he promised to take Betty along to Hollywood. There she got her first featured role in the movie musical, The Fleet's In (1942), along with Eddie Bracken, William Holden, and Dorothy Lamour. When the reviews came in, they were better than expected with critics giving her good comments. Betty made one more musical film in 1942 and two more in 1943. In 1944, Betty tried to break away from musicals to try her hand in a straight film entitled The Miracle of Morgan's Creek. She proved to herself, the public, and the critics, that she was marketable outside musicals.

Betty was a multi-talented star, and recorded on the RCA and Capitol labels. Many of her songs tended to be novelty tunes, showcasing her explosive energy. She charted a number one hit with Doctor, Lawyer, Indian Chief in December of 1945. What sometimes gets lost in the wacky powerhouse tunes is that Betty Hutton could really sing. She had a tremendous voice and could handle ballads as well as the furiously paced numbers she was so often given.

From the early '40s to the early '50s, Betty Hutton was indeed a star. Unfortunately, Betty had quite a lot of bad luck in her life. She was married several times, never finding lasting love. She also had trouble managing money and, apparently, she had a reputation for being difficult to work with. The final straw for Hollywood was when Betty demanded that her (then) husband Charles O'Curran direct her next picture; the studio refused and she walked out on her contract. She appeared in only one final film after that, Spring Reunion in 1957.

Betty turned to the growing television market with her own show in the '50s alternately known as The Betty Hutton Show or Goldie. The show was not the success she had hoped, and only lasted 30 episodes. While the new medium of television seemed to elude Betty's grasp, she went on to perform in well-received stage performances on Broadway, and even in Vegas, letting everyone know that Betty Hutton was still the "Blonde Bombshell." It's truly a pity that Hutton wasn't able to overcome the challenges of the post-1940s show biz scene, as her tremendous talent was really very impressive.

In 2000, Betty did an hour-long interview for Turner Classic Movies (TCM). Private Screenings: Betty Hutton was an intimate portrait, and marked Betty's first television interview in 20 years. The show seemed to have a magical effect on everyone who has seen it; from her loyal fans to people who have never ever heard of Betty Hutton before. To this day, whenever Turner reruns Betty's Private Screenings episode, fan mail pours in from around the country with notes of love and respect for the "Blonde Bombshell."

Her particular brand of exuberant humor seemed to later find a home in the work of Lucille Ball, whose off-the-wall shenanigans echoed Betty's work only a decade earlier.

Betty Hutton lived the remainder of her life in retirement in Palm Springs, California.
Text from Doctor Macro Website
EPISODES LIST
Bob Hope 42012 Edward-Everett-Horton
Command Performance - 42-04-12 Gene Tierney, Edgar Bergen, Betty Hutton
Command Performance - 42-06-02 Mickey Rooney, Amos n Andy, Harry James
Command Performance - 42-08-25 Red Skelton Betty Hutton
Command Performance - 43-02-06 Rita Hayworth Betty Hutton Burns and Allen
Command Performance - 43-02-13 Rita Hayworth, Burns and Allen, Betty Hutton
Command Performance - 43-06-05 Betty Hutton Amos and Andy
Command Performance - 43-10-02 Don Ameche King Cole Trio Betty Hutton
Command Performance - 43-11-13 Bob Hope, Judy Garland, Betty Hutton
Command Performance - 44-05-06 Bob Hope, Bing Crosby, Betty Hutton
Command Performance - 44-07-08 Claudette Colbert Alan Hale J Durante Betty Hutton Ronald Colman
Command Performance - 46-01-17 Army Nurse Corps Anniversary Show
Command Performance - 48-05-29 Sixth Anniversary Special
Edgar Bergen 470929 Charlie Wants To Go Out With Betty Hutton
Hedda Hopper Show 50-11-04 Guest - Joseph Cotton
Hollywood Byline 50-04-27 Guest - Betty Hutton
Hollywood Stories of the Day 45-02-15 Betty Hutton Collapses
Mail Call 450625 - Betty Hutton Mail Call
Orson Welles Radio Almanac 44-03-22 Betty Hutton
Radio Hall of Fame 45-01-07 (058) Now And Then
THESE ARE MP3 RECORDINGS
THEY WILL NOT PLAY IN REGULAR CD PLAYERS
CLICK HERE TO KNOW MORE ABOUT mp3
CLICK HERE TO LEARN MORE ABOUT OUR PRODUCTS
We guarantee delivery of your item. If your item doesn't get there or is damaged, please notify us and we'll reship for you.
FULL REFUND IF NOT SATISFIED
Item number
OTR-1CD-BettyHutton
Currently there are no reviews available for this product. Be the first to write a review.