FREE SHIPPING USA ONLY. International Customers: Please add international shipping: http://m.onesmedia.com/category/313432
THE STAR-CROSSED ROMANCE OF JOSEPHINE COSNOWSKI
The Star-Crossed Romance of Josephine Cosnowski
An adaptation of short stories by Jean Shepherd describing the growing-up pangs and pains of Ralph, the teenage son of a typical midwestern family. At Thanksgiving dinner, Ralph discovers his infatuation with an exotic Polish girl from East Chicago who has moved next door.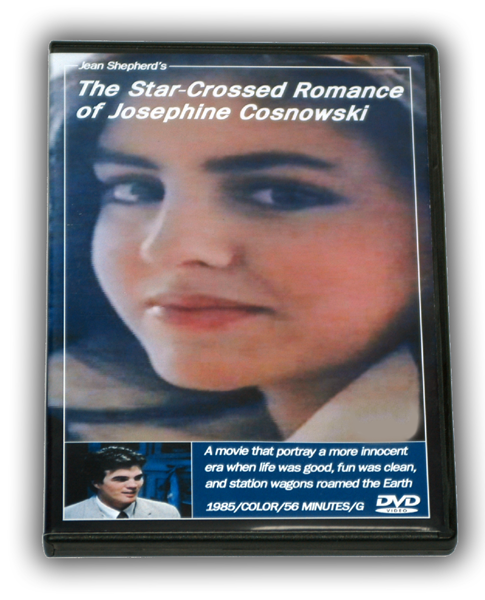 Josephine is the story of Ralph (the same Ralph from A Christmas Story) Parker's first serious romance with his new Polish neighbor. All of Shepherd's favorites are here: Randy, Flick, Schwartz, mom, The Old Man. After his initial scare that their new neighbors might be the returning Bumpus Clan, Ralph finds Josephine an exotic and mysterious Polish girl, like the ones he, Flick and Schwartz scope in East Chicago. After watching her from the shadows for some time, Ralph makes his move at the butcher shop, and finds a willing partner in Josephine.

In typical Shepherd fashion, several stories are weaved together in this narrative: it's Thanksgiving, and whiney Randy finds himself cast as a turkey in the school play, which turns out to be the highlight of his entire life. The Old Man has his eye on a sexy yellow Buick at Friendly Fred's Used Cars, which, of course, turns out to be a lemon, and from which Mom exacts her revenge. The Hohman basketball team goes against rivals Horace Mann in the game of the season, in which slippery Flick bets against the home team (and loses).

Ralph discovers almost too late that Josephine is not just a high school romance, but has her eye on him FOR KEEPS! In a dramatic escape which pits him against her Notre Dame football hero brothers Stosh and Alex, Ralph barely escapes the world of adulthood and responsibility to rejoin his pals at the basketball game in time to see Hohman High win against Horace Mann.

This is classic Jean Shepherd comedy: full of Americana past which remains accessible and hilarious because it taps into a deeper, more enduring aspect of America, one which remains impervious to political whims and popular trends.
This DVD quality is acceptable but not the best
1985/COLOR/56 MIN./G
Delivered in DVD Case and Art Work
FULL REFUND IF NOT SATISFIED
Item number
JS-1DVD-Josephine
Currently there are no reviews available for this product. Be the first to write a review.