FREE SHIPPING USA ONLY. International Customers: Please add international shipping: http://m.onesmedia.com/category/313432
TRUTH OR CONSEQUENCES
OLD TIME RADIO - 1 CD-ROM - 16 mp3 - Total Playtime: 7:34:34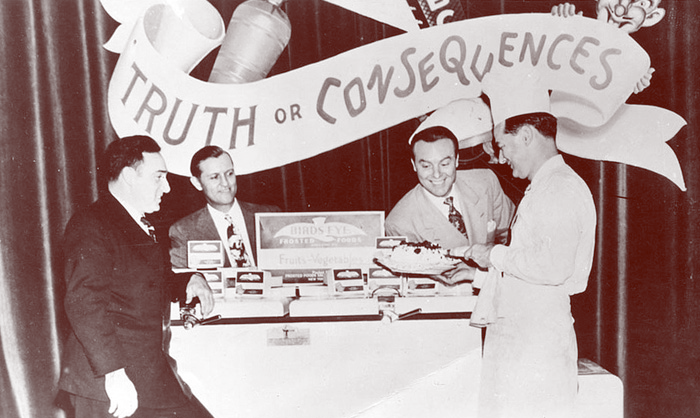 Ralph Edwards would say later that he got the idea for a new radio program after playing the parlor game Forfeits. The show premiered on NBC radio in March, 1940 and was an instant hit with listeners.

On the show, people had to answer a trivia question correctly (usually an off-the-wall question that no one would be able to answer correctly, or a bad joke) and had about two seconds to do so before "Beulah the Buzzer" was sounded (in the rare occasion that the contestant answered the question correctly before Beulah was heard, another question was asked).

If the contestant could not complete the "Truth" portion, there would be "Consequences," usually a zany and embarrassing stunt. From the start, most contestants preferred to answer the question wrong in order to perform the stunt. Said Edwards, "Most of the American people are darned good sports." During Barker's run as host, "Barker's Box" was played. Barker's Box was a box with four drawers in it. A contestant able to pick the drawer with money in it won a bonus prize.
EPISODES LIST:

1945-06-23 - Imitating Airplane Sounds
1947-10-18 - Guest - The Glee Club
1947-10-25 - Crackers In The Mouth
1947-11-01 - The Hot Seat
1947-11-08 - Squirtless Seltzer Bottle
1947-11-16 - Instructions For Milking A Cow
1947-11-22 - Suspended Over A Water Tank (1st half only)
1947-11-29 - Sing 'Rockabye Baby'
1947-12-20 - Christmas Seals
1948-01-17 - Guest - William Bendix (Walking Man Contest Begins)
1948-03-06 - Walking Man Revealed
1948-10-30 - Guest - Boris Karloff
1948-12-11 - Guest - Spike Jones
1949-10-08 - Sit In A Crows Nest And Find Husband In The Audience
1949-10-22 - The Laughing Boy Is Correctly Guessed
1952-07-29 - Man Sealed In Room For One Week
THESE ARE MP3 RECORDINGS
THEY WILL NOT PLAY IN REGULAR CD PLAYERS
CLICK HERE TO KNOW MORE ABOUT mp3
CLICK HERE TO LEARN MORE ABOUT OUR PRODUCTS
We guarantee delivery of your item. If your item doesn't get there or is damaged, please notify us and we'll reship for you.
FULL REFUND IF NOT SATISFIED
 
Item number
OTR-1CD-TruthOrConsequences
Currently there are no reviews available for this product. Be the first to write a review.