FREE SHIPPING USA ONLY. International Customers: Please add international shipping: http://m.onesmedia.com/category/313432
EDWARD G ROBINSON COLLECTION
OLD TIME RADIO - 1 CD-ROM - 51 mp3 - Total Playtime: 29:49:58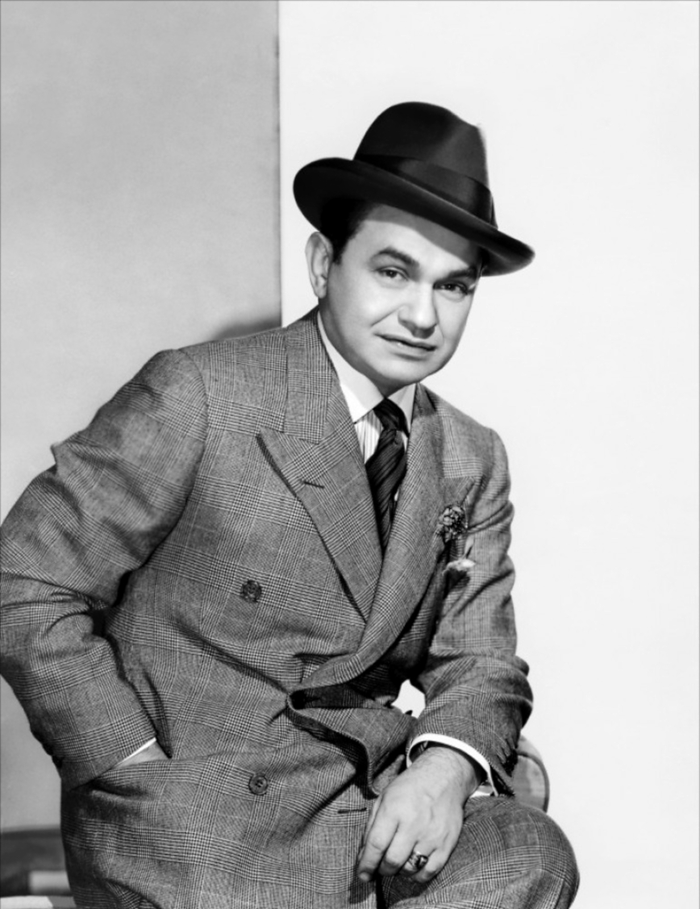 Edward G. Robinson (Emanuel Goldenberg; December 12, 1893 – January 26, 1973) was a Romanian-born American actor. A popular star during Hollywood's Golden Age, he is best remembered for his roles as gangsters, such as Rico in his star-making film Little Caesar and as Rocco in Key Largo.

Other memorable roles include insurance investigator Barton Keyes in the film noir Double Indemnity, Dathan (adversary of Moses) in The Ten Commandments, and his final performance as Sol Roth in the science-fiction story Soylent Green.

Robinson was selected for an Honorary Academy Award for his work in the film industry, which was posthumously awarded two months after the actor's death in 1973. He was included in the American Film Institute's list of the 25 greatest male stars in American cinema.
Robinson was born as Emanuel Goldenberg to a Yiddish-speaking Romanian Jewish family in Bucharest, the son of Sarah (née Guttman) and Morris Goldenberg, a builder.

After one of his brothers was attacked by an antisemitic mob, the family decided to emigrate to the United States. Robinson arrived in New York City on February 14, 1903. He grew up on the Lower East Side, had his Bar Mitzvah at First Roumanian-American congregation, and attended Townsend Harris High School and then the City College of New York. An interest in acting led to him winning an American Academy of Dramatic Arts scholarship, after which he changed his name to Edward G. Robinson (the G. signifying his original last name).
He began his acting career in the Yiddish Theater District in 1913 and made his Broadway debut in 1915. He made his film debut in a minor uncredited role in 1916; in 1923 he made his named debut as E. G. Robinson in The Bright Shawl. One of many actors who saw his career flourish in the new sound film era rather than falter, he made only three films prior to 1930 but left his stage career that year and made 14 films between 1930–1932.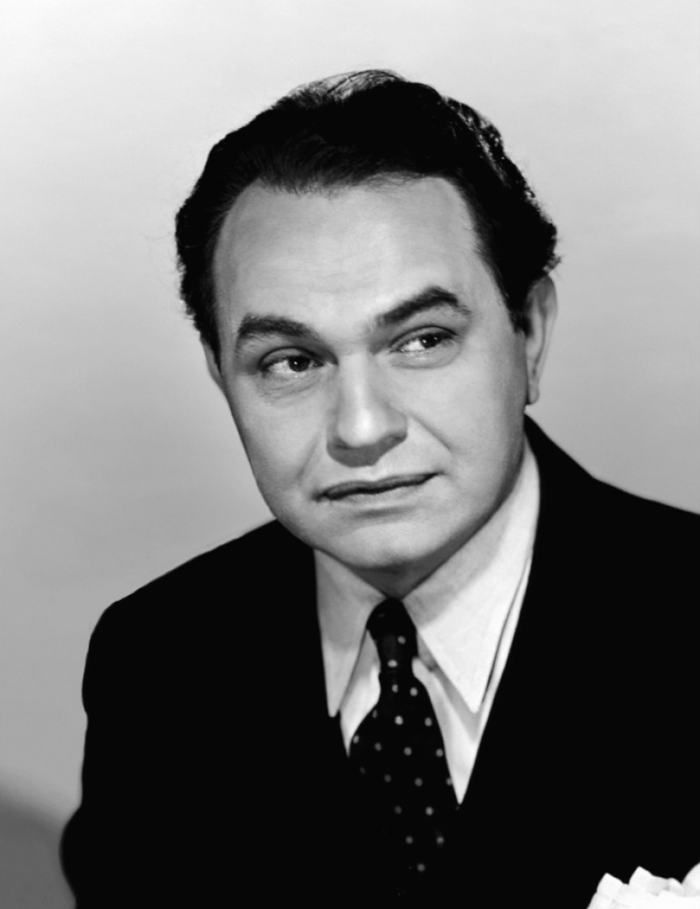 Robinson made 101 films in his fifty-year career. An acclaimed performance as the gangster Caesar Enrico "Rico" Bandello in Little Caesar (1931) led to him being typecast as a "tough guy" for much of his early career in works such as Five Star Final (1931), Smart Money (1931; his only movie with James Cagney), Tiger Shark (1932), Kid Galahad (1937) with Bette Davis and Humphrey Bogart, and A Slight Case of Murder. Due to age, he could not qualify for military service during World War II. In the 1940s, Robinson demonstrated his ability to succeed in comedic and film noir roles, including Raoul Walsh's Manpower (1941) with Marlene Dietrich and George Raft, Larceny, Inc. (1942) with Jane Wyman and Broderick Crawford, Billy Wilder's Double Indemnity (1944) with Fred MacMurray and Barbara Stanwyck, Fritz Lang's The Woman in the Window (1944) with Joan Bennett and Raymond Massey, Fritz Lang's Scarlet Street (1945) with Joan Bennett and Dan Duryea, and Orson Welles' The Stranger (1946) with Orson Welles and Loretta Young. He appeared for director John Huston as gangster Johnny Rocco in Key Largo (1948), the last of five films he made with Humphrey Bogart and the only one in which Bogart did not play a supporting role.

Robinson was an outspoken critic of fascism and Nazism, and donated more than US$ 250,000 to 850 political and charitable groups between 1939 and 1949. He was host to the Committee of 56 who gathered at his home on December 9, 1938, signing a "Declaration of Democratic Independence" which called for a boycott of all German Products. He played FBI agent Turrou in Confessions of a Nazi Spy, the first American film which showed Nazism as a threat to the United States in 1939, and Paul Ehrlich in Dr. Ehrlich's Magic Bullet and Paul Julius Reuter in A Dispatch from Reuter's, both Jewish Biography films of 1940. In 1942, he volunteered for military service and was sent to London.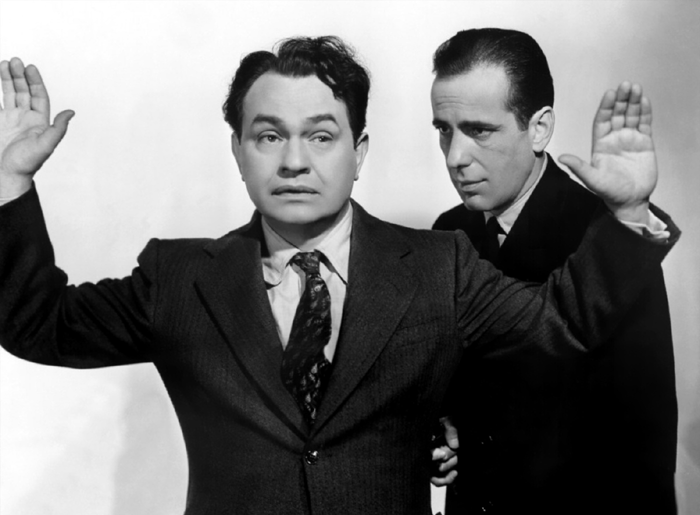 On three occasions in 1950 and 1952, he was called to testify in front of the House Un-American Activities Committee (HUAC) and was threatened with blacklisting. Robinson took steps to clear his name, such as having a representative go through his check stubs to ensure that none had been issued to subversive organizations. He did not give names of Communist sympathizers, but he repudiated the organizations he had belonged to in the 1930s and 1940s and his own name was cleared, but he only received smaller roles and even those less frequently. Robinson "continued his ritual of rehabilitation by humiliation" in October 1952, when he wrote an article titled "How the Reds made a Sucker Out of Me", that was published in the American Legion Magazine. In spite of this, he was once again called to testify before the House Un-American Activities Committee in January 1954.

It is often held by certain modern commentators that, during this time, Edward G. Robinson appeared in numerous "B" movies for American International Pictures in the later 1950s. This is completely incorrect; Robinson never made films for American International Pictures, but his son Edward G. Robinson, Jr. did make one for AIP: Tank Battalion (1958).

In 1954, Anti-communist director Cecil B. DeMille cast him as Dathan in The Ten Commandments released in 1956.

After an absence from the screen after the release of Nightmare in 1956, Robinson's acting career in films restarted in 1958/59 when he was second-billed after Frank Sinatra in the 1959 release A Hole in the Head.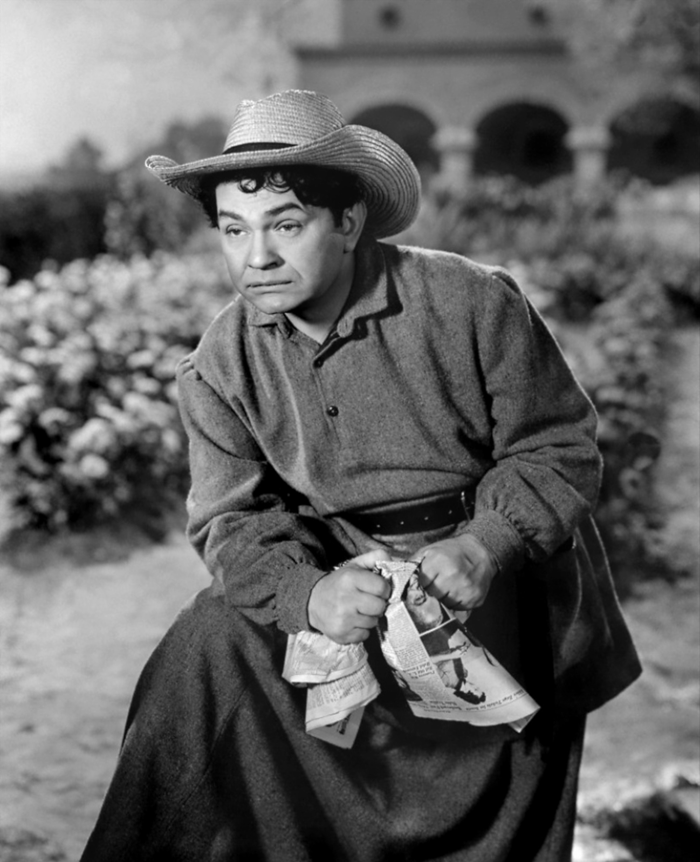 Robinson's last-filmed scene of his last acting role was a euthanasia sequence in the science fiction cult film Soylent Green (1973). Immediately prior to filming the emotional scene, Robinson told his co-star, and longtime friend Charlton Heston that he was dying from cancer and had weeks to live, at best. Robinson died twelve days later.
Robinson married his first wife, stage actress Gladys Lloyd, in 1927; born Gladys Lloyd Cassell, she was the former wife of Ralph L. Vestervelt and the daughter of Clement C. Cassell, an architect, sculptor, and artist. The couple had one son, Edward Goldenberg Robinson, Jr. (a.k.a. Manny Robinson, 1933–1974), as well as a daughter from Gladys Robinson's first marriage. In 1956 he was divorced from his wife. In 1958 he married 38-year-old Jane Bodenheimer, a dress designer known as Jane Arden.

Robinson spoke seven languages. He built up a significant art collection and partnered with Vincent Price in running an art gallery. In 1956, he sold his collection to Greek shipping tycoon Stavros Niarchos to raise cash for his divorce settlement with Gladys Robinson; his finances had suffered due to underemployment in the early 1950s. One of his chief pastimes was collecting records of the world's leading concerts. An inveterate cigar smoker, Robinson smoked cigars in many of his movie roles to accentuate his character.

A liberal Democrat, he attended the 1960 Democratic Convention in Los Angeles, California.

Robinson died of bladder cancer in 1973, and is buried in a crypt in the family mausoleum at Beth-El Cemetery in the Ridgewood area of the borough of Queens in New York City.
Robinson has been the inspiration for a number of television characters. Firstly, an early version of the gangster character Rocky, featured in the Bugs Bunny cartoon Racketeer Rabbit, shared his likeness. This version of the character also appears briefly in Justice League, in the episode "Comfort and Joy", as an alien with Robinson's face and non-human body, who hovers past the screen as a background character. Similar caricatures also appeared in The CooCooNut Grove, Thugs with Dirty Mugs and Hush My Mouse. Another character based on Robinson's gangster image was The Frog from the cartoon series Courageous Cat and Minute Mouse. The voice of B.B. Eyes in The Dick Tracy Show was based on Robinson, with Mel Blanc and Jerry Hausner sharing voicing duties. Voice actor Hank Azaria has said that the voice of Simpsons character police chief Clancy Wiggum is an impression of Robinson. This has been explicitly joked about in episodes of the show. In "The Day the Violence Died" (1996), a character states that Chief Wiggum is clearly based on Robinson. In 2008's "Treehouse of Horror XIX", Wiggum and Robinson's ghost each accuse the other of being rip-offs.

Robinson was never nominated for an Academy Award, but in 1973 he was awarded an honorary Oscar in recognition that he had "achieved greatness as a player, a patron of the arts, and a dedicated citizen ... in sum, a Renaissance man". He had been notified of the honor, but died two months before the award ceremony, thus the award was collected by his widow Jane Robinson.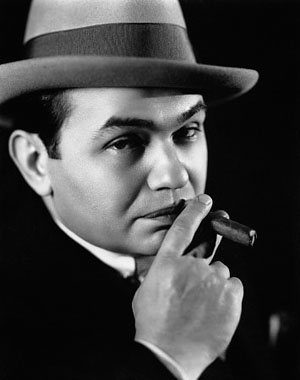 EPISODES LIST
Al Jolson 48-03-18 First Song - Margie, Guest - Edward G. Robinson
Al Jolson 48-10-07 First Song - Baby Face, Guest - Edward G. Robinson
Amos and Andy 431231 New Years Eve With Edward G Robinson
Big Show 51-01-07 Fred Allen, Danny Thomas, EG Robinson, M Dietrich,
Big Town - Missing Man
Big Town 371019 - Pittsburgh Lil First Show
Big Town 371026 - Harding Factory Fire Trap
Big Town 381014 - Poultry Racket Rehearsal
Big Town 390000 - Every Eighteen Hours
Big Town 390630 - Reform School - Rehearsal
Big Town 400000 - Death Rides the Highway
Big Town 400101 - Deep Death
Big Town 420900 - EG Robinson Stars
Big Town 420901 - Steve Goes to Occupied Paris
Bob Hope 45-01-30 Guest - Edward G Robinson
Cavalcade of America 430315 A Case for the FBI
Cavalcade of America 450430 The Philippines Never Surrendered
Cavalcade of America 460311 The Doctor with Hope in His Hands
Command Performance - 42-05-14 Edward G Robinson, Hedy Lamarr, Glenn Miller
Command Performance - 45-04-19 Kay Kyser, Gary Cooper, Edward G Robinson
Guest Star 54-12-26 Guest - Edward G Robinson
It's Time To Smile 43-03-31 Guest - Edward G Robinson
Jack Benny Program 33-03-31 She Done Him Right
Jack Benny Program 33-04-21 Guest Edward G Robinson
Jack Benny Program 46-11-24 The Killers
Kraft Music Hall 48-03-18 First Song - Margie, Guest - Edward G. Robinson
Kraft Music Hall 48-10-07 First Song - Baby Face, Guest - Edward G. Robinson
Lux Radio Theater 37-01-18 The Criminal Code
Lux Radio Theater 38-12-19 Kid Galahad
Lux Radio Theater 39-04-16 Bullets or Ballots (Rehearsal)
Lux Radio Theater 39-04-17 Bullets or Ballots
Lux Radio Theater 42-03-16 Manpower
Lux Radio Theater 43-02-08 The Maltese Falcon
Lux Radio Theater 44-04-03 Destroyer
Lux Radio Theater 45-04-16 Only Yesterday (repeat)
Lux Radio Theater 45-06-25 Woman in the Window
Lux Radio Theater 49-11-28 Key Largo
Mail Call 430715 Edward G Robinson, Dick Powell, Marion Hutton, Ann Miller
Romance 46-03-26 Woman In The Window
Screen Directors Playhouse 49-02-27 The Night Has a Thousand Eyes
Screen Directors Playhouse 49-12-02 All My Sons
Screen Directors Playhouse 50-02-03 The Sea Wolf
Screen Guild Theater 40-02-25 Blind Alley
Screen Guild Theater 41-11-02 The Amazing Doctor Clitterhouse
Screen Guild Theater 44-06-05 The Amazing Doctor Clitterhouse
Screen Guild Theater 45-04-23 Flesh and Fantasy
Suspense 461017 The Man Who Thought He Was Edward G.Robinson
Suspense 480930 The Man Who Wanted To Be Edward G Robinson
Suspense 490331 You Can't Die Twice
Suspense 500601 A Case of Nerves
War Chest Program 1945 Guest - Edward G Robinson
THESE ARE MP3 RECORDINGS
THEY WILL NOT PLAY IN REGULAR CD PLAYERS
CLICK HERE TO KNOW MORE ABOUT mp3
CLICK HERE TO LEARN MORE ABOUT OUR PRODUCTS
We guarantee delivery of your item. If your item doesn't get there or is damaged, please notify us and we'll reship for you.
FULL REFUND IF NOT SATISFIED
Item number
OTR-1CD-EGRobinson
Currently there are no reviews available for this product. Be the first to write a review.