FREE SHIPPING USA ONLY. International Customers: Please add international shipping: http://m.onesmedia.com/category/313432
THIS IS DORA DRAKE
OLD TIME RADIO - 1 CD-ROM - 17 mp3 - Total Playtime: 4:04:20
"This is Nora Drake,"
a 15 minute, 11:00am weekdays, NBC & CBS soap opera, was broadcast from Oct. 27, 1947 thru Jan. 02, 1959.

1947 thru 1949, Nora aired on NBC; 1948 thru 1949 it was concurrent on CBS; after 1949, 'Nora' aired at 2:30pm weekdays, CBS only.

* Resident of a mid-sized American town, Nora Drake was a nurse - and later, departmental supervisor on staff at 'Page Memorial Hospital.' She was a disciplined, hardworking, community-work oriented, problem-solving woman who always gave sound advice regarding household & child rearing issues, to those in need.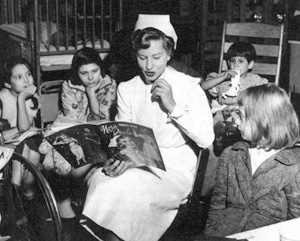 ACTORS:
Three women held the role of Nora Drake: Charlotte Holland (1947-1949) Joan Tompkins (1949-1957) & Mary Jane Higby (1957-1959); Alan Hewitt portrayed Nora's love interest, Ken Martinson; both Everett Sloane & Ralph Bell played the part of Nora's 'lost' father, Alfred Drake.

Peggy King Martinson's role also was held by 3 women: Lesley Woods, Mercedes McCambridge & Joan Alexander; Roger DeKoven was Andrew King & Larry Haines played gambler, Fred Molina.

The part of Charles Dobbs, Assistant DA who had prosecuted Alfred Drake, was held by Grant Richards; Joan Lorring held the meaty role of Dobbs's 18-year old ward, Suzanne Turrie, who fell in love with her guardian.

Irene Hubbard played Rose Fuller and finally, Dick York (first Darren on TV's "Bewitched") carried the role of Russ McClure, boyfriend to Nora's acquaintance, Grace Sargent.

SPONSORS:
This Is Nora Drake was directed by Arthur Hanna and both Bill Cullen (of "I've Got A Secret") and Ken Roberts were program announcers.
(SOURCE: On the air: the encyclopedia of old-time radio)

SYNOPSIS:
There never seemed to be enough unattached men to go around in soap operas. The heroines who were single, virginal and looking for a mate seemed incessantly drawn to experienced suitors who had been married at least once. Some of those gentlemen still were attached.

If that situation didn't prevail at the inception of a serial, in due time it frequently occurred.

Such was the case of Nora Drake, a career-oriented professional who could have had her pick of many eligible bachelors. She had the misfortune to fall in love with Dr. Ken Martinson, who -- in a moment of haste -- put her aside to marry nurse Peggy King.

Peggy turned his life into misery maximized. Nora pined for Ken to obtain the divorce that Peggy told him he'd get over her dead body, setting in motion a waiting game; fans were sure the outcome would one day arrive.

On the way there, the serial gave new meaning to the old adage: 'Hell hath no fury like a woman scorned.' Peggy Martinson acted as did so many other serial troublemakers faced with similar prospects, believing her lot on earth was to dish out as much agony for "the other woman" as she could. Her target would seldom have a moment's rest.

Only when nurse Nora went after some other men did Peggy let up. When those pursuits didn't pan out, the pressure resumed. In the end Peggy got hers, falling victim to an assassin's intent. Though it took five years, it was only a question of time. Getting there was what made it all so compelling.

(OTR Source: The Original Old-Time Radio BBS)
EPISODES LIST
This Is Nora Drake 47-12-09 Dr Jensen Tells Rose That Nora's Father Has Just Been Admitted
This Is Nora Drake 48-05-05 Bob has disappeared from the Hospital
This Is Nora Drake 48-05-11 Nora is Lonely
This Is Nora Drake 48-05-12 Nora has no place she wants to go
This Is Nora Drake 48-05-13 Peggy knows her husband loves Nora
This Is Nora Drake 48-05-18 Letter for Mrs Turner
This Is Nora Drake 48-05-19 Ken Contemplates Marriage To Peggy
This Is Nora Drake 48-05-20 Bob stops Nora on the Street
This Is Nora Drake 48-05-25 Peggy is playing a new Role
This Is Nora Drake 48-06-23 Nora's been Suspended
This Is Nora Drake 48-06-29 After Suspension, Trying to Keep Busy
This Is Nora Drake 48-07-13 It's Past Midnight and Nora Still Can't Fall Asleep
This Is Nora Drake 48-07-14 Peggy and Ken Are at the Breakfast Table
This Is Nora Drake 48-07-21 Nora reinstated at Hospital
This Is Nora Drake 48-07-22 Ken tells Nora He'll soon be free of Peggy
This Is Nora Drake 48-07-26 Nora has committed herself to Ken
This Is Nora Drake 48-12-30 Ken is brooding over Peggy's condition
 
THESE ARE MP3 RECORDINGS
THEY WILL NOT PLAY IN REGULAR CD PLAYERS
CLICK HERE TO KNOW MORE ABOUT mp3
CLICK HERE TO LEARN MORE ABOUT OUR PRODUCTS
We guarantee delivery of your item. If your item doesn't get there or is damaged, please notify us and we'll reship for you.
FULL REFUND IF NOT SATISFIED
Item number
OTR-1CD-ThisIsDoraDrake
Currently there are no reviews available for this product. Be the first to write a review.