FREE SHIPPING USA ONLY. International Customers: Please add international shipping: http://m.onesmedia.com/category/313432
THE EDGAR BERGEN & CHARLIE MCCARTHY SHOW
OLD TIME RADIO - 8 CD - 390 mp3 - Total Playtime: 95:12:21

Edgar John Bergen (February 16, 1903 – September 30, 1978) was an American actor and radio performer, best known as a ventriloquist.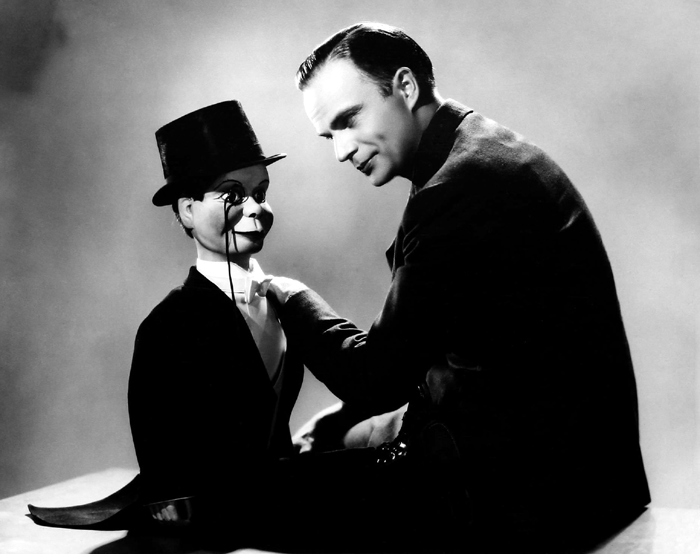 Bergen was born Edgar John Bergren in Chicago, Illinois, the son of Swedish immigrants Nilla Svensdotter (née Osberg) and Johan Henriksson Berggren. He grew up in Decatur, Michigan. He taught himself ventriloquism from a pamphlet when he was 11. A few years later he commissioned Chicago woodcarver Theodore Mack to sculpt a likeness of a rascally Irish newspaperboy he knew. The head went on a dummy named Charlie McCarthy, who became Bergen's lifelong sidekick. At age 16, he went to Chicago, where he attended Lake View High School and worked at a silent movie house.
His first performances were in vaudeville, at which point he legally changed his last name to the easier-to-pronounce "Bergen". He also worked in one-reel movie shorts, but his real success was on the radio. He and Charlie were seen at a New York party by Elsa Maxwell for Noël Coward, who recommended them for an engagement at the famous Rainbow Room. It was there that two producers saw Bergen and Charlie perform. They then recommended them for a guest appearance on Rudy Vallée's program. Their initial appearance, on December 17, 1936, was so successful that the following year they were given their own show, as part of The Chase and Sanborn Hour. Under various sponsors (and two different networks), they were on the air from May 9, 1937 to July 1, 1956. The popularity of a ventriloquist on radio, when one could see neither the dummies nor his skill, surprised and puzzled many critics, then and now. Even knowing that Bergen provided the voice, listeners perceived Charlie as a genuine person, but only through artwork, rather than photos, could the character be seen as truly lifelike. Thus, in 1947, Sam Berman caricatured Bergen and McCarthy for the network's glossy promotional book, NBC Parade of Stars: As Heard Over Your Favorite NBC Station.
It was Bergen's skill as an entertainer and vocal performer, and especially his characterization of Charlie, that carried the show. Many of the shows have survived and are available for audiences today to experience the phenomenon firsthand. Bergen's success on radio was paralleled in the United Kingdom by Peter Brough and his dummy Archie Andrews (Educating Archie).

For the radio program, Bergen developed other characters, notably the slow-witted Mortimer Snerd and the man-hungry Effie Klinker. The star remained Charlie, who was always presented as a highly precocious child (albeit in top hat, cape, and monocle) – a debonair, girl-crazy, child-about-town. As a child, and a wooden one at that, Charlie could get away with double entendre which were otherwise impossible under broadcast standards of the time.

Charlie: "May I have a kiss good-bye?"
Dale Evans: "Well, I can't see any harm in that!"
Charlie: "Oh. I wish you could. A harmless kiss doesn't sound very thrilling."

Similar lines given to Mae West in a sketch on the show broadcast December 12, 1937, resulted in her fifteen-year broadcasting ban. "Charles, I remember our date and have the splinters to prove it."[cite this quote]

Charlie's feud with W. C. Fields was a regular feature of the show.

W.C. Fields: "Well, Charlie McCarthy, the woodpecker's pinup boy!"

Charlie: "Well, if it isn't W.C. Fields, the man who keeps Seagram's in business!"

W.C. Fields: "I love children. I can remember when, with my own little unsteady legs, I toddled from room to room."
Charlie: "When was that? Last night?"

W.C. Fields: "Quiet, Wormwood, or I'll whittle you into a venetian blind."
Charlie: "Ooh, that makes me shutter!"

W.C. Fields: "Tell me, Charles, is it true that your father was a gate-leg table?"
Charlie: "If it is, your father was under it."

W.C. Fields: "Why, you stunted spruce, I'll throw a japanese beetle on you."
Charlie: "Why, you bar-fly you, I'll stick a wick in your mouth, and use you for an alcohol lamp!"

Charlie: "Pink elephants take aspirin to get rid of W. C. Fields."

W.C. Fields: "Step out of the sun Charles. You may come unglued."
Charlie: "Mind if I stand in the shade of your Nose?"

Bergen was not the most technically skilled ventriloquist – Charlie McCarthy frequently twitted him for moving his lips, but Bergen's sense of comedic timing was superb, and he handled Charlie's snappy dialogue with aplomb. Bergen's wit in creating McCarthy's striking personality and that of his other characters was the making of the show. Bergen's popularity as a ventriloquist on radio (where the trick of "throwing his voice" was not visible) suggests his appeal was primarily the personality he applied to his characters.

Bergen and McCarthy are sometimes credited with "saving the world" because, on the night of October 30, 1938, when Orson Welles performed his War of the Worlds radio play hoax that panicked many listeners, most of the American public had instead tuned in to Bergen and McCarthy on another station and never heard Welles' play. Conversely, it has also been theorized that Bergen inadvertently contributed to the hysteria. When the musical portion of Bergen's show, The Chase and Sanborn Hour, aired approximately twelve minutes into the show, many listeners switched stations and found the War of the Worlds presentation already underway, with a realistic sounding reporter detailing terrible events.

Ray Noble was the musical director and composer and teenage singer Anita Gordon provided the songs on his show. Gordon was said to have been discovered by Charlie, who had a crush on her.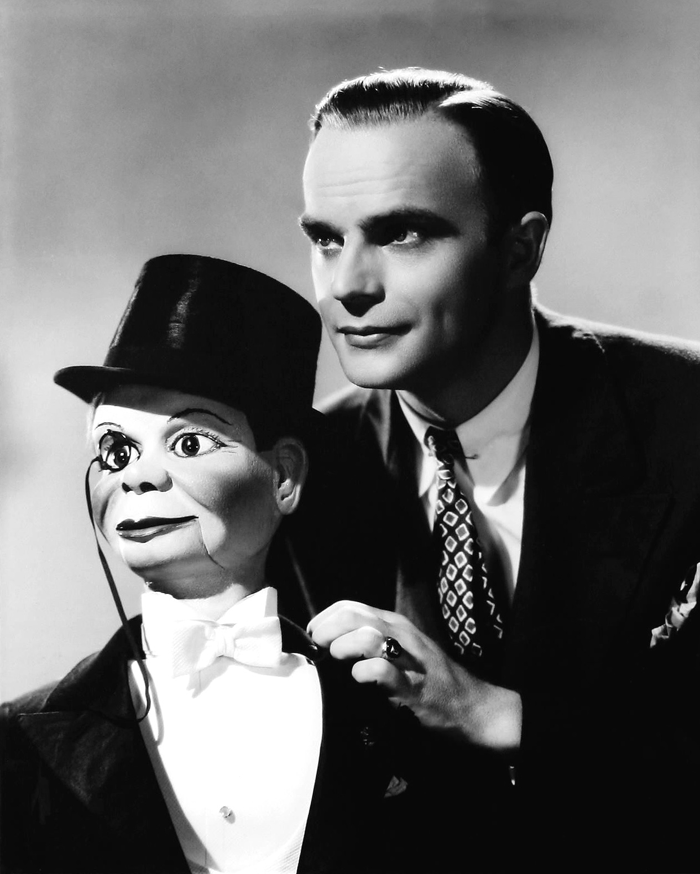 EPISODES LIST
361217 Bergen Debut
370509 001 Wc Fields Ann Harding
370516 002 Carole Lombard Joseph Bentoelli
370523 003 Mary Boland Sonja Henie
370530 004 Josephine Hutchinson Jose Iturbi
370606 005 Constance Bennett
370613 006 Joan Blondell
370620 007 Mae Robson Greta Garbo
370627 008 Sonja Henie
370704 009 Zazu Pitts
370711 010 Gladys George
370801 013 Bruna Castagna
370808 014 Wendy Barrienelson Eddy Joins Cast
370822 016 Glenda Farrell
370905 018 Ida Lupino
370912 019 Bette Davis
371212 xxx C S Adam and Eve with Mae West
380724 Five Star Final (with Spencer Tracy)
380731 Fay Bainter
380814 Ella Logan
380828 Ralph Bellamy
381030 C S with Don Ameche Halloween Party
390813 119 Joan Blondell Vera Vague
390827 121 Miriam Hopkins Alan Mowbray
390903 122 Wendy Barrie Vera Vague
390917 124 Helen Broderick Fred MacMurray
390924 125 Anita Louise David Niven
391112 132 JeanArthur
391119 133 John Garfield Alan Mowbray
391126 134 Loretta Young Vera Vague
391203 135 Maureen Ohara Arthur Treacher
391210 136 Joan BlondellVera VagueLansing Hatfield
391217 137 Geraldine Fitzgerald
400421 Charles Laughton
401027 Frankie Laine
410921 W C Fields
411207 Judy Garland
420303 Edward Everett Horton
420503 JudyGarland
420621 Edward Everett Horton
420628 Walter Brennan
420906 Charles Ruggles
421005 Guest Rosemary Clooney
421011 From Annapolis Naval Academy
421018 From Quantico Marine Base
421102 W C Fields
421108 262 Jabs with WC Field
430207 Teresa Wright
430214 Charles Ruggles
430221 Carmen Miranda
430228 Charlie the Beekeeper
430307 Academy Awards
430307 Charlie and Dancing School
430307 Meeting Sydney Greenstreet
430328 Edgar and Charlie Talk about Mexico Trip
430328 with royRogers
430404 Charlie Exam in Ancient History
430404 Charlie Swallows Marbles
430404 with bill thompson and mary bolen
430411 In Africa With Martha Raye
430411 Solar System
430411 W Martha Raye Bill Thompson
430418 Charlie and Mortimer Discuss Gardening
430418 Charlie Wants to Introduce Ronald Colman
430418 Meeting Ronald Coleman
430425 Bergen and Charlie Shortwave Radio
430425 Easter Charlie and Kay Francis
430425 showboat spoof wth irene dunne
430502 Barbara Stanwyck Wants to be EBCM Manager
430502 Charlie Talks to Dale Evans about Mustache
430502 Mustache Talk
430516 Charlie Likens Dale Evans to Fruit
430516 Charlie Talks Summer Plans with Claudette Colbert
430516 Charlie the Inventor
430523 Charlie Meets Charles Boyer
430523 Charlie Printing Blank Report Cards
430523 Charlie the Printer
430530 Bergen and his Black Eye Mortimer and Hot Dogs
430530 Charlie Meets Walter Pigeon
430530 Reincarnation
430530 Summer Vacation
430905 Bonus Back the attack with Humphrey Bogart
430905 Charlie Does Not like New Announcer Bill Goodwin
430905 Jean Arthur Goldilocks and the Three Bears
430912 Charlie and Edgar Fill out New Tax Plan
430912 Charlie Meets Humphrey Bogart
430912 W Humphrey Bogart
430926 Charlie and Bill Goodwin Try to Woo Hedy Lamarr for Bergen
430926 Charlie Broke Wants Bergen Loan
431010 Charlie is Ill
431010 Charlie Still Ill with Marjorie Main plus Mortimer
431031 Charlie with Dorothy Lamour as Robert Fulton
431031 Ichabod Crane Story
431107 Charlie Goes on Hunger Strike
431107 Elsa Maxwell Party with Charlie
431205 Charlie Meets Fats Waller
431205 Charlie Meets Jane Powell
431212 Bergen Tells Cinderella Story to Charlie
431212 Charlie Has a Dog For Sale with Paulette Goddard plus Mortimer
440000 with Lucile Ball
440123 Charlie Meets Greer Garson
440130 Basil Rathbone is Sherlock Holmes with Charlie plus Mortimer
440130 King Midas
440206 Charlie Meet Susan Hayward plus Mortimer
440206 Pump Car and Ice House Accident
440220 Mortimer Snerd Talks Eggs
440220 Trading Barbs with WC Fields
440222 Bergens Horoscope
440305 Charlie Meets Cecil B Demille
440305 Charlie Rearranges Furniture and Makes Pies
440312 Charlie Meets Charles Ruggles
440312 Costume Party Talk
440312 Mortimer Snerd and Jane Powell
440402 Has Bill Goodwin Been Fired
440402 Orson Welles Writes a Play
440917 Bergen Tells Hansel and Gretel Story to Charlie
440917 Charlie Meets Leo Carillo plus Mortimer
440924 Laughing Gas
440924CharlieWritesAPlayWithDorothyLamourPlusMortimer
441015 Charlie Broadway Usher Job
441015 charliesVisitsTheChaseAndSanbornPlant
441015 Mortimer Snerd with Ray Noble Ailments
441022 Bird Sanctuary with Billie Burke
441022 Racetrack with Effie
441022 Raising Frogs
441029 W Orson Welles Halloween
441105 John Robert Powers
441112 Charlie Steals A Boat And Mortimer Talks About The Zoo
441203 Don Ameche Inold Ticket Routine
441203 Glass Blowing
441203 The Ameche Brothers With Don Ameche
441210 Signe Hasso Matrimonital Ad
441210 Swiped Porcupine
441224 Don Ameche As Singing Professor
441224 Last Years Letter To Santa
441224 Night Before Christmas Poem
441231 Bergnes New Years Eve Party Discussed
441231 Charles Laughton Time Machine
441231 Don Ameche Meets Effie Clinker
441231 Don Ameche Skiing
450000 Bergen Gets Amnesia
450107 Carmen Miranda
450128 Frank Sinatra
450204 Habits
450204 Mortimer Snerd Grammar
450204 Tortoise And The Hare
450218 Charlie Promises To Stick By Bergen
450218 Ginny Simms And 9 Million Servicemen
450218 Veronica Lake How To Propose
450225 Charlie The Hero
450225 Gene Tierney Don Ameche Hospital Operation
450225 Mortimer Snerd Ostrich
450311 Charlies Hires A Bodyguard
450311 Mortimer Snerd Compass
450325 Edgar Tells Charlie The Little Red Riding Hood Story
450325 Effie Cowboys
450325 Little Red Riding Hood
450325 Valley Of The Sun
450422 Charlie Buys A Goldmine
450422 Effie Clinker Pouring Coffee
450428 Honarable Fire Chief Mccarthy
450429 Honorable Fire Chief Mccarthy
450429 Ida Lupino
450520 Charlie Is Leaving Bergen
450520 Gazzolla And Charlie As Vaudeville Team With Don Ameche And Janet Blair
450525 Mortimer Snerd Replacing Charlie
450902 Fred Allen
450909 Bergens Amnesia
450909 Keenan Wynn Psychologist
450909 Mortimer Snerd Driving Bergen
450923 Anne Baxter Stenographer
450923 Bergen Tells Charlie The Grasshopper And The Ant Story
450930 Anita Gordons Park Ride Offer
450930 Bad Memories Of Fred Allen
451014 Charlies Meets Hildegarde
451014 Edgar Tells Mouse And The Lion Story
451014 Mortimer Snerd New Glasses
451028 Boris Karloffs Haunted House
451111 Bergen In Newspapers About Romance actually His Wedding In Mexico
451111 Charlie Meets Governor Kerr
451111 Mortimer Snerd Lessons On Meeting The Governor
451118 Margaret Obrien Plagurized Version Of Courtship Of Miles Standish
451118 Mortimer Snerd Hypnotism
451202 Dugans Money
451202 Mortimer Snerd Calves
451202 Walter Pidgeon
451215 Mortimer Snerd 7 Years Bad Luck
451216 Susan Heyward Planetarium
460210 jose I turbi
460210 Letter To The Man In The Moon
460210 Mortimer Snerd Caddy For Bergen
460217 Charlies The Salesman
460217 Mortimer Snerd
460303 Bergen Tells Charlie The Ugly Duckling Story
460303 Mortimer Snerd Bum Fountain Pen
460303 Walter Slezak
460324 at The Barbershop With WcFields
460324 Chariles Composition For English Class Plus Mortimer Snerd
460324 Morimter Snerd Must Make Public Speech
460331 Mortimer Snerd Recite Poem In School Tomorrow
460331 Roy Rogers And Sons Of The Pioneers
460331 Truant Office Irs Sick
461117 Charlie Accepted Into Dancing School
461117 Mortimer Snerd Spring
461117 Tallulah Bankhead
470105 Charlie Entertains Pen Pals And Charles Boyer
470105 Charlie To Meet His Pen Pals
470105 Mortimer Snerd The New Year
470112 Bergen Gets A Summons
470112 edward Arnold
470112 Mortimer Snerd String Around His Finger
470112 Mortimer Snerd
470119 Gazzaola Substitue Dentist
470121 Charlie To Raise Silk Worms
470126 Mortimer Snerd Bad Grammar In Speaking
470126 Roy Rogers Visits Charlie And Gang
470202 Bergen Tells Pied Piper Story
470202 Charlies New Mother
470202 Mortimer Snerd Motion Picture Star
470209 Bergens Old Poems
470209 Mortimer Snerd Electricity
470209 Nelson Eddy Big Star
470216 Bergens Birthday With Nelson Eddy
470216 Mortimer Snerd The Audience
470216 Nelson Eddy And Billie Burke Theatrical Agents
470223 Fan Letter
470223 Romance Of Elsa Maxwell And Nelson Eddy
470223MortimerSnerdbabySitter
470302 Accident Insurance With Nelson Eddy And Chester Morris
470302 Charlie The Fibber
470302 Mortimer Snerd Shoe Shine
470309 Model Boy With Anita Gordon
470309 Mortimer Snerd Memorizing A Poem
470309 Wake Up Service
470914 Man Wants To See Bergen
470914 Mortimer Snerd Selling Newspapers
470914 Prince Michael Romanoff
470921 Fun And Fancy Free
470921 Mortimer Snerd Something Important
470929 Charlie Wants To Go Out With Betty Hutton
471005 Charlie Stays Up Late
471005 Charlies Run Afoul Of The Law And Bazzola
471005 Mortimer Snerd Job At A Pet Shop
471012 Bergen Hurt Playing Football
471012 Linda Darnell Christopher Columbus
471012 Mortimer Snerd Hiccups
471019 Aladdin And His Lamp
471019 Jane Wyman
471019 Mortimer Snerd Conductor
471019 Mortimer Snerd Selling Hotdogs And Ice Cream
471026 Baby Buggy
471026 Mortimer Snerd Clothes Have Shrunk
471026 Richard Widmark
471102 Charlies Xray
471102 Fred Allen
471102 Mortimer Snerd Blindfold
471109 Bergen And Horses
471109 Maurice Evans
471109 Mortimer Snerd Window Washer
471116 Charlies Swipes A Bus
471116 Lana Turner
471116 Mortimer Snerd Met A Girl
471123 Bergen Tells Story Of Robinson Crusoe
471123 Carmen Miranda Plagurized Version Of Carmen
471123 Mortimer Snerd Up North
471207 Mortimer Snerd Diary
471207 The Brain
471214 Christmas Candy Missing
471214 Gary Cooper
471214 Mortimer Snerd Dickering
480111 Doctor Charlie Mccarthy
480111 Lucille Ball
480111 Mortimer Snerd Big Party
480118 Androcles
480118 Hoagy Charmichael
480118 Mortimer Snerd Xray
480118 Wildlife
480202 Jane Wyman Bakery Truck
480404 Barbara Bel Geddes
480404 Mortimer Snerd Fencing
480411 CharlieIs An Astronomer
480411 Doctor In Astronomy
480411 Mortimer Snerd A Dog
480411 Planetarium
481017 Charlie Breaks A Window
481017 Gazzola Washington DC
481017 Mortimer Snerd Mumbling
481210 Feeling Of Good Cheer
481219 Mortimer Snerd Girlfriend
481219 Mortimer Snerd Girls
491113 Dick Powell Detective
491113 Mortimer Snerd Pool
491113 Vocational Director
491218 Charlies Girlfriend With June Allyson
491218 Mortimer Snerd Museum Visit
491218 Museum With June Allyson
491224 Today Is Christmas
491225 Mortimer Snerd Mortimer Saw Santa
511216 Charlie Hires Pet Caterers For Cheap Party Food
511216 Mortimer Snerd-Afraid Of The Dark
511216 Too Nervous For School
520525 A Fairy Tale
520525 Charlie Might Be Sick
520525 Mortimer Snerd Buying Mules
521005 Bergen Reminisces
521005 Charlie And Rosemary Clooney
521005 Mortimer Snerd Hair
521109 Charlie Plans To Marry Marilyn Monroe
521109 Mortimer Snerd Filling Charlies Shoesreused Script
540117 Charlie Arrested For Stealing Cops Motorcycle
540117 Mortimer Snerd Monkeys
540117 With Liberace
540228 Charlie Has A Dream About Making A Movie With June Allyson and Dick Powell
540228 Final Exams
540228 Mortimer Snerd Has Pencil Will Write A Book
540228 Mortimer Snerd Mice
540415 Bergen Tells Story Of Androcles
550115 Bergen Wants To Borrow Charlies Bike
551113 Charlie Has A Dream About Hell
551113 Effie Secret Of Eternal Youth
551120 Bergen Mixed Up In A Triangle
551120 Charlie Fails Driving Test
551120 Mortimer Snerd Luv
551127 Effie And Staying Young
551127 Jack Benny The Hotel Owner
551127 Mortimer Snerd Blood Is Thicker Than Water
551218 Christmas With Eileen Moseby
551225 Charlie And Candice Bergen
551225 Mortimer Snerd Rain
560101 Blackmail
560101 Effice Advice To The Lovelorn
560101 Mortimer Snerd New Years Party
560115 Mortimer Snerd Wrestling
560122 Bad Movies
560129 Charlie Wants To Raise Rabbits
560129 Mortimer Snerd Superstition
560129 Old Days Of Las Vegas
560129 Seven Years Bad Luck
560129 Sweater Making
560129 Yucca Flats Charlie
560304 Effie Advice On Health
560304 Mortimer Snerd Questioned By The Fbi
560304Tax Consultant
560318 Cavalcade Of Flops PartIi
560318 Cavalcade Of Flops
560318 Effie Advice To The Lovelorn
560318 Morimer Snerd At The Zoo
560408 Bergen Takes Vocal Lessons
560408 Mortimer Snerd Misery
560415 Ben Him
560415 Bergen Sings
560422 About Edgars Singing
560422 Mortimer Snerd Lost
560422 What Effie Likes To Do
Biography in Sound 56-02-28 (43) W C Fields
Biography in Sound 56-05-15 (49) Recolections at 30
Biography in Sound 56-05-29 (50) Fred Allen
Command Performance - 42-04-12 - Gene Tierney, Edgar Bergen, Betty Hutton
Command Performance - 42-09-22 - Don Ameche, Edgar Bergen, Tommy Dorsey
Command Performance - 42-11-03 - Betty Grable, Edgar Bergen, Judy Canova
Command Performance - 43-11-27 - Herbert Marshall, Edgar Bergen, Bob Wills
Command Performance - 44-11-01 - Ethel Merman, Joe E Lewis, Connie Boswell
Command Performance - 46-05-29 - Fourth Anniversary Special
Command Performance - 46-12-25 - 1946 Christmas Special, Host - Bob Hope (part 1)
Command Performance - 46-12-25 - 1946 Christmas Special, Host - Bob Hope (part 2)
Command Performance - 47-05-14 - June Havoc, Connie Haines, Edgar Bergen
Command Performance - 48-03-23 - Martha Tilton, Edgar Bergen
Command Performance - 48-12-25 - 1948 Christmas Special, Announcer - Ken Carpenter (part 1)
Command Performance - 48-12-25 - 1948 Christmas Special, Announcer - Ken Carpenter (part 2)
Double Feature 44-08-13 Guest - Edgar Bergen
Eternal Light 45-10-28 The Unbroken Circle
Fibber McGee And Molly 41-11-11 Bergen and McCarthy Come to Movie Premiere
Fred Allen - Fred Allen Show 45-10-07 Auditions
GI Journal 44-10-20 Guest - Edgar Bergen, 1st Song - Is You Is
Golden Age of Radio-WTIC 49 1974 April - Edgar Bergen
Jack Benny Program 46-10-13 Jack and Mary Walk to the Studio
Jack Benny Program 49-09-25 Guest - Edgar Bergen, Charlie McCarthy, Red Skelton
Jackie Gleason - Les Tremayne Show 44-08-13 First Song - Amor, Amor, Amor, Guest - Edgar Bergen
Kraft Music Hall 47-10-02 First Song - Sonny Boy, Guest - Edgar Bergen
Mail Call 450207 130 Marion Hutton, Edgar Bergen, Ingrid Bergman
Philco Radio Time - 48-11-03 Edgar Bergen
Recollection at 30 560718 05 The Chase Sanborn Hour
Rudy Vallee - Royal Gelatin Hour 36-12-17 Guest - Shirley Booth
Rudy Vallee - Royal Gelatin Hour 37-03-04 Guest - Walter Abel
Rudy Vallee - Royal Gelatin Hour 37-03-25 Guest - Bob Hope
Rudy Vallee - Royal Gelatin Hour 37-04-01 Guest - Marc Connelly
Screen Guild Theater 440424 193 Snow White
Screen Guild Theater 461223 327 Snow White & 7 Dwarfs
Sealtest Variety Theater 49-04-21 Guest - Edgar Bergen
This Is Your Life 50-03-xx Guest – Edgar Bergen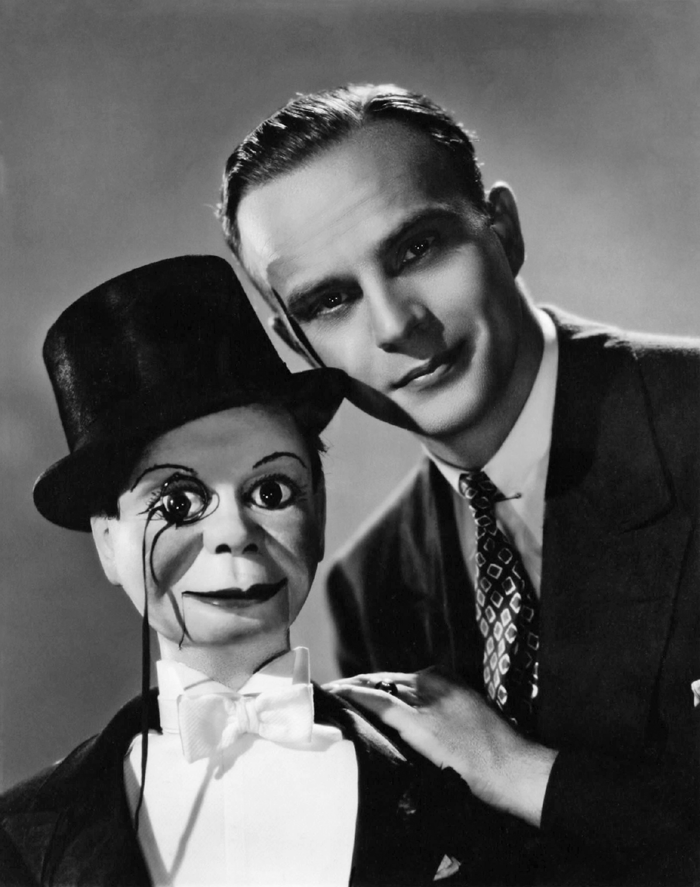 THESE ARE MP3 RECORDINGS
THEY WILL NOT PLAY IN REGULAR CD PLAYERS
CLICK HERE TO KNOW MORE ABOUT mp3
CLICK HERE TO LEARN MORE ABOUT OUR PRODUCTS
We guarantee delivery of your item. If your item doesn't get there or is damaged, please notify us and we'll reship for you.
FULL REFUND IF NOT SATISFIED
Item number
OTR-8CD-EdgarBergen
Currently there are no reviews available for this product. Be the first to write a review.