FREE SHIPPING USA ONLY. International Customers: Please add international shipping: http://m.onesmedia.com/category/313432
EVERYMAN'S THEATER
OLD TIME RADIO - 1 CD - 5 mp3 - Total Playtime: 2:16:02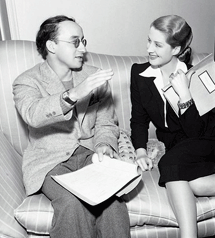 Everyman's Theater: A Worthy Sequel to Arch Oboler's Plays
A glance at the leading artist roster for the twenty-six installments of Everyman's Theater shows a breathtaking diversity and depth of talent. Showcasing some of the most respected female actors of the era, Everyman's Theater boasted no less than the aforementioned Nazimova, as well as Bette Davis, Joan Crawford, Mary Astor, Elsa Lanchester, Marlene Dietrich, and Norma Shearer. The male starring line-up included Raymond Massey, Boris Karloff, Walter Huston, Charles Laughton, Franchot Tone and Brian Donlevy. Also heard were several early repeat appearances by soon-to-be AFRS enlisted buddies Howard Duff and Elliott Lewis.

Even more interesting is the fact that the leading artists of the era were highly receptive to almost any script from Arch Oboler--let alone one written specifically for them. To keep things in historical perspective, its instructive to remember that Arch Oboler had only begun making his mark on the Stage and Radio from the mid-1930s. His considerable reputation as both writer and director was just hitting a high point in 1940. Lights Out! had already proved wildly successful for almost four years. Arch Oboler's series of well-received radioplays, Arch Oboler's Plays, during the 1939-1940 season also laid the framework to showcase Oboler's exceptional range and versatility.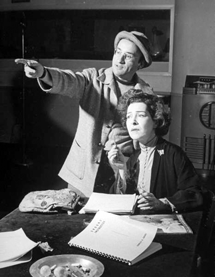 Arch Oboler's Plays was Oboler's breakout dramatic showcase over Radio. Everyman's Theater further established Oboler's versatility and range, while underscoring Oboler's growing appeal to a far wider audience than he'd already established with Lights Out!. Though eight years his senior, the diminutive (5'1") Oboler, while never quite as popular as Orson Welles, invites comparison to the other great young playwright-actor-director. Their skills were clearly each other's equal, their versatility had already been amply demonstrated by 1940, and their genius was indisputable. It's also clear that both Wyllis Cooper and Norman Corwin served to influence and inform Oboler's growing, wider appeal.

It's also instructive to appreciate the extraordinary talent that 1940 Radio had already begun to enjoy in its full maturity as a popular medium. Directors such as William N. Robson, William Spier, Norman Corwin, Orson Welles, and Himan Brown were revolutionizing contemporary Radio of the era. Writer-directors of the talent of Welles, Oboler, Cooper, Brown, and Corwin were expanding the envelope of Radio experimentation. 'Packagers' such as Himan Brown, Frank and Anne Hummert, and Frederick Ziv were dramatically expanding the Radio landscape with all manner of popular programming.

If there was a zenith to the Golden Age of Radio, the transition from the 1930s to the 1940s certainly qualifies. The impending involvement of America in a second world war, its only recent recovery from the devastating impact of The Great Depression, and a growing uncertainty about its immediate future combined to keep American glued to Radio. All the more justification for Oboler's perceived need in his audience for a series targeted directly at the 'everyman' and 'everywoman' of America.
EPISODES LIST
Everyman's Theatre 40-10-04 (01) The Lonely Heart
Everyman's Theatre 40-10-11 (02) This Precious Freedom
Everyman's Theatre 40-10-18 (03) Cat Wife
Everyman's Theatre 40-12-20 (12) The Women Stayed at Home
Everyman's Theatre 41-03-28 (26) Baby
THESE ARE MP3 RECORDINGS
THEY WILL NOT PLAY IN REGULAR CD PLAYERS
CLICK HERE TO KNOW MORE ABOUT mp3
CLICK HERE TO LEARN MORE ABOUT OUR PRODUCTS
We guarantee delivery of your item. If your item doesn't get there or is damaged, please notify us and we'll reship for you.
FULL REFUND IF NOT SATISFIED
Item number
OTR-1CD-EverymansTheater
Currently there are no reviews available for this product. Be the first to write a review.