FREE SHIPPING USA ONLY. International Customers: Please add international shipping: http://m.onesmedia.com/category/313432
BEST PLAYS
OLD TIME RADIO - 3 CD-ROM - 46 mp3 Total Playtime: 45:10:45

Best Plays was another of the prestigious sustaining productions of the NBC Presents family of presentations from the National Broadcasting Company which, over the years, had presented numerous consistently rich, high-production value series' of NBC

-produced and financed dramatic productions. Announced almost six weeks previously, NBC decided to wait until the summer of 1952 to introduce the series as a summer replacement for their Theatre Guild series. And indeed, the series was so well received as a summer series that NBC extended the franchise for another full year season.

Where this production differed was in presenting 20th Century, award winning Stage Plays exclusively. The common demoninator for the selections were, for the most part, their previous identification by the New York Drama Critics' Circle as a 'Best Play' of the season. With the exception of Alexandre Dumas and William Shakespeare, the series showcased most of the finest contemporary authors of the modern era--many of them Pulitzer prize winning plays.

The list of truly remarkable, contemporary actors was also one of the signature features of this series, employing over 100 of The Golden Age's most well-known, accomplished dramatic actors from Stage, Screen, and Radio.

John Chapman, the noted Drama critic for the New York Daily News, hosted the series. Indeed, Chapman's fascinating and insightful introductions to each play remains one of the series' most interesting aspects. The former Dean of Manhattan Drama Critics, Burns Mantle, had previously hosted and commentated on NBC's Great Plays (1938-1942), one of the first NBC 'educational features' that eventually comprised its run of various NBC Presents programs. Robert Burns Mantle passed away in 1948, but it was Burns Mantle's annual compendium of 'Best Plays' that served as the inspiration for the Best Plays in 1952.

This was a highly polished, natural progression of the NBC Presents franchise and clearly maintained NBC's franchise as the gold standard in Radio Drama. Though running for only 52 productions in all, this series remains one of the most overlooked--but highly collectable--productions in Radio. Well worth a listen to the entire run.
SHOWS LIST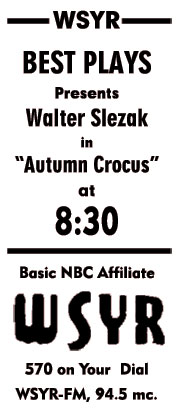 Best Plays 52-06-08 (01) Winterset
Best Plays 52-06-15 (02) On Borrowed Time
Best Plays 52-06-22 (03) Angel Street
Best Plays 52-06-29 (04) The Hasty Heart
Best Plays 52-07-06 (05) Arsenic and Old Lace
Best Plays 52-07-20 (07) The Voice of the Turtle
Best Plays 52-08-03 (09) Outward Bound
Best Plays 52-08-10 (10) Uncle Harry
Best Plays 52-08-17 (11) The Philadelphia Story
Best Plays 52-08-24 (12) Home of the Brave
Best Plays 52-08-31 (13) Blithe Spirit
Best Plays 52-10-03 (15) Victoria Regina
Best Plays 52-10-10 (16) She Loves Me Not
Best Plays 52-10-17 (17) High Tor
Best Plays 52-10-24 (18) Biography
Best Plays 52-11-09 (19) Elizabeth the Queen
Best Plays 52-11-16 (20) The Madwoman Of Chaillot
Best Plays 52-11-23 (21) Missouri Legend
Best Plays 52-11-30 (22) Rope
Best Plays 52-12-07 (23) Skylark
Best Plays 52-12-14 (24) Craig's Wife
Best Plays 52-12-21 (25) Night Must Fall
Best Plays 52-12-28 (26) A Bell for Adano
Best Plays 53-01-04 (27) Accent on Youth
Best Plays 53-01-11 (28) Men in White
Best Plays 53-01-25 (29) There Shall Be No Night
Best Plays 53-02-01 (30) Camille
Best Plays 53-02-08 (31) John Loves Mary
Best Plays 53-04-17 (33) Mr Roberts
Best Plays 53-05-01 (34) Susan and God
Best Plays 53-05-08 (35) Of Mice and Men
Best Plays 53-05-15 (36) St Helena
Best Plays 53-05-22 (37) Summer and Smoke
Best Plays 53-05-29 (38) The Amazing Dr Clitterhouse
Best Plays 53-06-05 (39) Autumn Crocus
Best Plays 53-06-21 (40) Another Language
Best Plays 53-06-28 (41) The Farmer Takes a Wife
Best Plays 53-07-12 (43) Macbeth
Best Plays 53-07-19 (44) The Rose Tattoo
Best Plays 53-08-02 (45) There's Always Juliet
Best Plays 53-08-09 (46) The Male Animal
Best Plays 53-08-16 (47) Detective Story
Best Plays 53-08-30 (49) Tonight At 8 30
Best Plays 53-09-06 (50) Kiss the Boys Goodbye
Best Plays 53-09-13 (51) Ethan Frome
Best Plays 53-09-20 (52) The Petrified Forest
THESE ARE MP3 RECORDINGS
THEY WILL NOT PLAY IN REGULAR CD PLAYERS
CLICK HERE TO KNOW MORE ABOUT mp3
CLICK HERE TO LEARN MORE ABOUT OUR PRODUCTS
We guarantee delivery of your item. If your item doesn't get there or is damaged, please notify us and we'll reship for you.
FULL REFUND IF NOT SATISFIED
Item number
OTR-3CD-BestPlays
If you love good theatre and outstanding performances,,than this is the one for you,Bob Connelly
---