FREE SHIPPING USA ONLY. International Customers: Please add international shipping: http://m.onesmedia.com/category/313432
POPEYE, THE SAILOR
    OLD TIME RADIO - 1 CD-ROM - 5 mp3 - Total Time: 1:30:09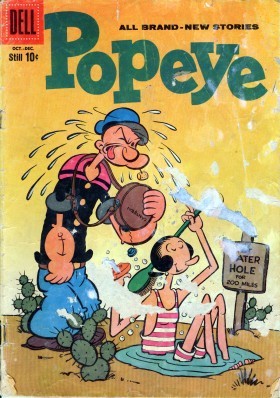 Popeye was adapted to radio in several series broadcast over three different networks by two sponsors from 1935 to 1938. Popeye and most of the major supporting characters were first featured in a thrice-weekly 15-minute radio program, Popeye the Sailor, which starred Detmar Poppen as Popeye along with most of the major supporting characters—Olive Oyl (Olive Lamoy), Wimpy (Charles Lawrence), Bluto (Jackson Beck) and Swee'Pea (Mae Questel). In the first episode, Popeye adopted Sonny (Jimmy Donnelly), a character later known as Matey the Newsboy. This program was broadcast Tuesday, Thursday and Saturday nights at 7:15pm. September 10, 1935 through March 28, 1936 on the NBC Red Network (87 episodes), initially sponsored by Wheatena, a whole-wheat breakfast cereal, which would routinely replace the spinach references. Music was provided by Victor Irwin's Cartoonland Band. Announcer Kelvin Keech sang (to composer Lerner's "Popeye" theme) "Wheatena is his diet / He asks you to try it / With Popeye the sailor man." Wheatena paid King Features Syndicate $1,200 per week.

The show was next broadcast Mondays, Wednesdays and Fridays from 7:15 to 7:30pm on WABC and ran from August 31, 1936 to February 26, 1937 (78 episodes). Floyd Buckley played Popeye, and Miriam Wolfe portrayed both Olive Oyl and the Sea Hag. Once again, reference to spinach was conspicuously absent. Instead, Popeye sang, "Wheatena's me diet / I ax ya to try it / I'm Popeye the Sailor Man".[15][16]

The third series was sponsored by the maker of Popsicle three nights a week for 15 minutes at 6:15 pm on CBS from May 2, 1938 through July 29, 1938.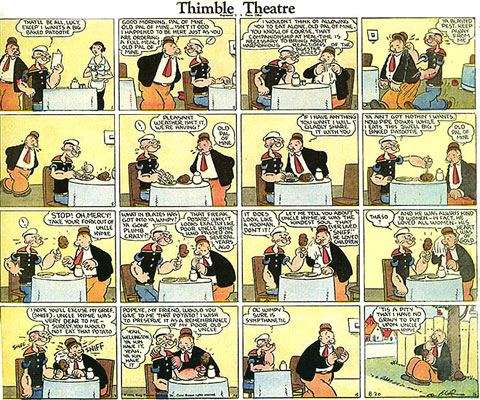 EPISODES LIST

Popeye, the Sailor 35-09-10 Popeye vs. the Trolly Car
Popeye, the Sailor 36-xx-xx A Race to the Moon
Popeye, the Sailor 36-xx-xx Breaks Up With Olive
Popeye, the Sailor 36-xx-xx Popeye And Gang at the Zoo
Popeye, the Sailor 36-xx-xx Popeye Meets Robin Hood
Popeye, the Sailor 36-xx-xx Popeye Meets the Giant
Popeye, the Sailor 36-xx-xx The River Queen
THESE ARE MP3 RECORDINGS
THEY WILL NOT PLAY IN REGULAR CD PLAYERS
CLICK HERE TO KNOW MORE ABOUT mp3
CLICK HERE TO LEARN MORE ABOUT OUR PRODUCTS
We guarantee delivery of your item. If your item doesn't get there or is damaged, please notify us and we'll reship for you.
FULL REFUND IF NOT SATISFIED
Item number
OTR-1CD-Popeye
Currently there are no reviews available for this product. Be the first to write a review.