FREE SHIPPING USA ONLY. International Customers: Please add international shipping: http://m.onesmedia.com/category/313432
STRANGE WILLS
OLD TIME RADIO - 1 CD-ROM - 28 mp3
Total Playtime: 13:47:17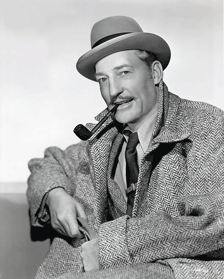 Strange Wills was an interesting twist on the mystery drama fare of the late 1940s. Conceived by both Teleways and Warren William himself, the premise of the series is the fascinating--but often overlooked--drama that arises from many last wills and testaments. Warren William provides the first-person accounting of these legal entanglements as either the attorney of record or as an investigator of the often complex underpinning of some extraordinary wills.

These were ''strange stories from strange wills under strange circumstances.'' The source attributed to most of these bizarre and fascinating wills was the 'seven deadly sins': pride, envy, hate, jealousy, anger, despair and greed. Initially syndicated by Teleways, Charles Michelson subsequently bought the syndication rights and licensed them further to Grace Gibson Radio Productions in 1948 for distribution to Australian audiences. The 1948 production was reportedly recorded in Australia in an effort to skirt the 1948 Petrillo ban. Many other productions were being recorded and produced in Mexico and Puerto Rico during the period. The Teleways deal with Grace Gibson reportedly included both Strange Wills and Curtain Call.

In an even further incarnation, Warren William apparently either bought--or licensed--the entire series of productions from Charles Michelson and formed his own Warren William Radio Productions, Inc., to market a continuation of the series to NBC, repackaged as I Devise and Bequeath. I Devise and Bequeath was slated to air over NBC during the late 1940s, but Warren William Radio Productions, Inc., passed on with the passing of its owner, Warren William, September 24, 1948 from a 10-month battle with 'Virus X', a cancer-causing blood disorder (bone-marrow cancer). This was a bitter irony indeed. Warren William's final two lead roles in a Radio production were as a lawyer and investigator dealing with strange last wills in one form or another.

The Teleways syndicated run of Strange Wills was of unusually high production values for a Teleways production of the era. Most circulating exemplars are from an originally syndicated subscription set with musical transitions as placeholders for local sponsors' or stations' messages. The core ensemble cast of most of the productions included its host and star, Warren William, and co-starring Howard Culver and Carleton G. Young. Lurene Tuttle also appeared in many of the episodes, as well as William Conrad, Peggy Webber, Will Wright and John Brown. The remainder of the supporting cast of most productions was comprised of many of the West Coast's finest voice talent.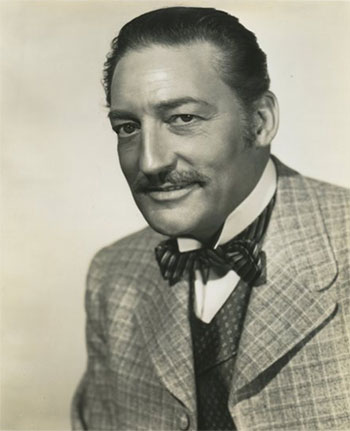 Reportedly ten years in the making, writer/lawyer Ken Krippene apparently compiled a series of script ideas from a collection of last will and testament cases he'd compiled over that period. The most instructive information for the series is contained in the sales highlights recording that accompanies most circulating exemplars. Narrated by Marvin Miller, the sales highlights recording provides samples of seven of the scripts from the advertised canon of twenty-six programs in the package.

Of the five known episodes of I Devise and Bequeath, only four are currently in circulation. The I Devise and Bequeath productions apparently comprised the original scripts from Strange Wills.

There remains some confusion as to the possible availability of as many as three missing episodes from the originally syndicated canon. At least one exemplar that apparently never aired was High Conquest. In addition, Warren William announces an episode to follow Singapore Liz, entitled Swan Song, that apparently never aired. Another source cites one additional script entitled Dishonored Legacy that apparently never aired.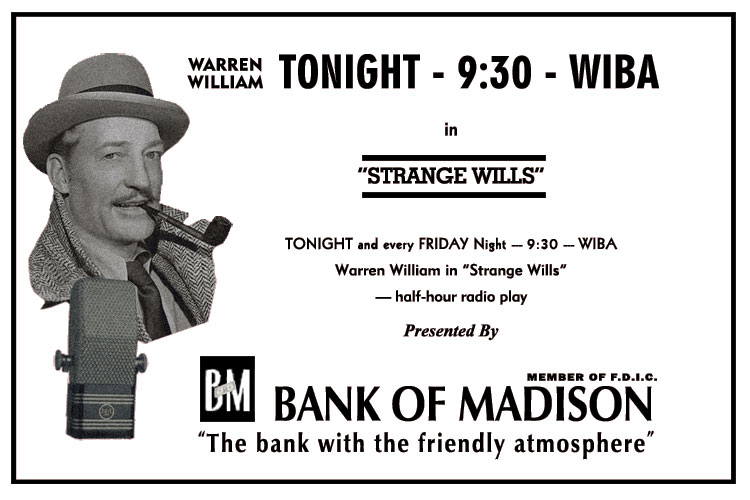 This was, afterall, a syndicated package of twenty-six programs, as evidenced by Teleways' marketing advertisement at left in the sidebar. Circulating exemplars of the syndication contain twenty-seven titles and a Teleways Sales Highlights recording that Teleways sent to potential subscribers to introduce the syndicated package. We're left to conjecture whether the additional three (or four) titles beyond the twenty-six program package were simply lagniappe, such as a baker's dozen, or whether Charles Michelson and Warren William had already begun to record a subsequent package of thirteen to twenty-six additional programs for a second season. Since Warren William, himself, announces the apparent 23rd, 27th, 28th and 29th scripts within the original, syndicated transcriptions themselves, it would seem that either Teleways or Warren William Radio Productions, Inc. had already begun a second subscription of thirteen to twenty-six additional programs.
Text from Digital Deli Too Website
EPISODES LIST:
Strange Wills 46-01-15 Audition and Sales Presention
Strange Wills 46-06-08 (01) The Mad Concerto
Strange Wills 46-06-15 (02) Alias Doctor Svengali
Strange Wills 46-06-22 (03) Black Interlude
Strange Wills 46-06-29 (04) The Lady and the Pirate
Strange Wills 46-07-06 (05) Prince of Broadway
Strange Wills 46-07-13 (06) Treasure to Starboard
Strange Wills 46-07-20 (07) One Shining Night
Strange Wills 46-07-27 (08) Midnight on the Moor
Strange Wills 46-08-03 (09) Seven Flights to Glory
Strange Wills 46-08-10 (10) The Girl from Shadowland
Strange Wills 46-08-17 (11) Madman's Diary
Strange Wills 46-08-24 (12) Emeralds Come High
Strange Wills 46-08-31 (13) Emily
Strange Wills 46-09-07 (14) Margin for Love
Strange Wills 46-09-14 (15) They Met in Monte Carlo
Strange Wills 46-09-21 (16) The Girl in Cell 13
Strange Wills 46-09-28 (17) So Deep the Stream
Strange Wills 46-10-05 (18) The Miser's Gold
Strange Wills 46-10-12 (19) East of Hudson's Bay
Strange Wills 46-10-19 (20) Autograph Girl
Strange Wills 46-10-26 (21) Penthouse Orphan
Strange Wills 46-11-02 (22) Singapore Liz
Strange Wills 46-11-09 (23) Crosswinds
Strange Wills 46-11-16 (24) Dance Director
Strange Wills 46-11-23 (25) Death Is My Destiny
Strange Wills 46-11-30 (26) The Killer and the Saint
Strange Wills 46-12-07 (27) Portsmouth Square
 
THESE ARE MP3 RECORDINGS
THEY WILL NOT PLAY IN REGULAR CD PLAYERS
CLICK HERE TO KNOW MORE ABOUT mp3
CLICK HERE TO LEARN MORE ABOUT OUR PRODUCTS
We guarantee delivery of your item. If your item doesn't get there or is damaged, please notify us and we'll reship for you.
FULL REFUND IF NOT SATISFIED
Item number
OTR-1CD-StrangeWillis
Currently there are no reviews available for this product. Be the first to write a review.