FREE SHIPPING USA ONLY. International Customers: Please add international shipping: http://m.onesmedia.com/category/313432
DUNNINGER, THE MENTALIST
OLD TIME RADIO - 1 CD - 7 mp3 - Total Playtime: 3:25:07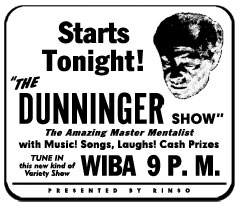 Variously promoting himself as "The Master Mentalist," "The Amazing Dunninger," and "The Master Mind of Modern Mystery" over his sixty-year career, Joseph Dunninger initially launched himself in 1907 as an escape artist, much in the mold of the Great Houdini. Lithe, slim and capable of extraordinary contortions, Dunninger combined his extraordinary flexibility with years of early training picking all manner of locks and locking devices.

By 1910, Dunninger began specializing in mind-reading feats of legerdemain. Eschewing the more widely employed use of 'assistants' to help in his mind-reading demonstrations, his reputation began to exponentially expand. So secure was he in his talents, he launched several "$10,000 Challenges" over the course of his career:

$10,000 cash to anyone that could prove that he used confederates or assistants of any kind in demonstrating his mind-reading
$10,000 cash to anyone "who, with the aid of 'the spirit world.'could disclose the translation to secret coded messages entrusted to him by Harry Houdini and Thomas Edison"
$10,000 cash to anyone who could introduce him to a real ghost

Needless to say, no one ever collected on any of Dunninger's 'challenges--not publicly in any case. Touring both back and forth across America and around the world, Dunninger's fame--as well as his growing association with Magic legend, Harry Houdini--expanded his international fame to a level approaching that of Houdini himself. When Houdini died in 1926, Dunninger quickly subsumed the mantle of 'world's greatest mentalist,' along with many other contenders of the era--Howard Thurston and Harry Blackstone among them. When Howard Thurston himself passed away in 1936, Dunninger continued his brilliantly self-promoting ascension to levels rarely attained by 'mentalists' and magicians of the era.

Dunninger's genius in marketing himself kept him continually in the public eye. He wrote magazine articles for both the public and other magicians, as well as a growing output of pamphlets, books, and newspaper supplements throughout the era. Dunninger's bylines could be found in Time, Life, Look, Reader's Digest, Vanity Fair, Popular Mechanics, SCIENCE and INVENTION, The Saturday Evening Post, True Detective, and Sphinx, among many others. And of course each new article prompted even more interest--and yet more articles.

Dunninger's books consistently became bestsellers within weeks. Soon commanding sizable fees for his appearances, he packed theaters, playhouses, stages and performance halls from coast to coast. Dunninger's performing style was also unique to the era--he typically sat on a stool or in a chair on the middle of the stage, with no more than a pad of paper and a pencil as 'tools.'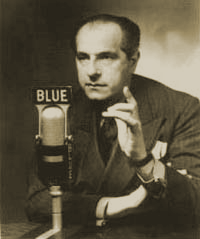 One of Dunninger's more mutually beneficial alliances of the era was with famed pulp fiction author Walter B. Gibson, who himself invented many widely used magic tricks as well as touring with and befriending Harry Houdini, Howard Thurston, and Harry Blackstone, as well as Dunninger. Indeed, it's been intimated that Joseph Dunninger was Walter B. Gibson's inspiration for The Shadow--both in pulp and over Radio.
Sherwin-Williams Paints
1927 Sherwin-Williams letterhead
Henry Alden Sherwin was born on September 27, 1842, in Baltimore, Vermont. His first job was in a local general store. In 1860, an uncle invited Henry to Cleveland, Ohio. He found employment with Freeman & Kellogg Co., a Cleveland dry goods store. Starting out as a clerk, two years later Sherwin had been promoted to bookkeeper. The young bookkeeper next moved to a wholesale grocery company by the name of Geo. Sprague & Co, where he became a partner, but soon left, apparently because he disliked the selling liquor.

By 1866, Sherwin had saved $2,000. He was offered employment with a bank, a partnership with a wholesale drug company, and a partnership in a wholesale paint business. Choosing the later, Sherwin became the newest partner in the Truman Dunham & Co. He stated years later, that Truman Dunham offered the least but "was the one which in my youthful strength and ambition gave promise of a future greater than the others". He also admitted that at the time he "did not realize what it would lead to". By 1869, Sherwin discovered that his partners were more interested in the manufacture of linseed oil than in the production of paint.

In February 1870, they dissolved the existing partnership and Sherwin, with an associate by the name of Osborn (who had been bookkeeper at Dunham & Co.) and Edward Williams, a Civil War veteran who was a Phi Beta Kappa graduate of Western Reserve College, each invested $15,000 for equal shares in what became "Sherwin-Williams & Co". Later that year they recruited and hired Sereno Peck Fenn as cashier and bookkeeper. The company prospered and in its first year reported sales of $422,390.97. In 2009, the company reported a decline in sales from the previous year, but ended up with $4.21 billion.

Sherwin was the President of Sherwin–Williams from 1870 to 1909, and chairman of the board until his death on June 26, 1916. He was buried in Lakeview Cemetery, Cleveland, Ohio.
Dunninger gains a foothold in Radio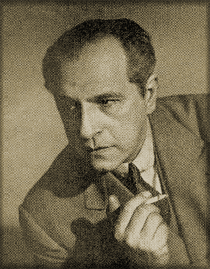 The Blue Network aired a one-time broadcast of Joseph Dunninger on March 5th 1943, as an experiment in telephathy titled "The Master Mind of Mental Mystery." The Bilboard review of the one-off was encouraging enough to persuade The Blue Network to bring Dunninger to the air for an initial four weeks of broadcasts beginning September 12th 1943. A sustaining series, Dunninger's new program ultimatedly aired between September 12th and December 29th, before gaining a sponsor. Reportedly pre-recorded in New York, the series eventually found its way to as many as 70 Blue Network affiliate stations before it was picked up commercially.
Sherwin-Williams sponsors Dunninger for its Kem-Tone line

During mid-December of 1943, the Blue Network announced that they'd sold the series to Sherwin-Williams Paint of Cleveland, Ohio under an agreement to sponsor the series for as many as fifty-two weeks. The first Kem-Tone-sponsored program premiered on January 5th 1944 as The Kem-Tone Hour. Retaining much of the audience participation format of the 1943 series, Kem-Tone added three celebrity guest panelists to each program of the series, bringing more star-power to the commercial run.
Principal Actors:
1944 Run Guest Judges:
Benay Venuta, Singer, Edwin C. Hill, David Scholtz, Beatrice Kay, Roy Acuff, BG W.A. Danielson, Mrs Edward B. Fowler, Bert Lytell, Helen Menken, Mrs Bernard Bimbel, Joan Edwards, Barry Wood, John Kidde, Mrs Dorothy S. Thackrey, Arthur Murray, Lucy Monroe, Eleanor Steber, Irina Earonova, Richard Rodgers, Bea Wain, George McManus, John Winchell, Ruth Bryan Rohde, Vaughn Monroe, John Ray Carlson, Robert Ripley, Ginny Simms, Danton Walker, Jerry Wayne, Jean Muir, Vivian della Chiesa, Parks Johnson, Allen Reeder, Barry Farris, Marjorie Lawrence, COL John Stilwell, Barry Farria, Molly Berg, Bob Considine, Mrs William A Rotholtz, Frank Forrest, Dorothy Kilgallen, Shep Fields, Harry Brown, Irene Rich, Charles Revson, Dick Todd, Abel Green, Beatrice Fairfax, D.A. Trotter, "Senator" Ford, Harry Hershfield, Joe Laurie Jr., RADM L.C. Covell, CDR Jack Dempsey, Mary Small, CPT Ellis Reed-Hill, Aunt Daisy Basham, Mark Warnow, Fred Andrews, Evelyn Knight, Helen Jepson, Harold D. Hodgkinson, John Sebastian, Bennet Cerf, Cornel Wilde, Dolly Dawn, Constance Bennett, Joe Howard, Sigmund Spaeth, Anita Stewart, Irving Caesar, Claudia Morgan, Yvette, Commodore G.H. Mills, CPT J.M. Thornton, Marion Mann, Edwin McArthur, E.L. Schnadig, Ina Claire, Patricia Lynn, Carleton Young, Gloria Blondell, Lynn Martin, J.B. Adone, Mrs Dennis G. Colwell, M.B. Miller, Louise McKay, Virginia Haskins, Harry Conover, Don McLaughlin, Kathleen Winsor, Guy Lombardo, Victoria Cordova, Fred Gehle, J. Gordon Lippencott, Maria Kramer, Eleanor Bowers, Len Gleson, Ted Steele, Breuchig, William Fawcett, Harry Sosnik, Mary Ashworth

1945 Run Guest Judges:
LT William D. Robertson, June Havoc, Daniel D. Mich, Wendy Barrie, Ted Malone, Ida Lupino, Thomas J. Deegan, Mitzi Green, William A. Benson, Jessica Dragonette, Joseph Keho, Carol Bruce, Harry S. Berk, Paula Stone, George Lait, Dorothy Kirsten, John Wildberg, Gypsy Rose Lee, Carl W. Dipman, A.F. Guckenberger, Ruth Terry, LT Orrin Tucker, G. Edward Pendray, Evelyn Keyes, Robert H. Morse, Jane COwl, John Cavanaugh, Vivian della Chiesa, Claudia Morgan, Norman A. Schuele, Arleen Whalen, Byron Harvey Jr., Diane Courtney, Arthur Motley, Amos 'n' Andy

1946 Run Guest judges:
Lucille Ball, Glenda Farrell, Simon C. Gershey, Earle Sande, Marilyn Maxwell, Joe Mackey, Craig Wood, Jinx Falkenburg, Tex McCrary, Willard K. Denton
EPISODES LIST:
Dunninger 44-02-23 (21) Guest - Roy Acuff
Dunninger 44-04-12 (27) Guest - Richard Rodgers
Dunninger 44-04-19 (29) Guest - George McManus
Dunninger 44-05-03 (18) Guest - Rosemarie Lombardo
Dunninger 44-06-14 (36) Guest - Dorothy Kilgallen
Dunninger 44-07-05 (27) Guest - Jeannne Cagney
Dunninger 44-07-26 (42) Guest - Raymond Johnson
THESE ARE MP3 RECORDINGS
THEY WILL NOT PLAY IN REGULAR CD PLAYERS
CLICK HERE TO KNOW MORE ABOUT mp3
CLICK HERE TO LEARN MORE ABOUT OUR PRODUCTS
We guarantee delivery of your item. If your item doesn't get there or is damaged, please notify us and we'll reship for you.
FULL REFUND IF NOT SATISFIED
Item number
OTR-1CD-Dunninger
Currently there are no reviews available for this product. Be the first to write a review.