FREE SHIPPING USA ONLY. International Customers: Please add international shipping: http://m.onesmedia.com/category/313432
TEXTRON THEATER
OLD TIME RADIO - 1 CD -  5 mp3 - Total Playtime: 2:26:06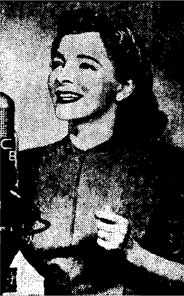 Radio listeners adored
Helen Hayes
.
All of America
did, for that matter. One of the era's most beloved performers and personalities,
Helen Hayes
made over 500 appearances during The Golden Age of Radio. Beginning in 1935,
Helen Hayes
undertook an almost unbroken run of Radio programs over fifteen years, hosted by and/or starring herself in drama anthologies. A brief list follows:
The New Penny [1935-1936]
Bambi [1936-1937]
Helen Hayes Theatre [1939-1941]
This Is Helen Hayes [1945]
Textron Theatre [1945-1946]
Electric Theatre [1948-1949]
Helen Hayes' Textron Theatre Over CBS

From the September 6, 1945 Cedar Rapids Tribune:

Helen Hayes, celebrated actress hailed as "The First Lady of the Theater," will be the star of a new weekly series of dramatic programs starting over the Columbia network Saturday, Sept. 8, at 6 p.m. Miss Hayes will be heard both in original radio dramas created for her by leading stage and radio playwrights, and in adaptations of stage hits which won her considerable acclaim.
Miss Hayes has been a glowing figure in the American theater ever since the day her name first found its way into a program; on that occasion she was the Little Mime in "Old Dutch." After a number of years in such productions as the
"Prodigal Husband," "Pollyanna" and "Penrod," she had her first real opportunity as William Gillette's daughter in "Dear Brutus."
The next season found her in "Clarence, with Alfred Lunt, and she then dedicated five years to establishing herself as an ingénue. After appearing in "Caesar and Cleopatra," Miss Hayes gave a luminous performance in "What Every Woman Knows, a performance that nudged her into the highest bracket of American actresses.
Never one to quake at the rigors of travel, even in their awkward war-time variations, Miss Hayes has toured extensively in all her successes. She has toured with "Harriet" since October. Statistically, Miss Hayes has played 4,210 performances on New York stages and another 3,000 appearances throughout the country.
Miss Hayes, of course, has done her share of motion pictures. She won the Academy Award for her performance in "The Sin of Madelon Claudet."
Miss Hayes will play the title role in "Madame Curie" for the premiere broadcast of her new program Saturday, Sept. 8, at 6 o'clock.

As we've shown already in the sidebar, both CBS and Textron took their newly revived Helen Hayes drama vehicle far more seriously and conscientiously than Mutual had. The promotional material for the entire run was both informative and entertaining in its own right. This was clearly a far more appropriate vehicle, network, and sponsor for Helen Hayes and her avid fans.

The continued promotion of the new series had apparently been planned well in advance of the move from MBS to CBS. Note that the mini-columns from Helen Hayes were called "This Is Helen Hayes." We can only surmise that, given the advance artwork and copy that accompanied the promotional columns to advertise and tie into the new series, it was too abrupt a network move to recomposite the mini-columns by Helen Hayes. And of course, Textron, hoping as much to highlight their own involvement in the production, had abandoned the This Is Helen Hayes title for Textron Theatre with Helen Hayes.
Principal Actors: Helen Hayes, José Ferrer, Karl Swenson, Ralph Bellamy, Walter Huston, Dean Jagger, Burgess Meredith, Tonio Selwart, Brian Aherne, Alfred Drake, Maurice Evans, Martin Gabel, Sir Cedric Hardwicke, Boris Karloff, Michael O'Shea, Otto Kruger, Maurice Evans, Gene Lockhart, Verna Felton, Winston O'Keefe, George Petrie
SHOWS LIST
Textron Theater 45-12-08 Angel Street
Textron Theater 45-12-15 Miss Routabaker Takes Off
Textron Theater 45-12-22 A Child Is Born
Textron Theater 45-12-29 Cinderella
Textron Theatre 45-12-01 13 The Happy Journey to Trenton and Camden
THESE ARE MP3 RECORDINGS
THEY WILL NOT PLAY IN REGULAR CD PLAYERS
CLICK HERE TO KNOW MORE ABOUT mp3
CLICK HERE TO LEARN MORE ABOUT OUR PRODUCTS
We guarantee delivery of your item. If your item doesn't get there or is damaged, please notify us and we'll reship for you.
FULL REFUND IF NOT SATISFIED
Item number
OTR-1CD-TextronTheater
Currently there are no reviews available for this product. Be the first to write a review.