FREE SHIPPING USA ONLY. International Customers: Please add international shipping: http://m.onesmedia.com/category/313432
LET GEORGE DO IT Volume 2
OLD TIME RADIO - 12 AUDIO CD - 24 Shows
Total Playtime: 11:52:26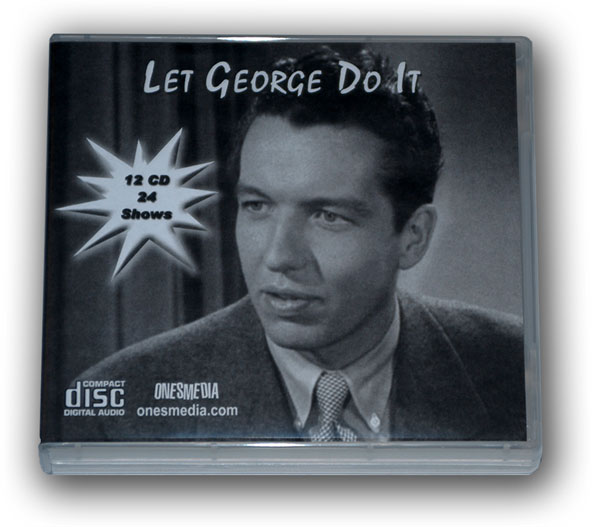 Let George Do It was a radio drama series produced by Owen and Pauline Vinson from 1946 to 1954. It starred Bob Bailey as detective-for-hire George Valentine (with Olan Soule stepping into the role in 1954).

Clients came to Valentine's office after reading a newspaper carrying his classified ad:

Personal notice: Danger's my stock in trade. If the job's too tough for you to handle, you've got a job for me. George Valentine.

The few earliest episodes were more sitcom than private eye shows, with a studio audience providing scattered laughter at the not-so-funny scripts. Soon the audience was banished, and George went from stumbling comedic hero to tough guy private eye, while the music became suspenseful.

Valentine's secretary was Claire Brooks, aka Brooksie (Frances Robinson, Virginia Gregg, Lillian Buyeff). As Valentine made his rounds in search of the bad guys, he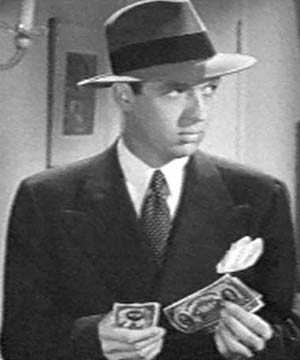 usually encountered Brooksie's kid brother, Sonny (Eddie Firestone), Lieutenant Riley (Wally Maher) and elevator man Caleb (Joseph Kearns). For the first few shows, Sonny was George's assistant, but he was soon relegated to an occasional character.

Sponsored by Standard Oil, the program was broadcast on the West Coast Mutual Broadcasting System from October 18, 1946 to September 27, 1954, first on Friday evenings and then on Mondays. In its last season, transcriptions were aired in New York, Wednesdays at 9:30pm, from January 20, 1954 to January 12, 1955.

John Hiestand was the program's announcer. Don Clark directed the scripts by David Victor and Jackson Gillis. The background music was supplied by Eddie Dunstedter, initially with a full orchestra. When television supplanted radio as the country's primary home entertainment, radio budgets got skimpier and skimpier and Dunstedter's orchestra was replaced by an organ.
THESE ARE REGULAR AUDIO CD
CAN BE PLAYED IN ANY CD PLAYER, DVD PLAYER OR COMPUTERS
THIS COLLECTION WILL BE DELIVERED IN A BOX SET WITH ART WORK
We guarantee delivery of your item. If your item doesn't get there or is damaged, please notify us and we'll reship for you.
FULL REFUND IF NOT SATISFIED
SHOWS LIST
CD 1
480726 The Seven Murder
480802 The Money Maker
CD 2
480809 Perfect Speciman
480816 The Ghost on Bliss Terrace
CD 3
480823 The Corpse That Took a Powder
480830 A Minor Case of Murder
CD 4
480906 The Impatient Redhead
480913 The Father Who Had Nothing to Say
CD 5
480920 The Hearse Was Painted Pink
480927 The Little Man Who Was Everywhere
CD 6
481018 Death Wears a Gay Sports Jacket
481025 The Seven Dead Years
CD 7
481101 The Flowers That Smelled of Murder
481108 Murder Its A Gift
CD 8
481122 Who Is Sylvia
481129 Stand In for Murder
CD 9
481206 The Malignant Heart
481227 Death in Fancy Dress
CD 10
490103 Murder and One to Go
490110 The Corpse on a Caper
CD 11
490117 The Payoff Is Murder
490124 Till Death Do Us Part
CD 12
490131 125 Mayhem by Experts
490207 126 One Against A City
 
Item number
OTR-12CDA-LetGeorgeDoIt2
Currently there are no reviews available for this product. Be the first to write a review.