FREE SHIPPING USA ONLY. International Customers: Please add international shipping: http://m.onesmedia.com/category/313432
SAINT PATRICK'S DAY COLLECTION
PLEASE, ONLY ONE FREE SAMPLER FOR THE ENTIRE ORDER
(Please, not a sampler for each item purchased)
OLD TIME RADIO - 1 mp3 CD - 57 Shows - Total Playtime: 20:03:15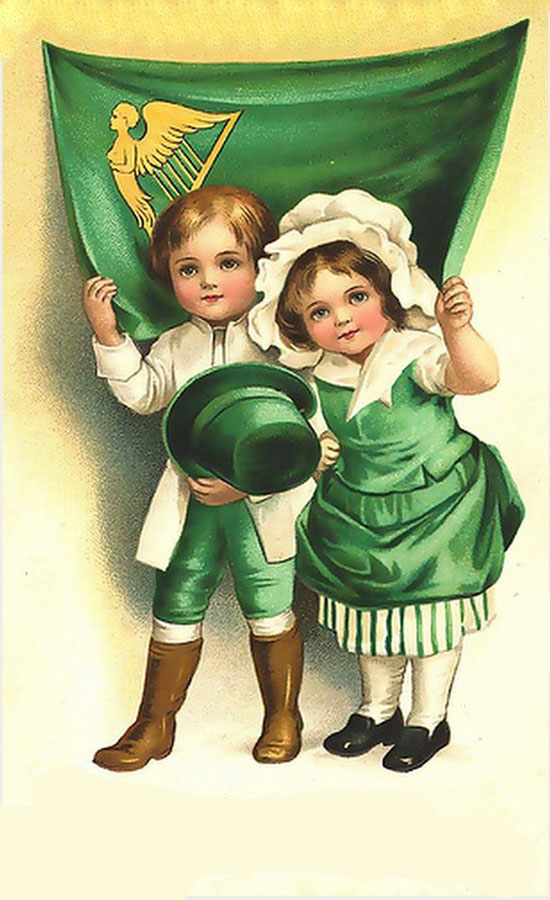 Saint Patrick's Day or the Feast of Saint Patrick (Irish: Lá Fhéile Pádraig, "the Day of the Festival of Patrick") is a cultural and religious holiday celebrated on 17 March. It is named after Saint Patrick (c. AD 385–461), the most commonly recognized of the patron saints of Ireland.
Saint Patrick's Day was made an official feast day in the early seventeenth century and is observed by the Catholic Church, the Anglican Communion (especially the Church of Ireland), the Eastern Orthodox Church and Lutheran Church. For Christians, the day commemorates Saint Patrick and the arrival of Christianity in Ireland. However, it has gradually become more of a secular celebration of Irishness and Irish culture.
The day generally involves public parades and festivals, céilithe, and wearing of green attire or shamrocks. Christians also attend church services and the Lenten restrictions on eating and drinking alcohol are lifted for the day.
Saint Patrick's Day is a public holiday in the Republic of Ireland, Northern Ireland, Newfoundland and Labrador and Montserrat. It is also widely celebrated by the Irish Diaspora around the world; especially in Britain, Canada, the United States, Argentina, Australia and New Zealand.
This Saint Patrick's day Collection offer you a various shows from the Old Time Radio such as Abbott & Costello, Bing Crosby, Cavalcade of America, Danny Kaye, Fred Allen, Jean Shepherd, and many more
This mp3 CD includes various songs from Ada Jones and popular pub songs.
SHOWS LIST
Abbott & Costello 49-03-17 St Patricks Day It was His First Square Meal
Ada Jones - My Irish Rose (1907)
Ada Jones - If They'ed Only Move Old Ireland Over Here (1914)
Ada Jones - Irish Blood (1910)
Ada Jones - My Irish Rose 1907
Ada Jones - You Will Have to Sing an Irish Song (1908)
Ada Jones & Len Spencer - Santiago Flynn (A Spanish-Irish Episode) 1907 Zon-O-Phone-5110
AdaJones - Irish Blood
Ave Maria Hour - St. Patrick
Beat the Band 40-03-17 Wearin' of the Green
Bing Crosby - When Irish Eyes Are Smiling
Bing Crosby Show 54-03-17 Margaret Obrien
Bing Crosby Show 55-03-17 First Song - McNamaras Band
Bing Crosby Show 60-03-17 - First Song - Did Your Mother Come From Ireland
Burns and Allen Show 41-03-17 Saint Patricks Parade
Cavalcade of America 370317 074 James Fenimore Cooper First American Novelist
Coke Time 54-08-15 First Song - It's A Great Day For The Irish
Danny Kaye Show 450414 One Irish Man's Family
Eddie Condon's Jazz Concert 45-03-17 First Song - When Irish Eyes Are Smiling
Fibber McGee And Molly 47-05-13 Smuggled Irish Tweed
Fire Chief Concert 36-03-17 First Song - A Little Dash Of Dublin
Fred Allen - St Patricks Day Show
Have Gun, Will Travel 600424 Irish Luck
Jean Shepherd 67 03 17 Ireland
Jean Shepherd 72 03 17 Dublin Pub
Jean Shepherd 74 08 22 Irish Radio
Jean Shepherd 75 03 18 St. Patrick Day
Jean Shepherd 75 09 29 Trip to Ireland
Joseph McCarthy - Chicago Irish Fellowship Club
Let George Do It 540927 The Ghost of Ireland Betty
Luck Of The Irish - Audition - 46-02-25
Lux Radio Theater 48-12-27 Luck of the Irish
Lux Radio Theater 52-03-17 Top O' the Morning
Philco Radio Time - 48-03-17 Margaret OBrien
Pinto Pete In Arizona First Song - When Irish Eyes Are Smiling
Ports Of Call 36 - Ireland
Quiz Kids 51-03-11 St Patricks Day And An Imitation Diamond
Quiz Kids 51-05-13 Who Was Impressed By An Irish Bob
Recollections 570313 Happy Saint Patricks Day
Red Skelton Show 42-03-17 (024) St. Patrick's Day - Copy
Screen Guild Theater 46-03-11 Irish Eyes Are Smiling
Sealtest Variety Theater 49-03-17 Live from the Shamrock Hotel -- Really Live!
The World In Music - Songs from The United Nations - Songs of Jerusalem Trinidad and Ireland
Vic and Sade 46-07-11 Vic the Irish Policeman
PUB SONGS ANNIVERSARY WALTZ, THE
PUB SONGS HAPPY BIRTHDAY TO YOU - Instrumental
PUB SONGS HAPPY BIRTHDAY TO YOU - Vocal
PUB SONGS I'M TWENTY-ONE TODAY
PUB SONGS Medley 1 - Side By Side Pretty Baby Moonlight Bay, etc.
PUB SONGS Medley 10 - I'm Looking Over A Four Leaf Clover Bill Bailey etc.
PUB SONGS Medley 2 - Daisy Bell Two Lovely Black Eyes etc.
PUB SONGS Medley 3 - Oh, I Do Like To Be Beside The Seaside, etc.
PUB SONGS Medley 4 - Loch Lomond Beautiful Dreamer By The Light Of The Silvery Moon, etc
PUB SONGS Medley 5 - Yes, Sir, That's My Baby Sweet Georgia Brown Roll Out the Barrel
PUB SONGS Medley 6 - Sunny Side Up You Were Meant For Me When The Red, Red, Robin
PUB SONGS Medley 7 - Lambeth Walk I Came, I Saw, I Conga'd etc
PUB SONGS Medley 8 - Just Like The Ivy Honeysuckle and the Bee etc.
PUB SONGS Medley 9 - Me and My Shadow Shine On Harvest Moon etc.
THESE ARE MP3 RECORDINGS
THEY WILL NOT PLAY IN REGULAR CD PLAYERS
CLICK HERE TO KNOW MORE ABOUT mp3
CLICK HERE TO LEARN MORE ABOUT OUR PRODUCTS
We guarantee delivery of your item. If your item doesn't get there or is damaged, please notify us and we'll reship for you.
FULL REFUND IF NOT SATISFIED
Item number
OTR-1CD-StPatricksDay
Currently there are no reviews available for this product. Be the first to write a review.