FREE SHIPPING USA ONLY. International Customers: Please add international shipping: http://m.onesmedia.com/category/313432
DIMENSION X
    OLD TIME RADIO - 1 CD - 50 mp3 - Total Playtime: 23:59:10
 
Dimension X was an NBC radio program broadcast on an unsponsored, sustaining basis from April 8, 1950 to September 29, 1951. The first 13 episodes were broadcast live, and the remainder were pre-recorded. Fred Wiehe and Edward King were the directors, and Norman Rose was heard as both announcer and narrator.
Preceded by Mutual's 2000 Plus (1950-52), Dimension X was not the first adult science fiction series on radio, but the acquisition of previously published stories immediately gave it a strong standing with the science fiction community, as did the choice of well established, respected writers in the field: Isaac Asimov, Robert Bloch, Ray Bradbury, Fredric Brown, Robert A. Heinlein, Murray Leinster, H. Beam Piper, Frank M. Robinson, Clifford D. Simak, William Tenn, Jack Vance, Kurt Vonnegut, Jack Williamson and Donald A. Wollheim. Ernest Kinoy and George Lefferts adapted most of the stories and also provided original scripts.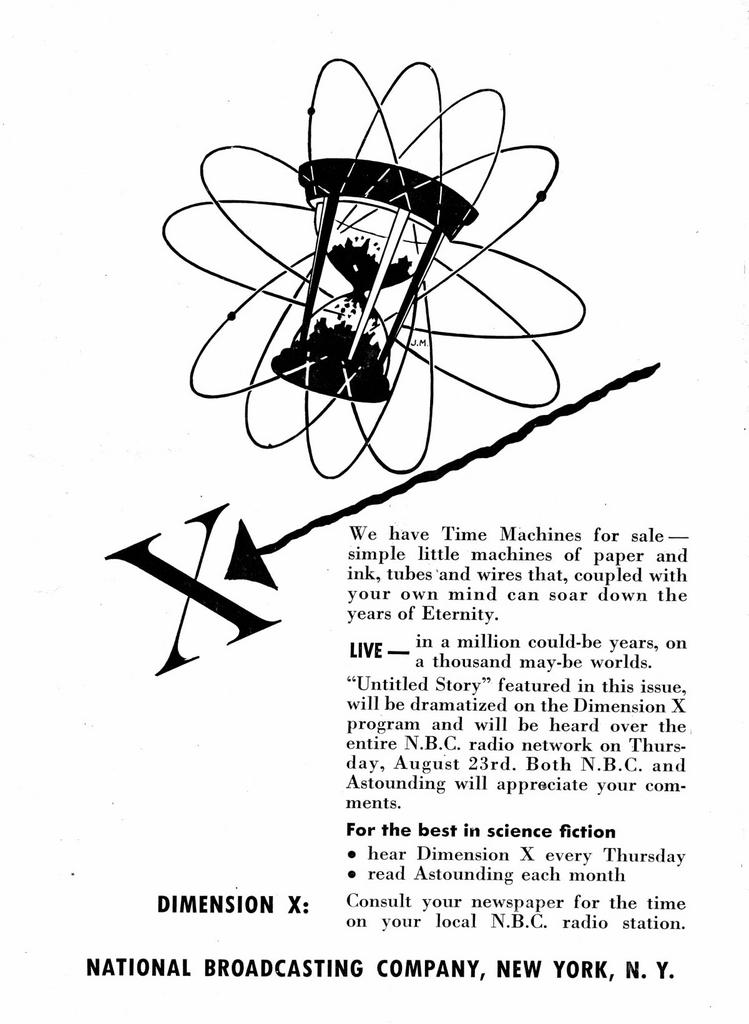 In Science Fiction Television (2004), M. Keith Booker wrote:

It was not until the 1950s that science fiction radio really hit its stride, even as science fiction was beginning to appear on television as well. Radio programs such as Mutual's 2000 Plus and NBC's Dimension X were anthology series that offered a variety of exciting tales of future technology, with a special focus on space exploration (including alien invasion), though both series also often reflected contemporary anxieties about the dangers of technology.

The series opened with "The Outer Limit," an Ernest Kinoy adaptation of Graham Doar's short story from The Saturday Evening Post (December 24, 1949), about alien contact. A week later (April 15, 1950), the program presented Jack Williamson's most famous story, "With Folded Hands," first published in the July 1947 issue of Astounding Science Fiction.

With a five-month hiatus from January 1951 to June 1951, the series spanned 17 months. All 50 episodes of the series survived and can be heard today. Later, NBC's X Minus One (1955-58) utilized many of the same actors and scripts.
EPISODES LIST
Dimension-X 1950-04-08 01 Outer Limit
Dimension-X 1950-04-15 02 WithFoldedHands
Dimension-X 1950-04-22 03 Report On Barnhouse Effect
Dimension-X 1950-04-29 04 No Contact
Dimension-X 1950-05-06 05 Knock
Dimension-X 1950-05-13 06 Almost Human
Dimension-X 1950-05-20 07 The Lost Race
Dimension-X 1950-05-27 08 To The Future
Dimension-X 1950-06-03 09 Embassy
Dimension-X 1950-06-10 10 The Green Hills Of Earth
Dimension-X 1950-06-17 11 There Will Come SoftRain – Zero Hour
Dimension-X 1950-06-24 12 Destination Moon
Dimension-X 1950-07-01 13 A Logic Named Joe
Dimension-X 1950-07-07 14 Mars Is Heaven
Dimension-X 1950-07-14 15 The Man In The Moon
Dimension-X 1950-07-21 16 Beyond Infinity
Dimension-X 1950-07-28 17 Potters Of Firsk
Dimension-X 1950-08-04 18 Perigis Wonderful Dolls
Dimension-X 1950-08-11 19 The Castaways
Dimension-X 1950-08-18 20 The Martian Chronicals
Dimension-X 1950-08-25 21 The Parade
Dimension-X 1950-09-01 22 The Roads Mus tRoll
Dimension-X 1950-09-08 23 The Outer Limit
Dimension-X 1950-09-15 24 HelloTomorrow
Dimension-X 1950-09-22 25 Dr Grimshaws Sanitorium
Dimension-X 1950-09-29 26 And The Moon Be Still As Bright
Dimension-X 1950-10-28 27 No Contact
Dimension-X 1950-11-05 28 The Professor Was A Thief
Dimension-X 1950-11-12 29 Shanghied
Dimension-X 1950-11-19 30 Competition
Dimension-X 1950-11-26 31 Universe
Dimension-X 1950-12-24 32 The Green Hills Of Earth
Dimension-X 1951-01-07 33 Mars Is Heaven
Dimension-X 1951-01-14 34 The Martian Death March
Dimension-X 1951-06-03 35 The Last Objective
Dimension-X 1951-06-10 36 Nightmare
Dimension-X 1951-06-17 37 Pebble In The Sky
Dimension-X 1951-06-24 38 Childs Play
Dimension-X 1951-07-12 39 Time And Time Again
Dimension-X 1951-07-19 40 Dwellers In Silence
Dimension-X 1951-07-26 41 Courtesy
Dimension-X 1951-08-02 42 Universe
Dimension-X 1951-08-09 43 Veldt
Dimension-X 1951-08-16 44 Vital Factor
Dimension-X 1951-08-23 45 Untitled Story
Dimension-X 1951-08-30 46 Marionettes, Inc
Dimension-X 1951-09-08 47 First Contact
Dimension-X 1951-09-15 48 The Kaleidoscope
Dimension-X 1951-09-22 49 Requiem
Dimension-X 1951-09-29 50 Nightfall
THESE ARE MP3 RECORDINGS
THEY WILL NOT PLAY IN REGULAR CD PLAYERS
CLICK HERE TO KNOW MORE ABOUT mp3
CLICK HERE TO LEARN MORE ABOUT OUR PRODUCTS
We guarantee delivery of your item. If your item doesn't get there or is damaged, please notify us and we'll reship for you.
FULL REFUND IF NOT SATISFIED
Item number
OTR-1CD-DimensionX
Currently there are no reviews available for this product. Be the first to write a review.