FREE SHIPPING USA ONLY. International Customers: Please add international shipping: http://m.onesmedia.com/category/313432
DAMON RUNYON THEATRE Volume 2
OLD TIME RADIO - 13 AUDIO CD - 26 Shows
Total Playtime: 12:15:28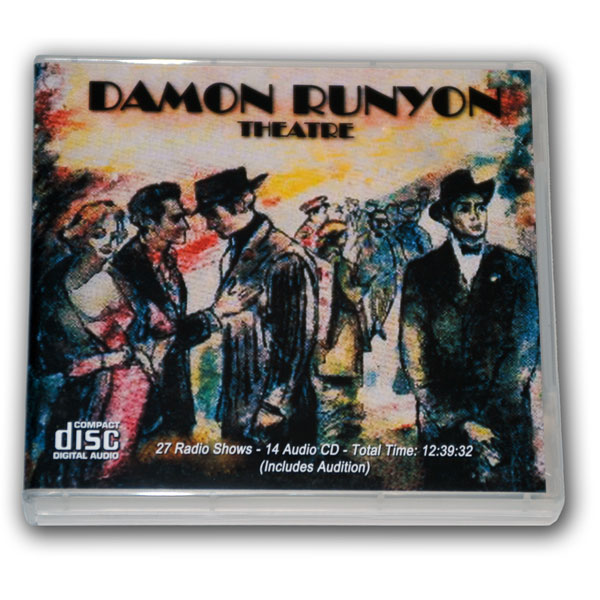 The Damon Runyon Theatre was another of Alan Ladd's Mayfair Transcription Company productions. Ladd, long an admirer of 'The Brighter Side', Damon Runyon's long-running newspaper column, initially signed Pat O'Brien to star as 'Broadway' in the program. Indeed we have an alleged audition from the program, titled "Princess O'Hara" in which O'Brien and Wendy Barrie are heard announcing the next production of the series, 'A Piece of Pie'. Newspaper listings of the era describe Pat O'Brien slated to cut all 52 programs upon completing principal filming of the Howard Hughes/RKO feature, The Boy with Green Hair. But the quixotic Hughes decided the 'message' element of The Boy with Green Hair was a bit too risky for late-1940s audiences. He directed that the film be re-shot, as needed, to remove the social intolerance message from the completed celluloid.

Newspaper accounts cite O'Brien as anticipating a New York recording session for all 52 episodes of The Damon Runyon Theatre sometime during the Summer of 1948. But owing to the re-shoot and re-cutting of The Boy with Green Hair, the movie wasn't completed until September of 1948. This may--or may not--explain Pat O'Brien's absence from the remaining episodes of The Damon Runyon Theatre--or whether any were recorded beyond Princess O'Hara. Given the common practice of cutting two to five transcribed recordings in one session, one might well imagine that O'Brien recorded as many as five Damon Runyon Theatre programs before his performances were cut short. But it's intriguing to wonder how many of the episodes they actually did record before O'Brien had to rush back to RKO's West Coast studios to complete The Boy with Green Hair.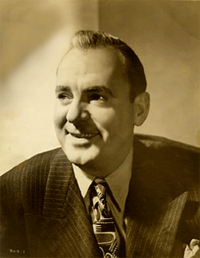 As it turns out, Ladd tapped short-lived veteran Radio actor John Brown to voice the recurring 'Broadway' character so central to the exposition of every episode of The Damon Runyon Theatre. As most fans of the program would attest, John Brown's 'Broadway' was as good as it gets in Radio. Brown had already begun performing a similar character on My Friend Irma (1947) as Irma's (Marie Wilson) shiftless boyfriend, so the leap to yet another Lower East Side accent wasn't that great for Brown. Indeed, one wonders if Brown ever got out of character for the seven years that My Friend Irma aired over CBS.

The Damon Runyon Theatre stands as one of Mayfair's finest contributions to The Golden Age of Radio and remains a valuable addition to any Golden Age Radio collector's library. As an artifact of American Society it represents an invaluable time capsule of period vernacular. But most of all it stands as an enduring reminder of the genius of Damon Runyon's insight into the class warfare that evolved during and after the Roaring 20s and The Great Depression.
THESE ARE REGULAR AUDIO CD
CAN BE PLAYED IN ANY CD PLAYER, DVD PLAYER OR COMPUTERS
THIS COLLECTION WILL BE DELIVERED IN A BOX SET WITH ART WORK
We guarantee delivery of your item. If your item doesn't get there or is damaged, please notify us and we'll reship for you.
FULL REFUND IF NOT SATISFIED
SHOWS LIST
Disc 1
49-07-03 (27) The Big Umbrella
49-07-10 (28) Earthquake
Disc 2
49-07-17 (29) The Bloodhounds of Broadway
49-07-24 (30) The Lily of St Pierre
Disc 3
49-07-31 (31) It Comes up Mud
49-08-07 (32) Broadway Financier
Disc 4
49-08-14 (33) Bred For Battle
49-08-21 (34) So You Won't Talk
Disc 5
49-08-28 (35) Social Error
49-09-04 (36) Cemetery Bait
Disc 6
49-09-11 (37) The Melancholy Dane
49-09-18 (38) The Brakeman's Daughter
Disc 7
49-09-25 (39) The Lacework Kid
49-10-02 (40) Maybe a Queen
Disc 8
49-10-09 (41) Joe Terrace
49-10-16 (42) Lillian
Disc 9
49-10-23 (43) Palm Beach Santa Claus
49-10-30 (44) Tight Shoes
Disc 10
49-11-06 (45) That Ever-Lovin' Wife of Hymie's
49-11-13 (46) A Light in France
Disc 11
49-11-20 (47) A Story Goes with It
49-11-27 (48) Dark Dolores
Disc 12
49-12-04 (49) What, No Butler
49-12-11 (50) Neat Strip
Disc 13
49-12-18 (51) Sense of Humor
49-12-25 (52) Dream Street Rose
Item number
OTR-13CDA-DamonRunyon2
Currently there are no reviews available for this product. Be the first to write a review.