FREE SHIPPING USA ONLY. International Customers: Please add international shipping: http://m.onesmedia.com/category/313432
NIGHTBEAT Volume 1
OLD TIME RADIO - 12 AUDIO CD - 24 Shows
 
Total Playtime: 11:06:14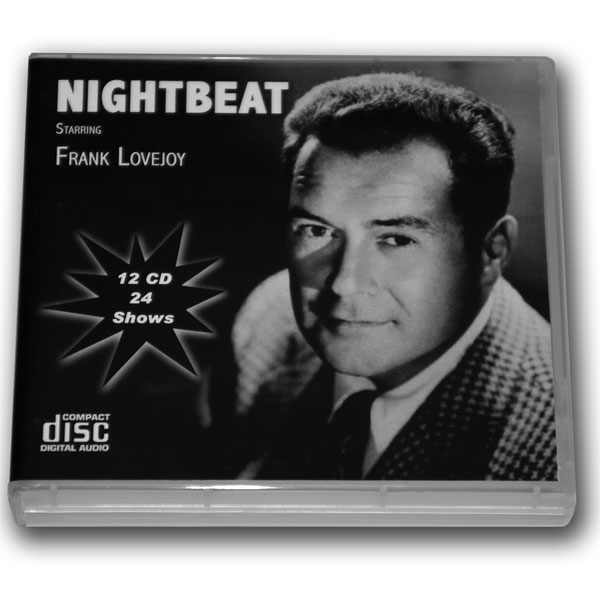 Nightbeat was a radio drama series that aired on NBC from February 6, 1950 until September 25, 1952, sponsored by Pabst Blue Ribbon Beer and Wheaties.

Frank Lovejoy starred as Randy (originally "Lucky") Stone, a reporter who covered the nightbeat for the Chicago Star, encountering criminals and troubled souls. Listeners were invited to join Stone as he "searches through the city for the strange stories waiting for him in the darkness."

Ripperologist editor Paul Begg offered this description of the series:

Broadcast on NBC, Nightbeat... starred Frank Lovejoy as Randy Stone, a tough and streetwise reporter who worked the nightbeat for the Chicago Star, looking for human interest stories. He met an assortment of people, most of them with a problem, many of them scared, and sometimes he was able to help them, sometimes he wasn't. It is generally regarded as a "quality" show, and it stands up extremely well. Frank Lovejoy (1914-1962) isn't remembered today, but he was a powerful and
believable actor with a strong delivery, and his portrayal of Randy Stone as tough guy with humanity was perfect. The scripts were excellent, given that they had to cover much in a short time. There was a good supporting cast, orchestra and sound effects. "The Slasher," broadcast on 10 November 1950, the last show of season one, has a very loosely Ripper-derived plot in which Stone searches for an artist.

Supporting actors included Joan Banks, Parley Baer, William Conrad, Jeff Corey, Lawrence Dobkin, Paul Frees, Jack Kruschen, Peter Leeds, Howard McNear, Lurene Tuttle, Martha Wentworth and Ben Wright.

The format was recreated, with Lovejoy as Stone, on an episode of the television anthology series, Four Star Playhouse ("Search in the Night" 5 November 1953).
THESE ARE REGULAR AUDIO CD
CAN BE PLAYED IN ANY CD PLAYER, DVD PLAYER OR COMPUTERS
THIS COLLECTION WILL BE DELIVERED IN A BOX SET WITH ART WORK
We guarantee delivery of your item. If your item doesn't get there or is damaged, please notify us and we'll reship for you.
FULL REFUND IF NOT SATISFIED
SHOWS LIST
CD 1
500206 (1) Zero
500213 (2) The Night Is a Weapon
CD 2
500220 (3) A World All of His Own
500227 (4) The Girl in the Park
CD 3
500306 (5) Number 13
500313 (6) Am I My Brother's Keeper
CD 4
500320 (7) The Man Who Claimed To Be Dead
500327 (8) Flowers on the Water
CD 5
500409 (9) The Night Is A Weapon
500410 (10) I Know Your Secret
CD 6
500417 (11) Tong War
490519 (Audition)The Ted Carter Murder Case
CD 7
500501 (13) Mentallo, the Mental Marvel
500508 (14) Elevator Caper
CD 8
500515 (15) The Night Watchman
500522 (16) I Wish You Were Dead
CD 9
500529 (17) Harlan Matthews, Stamp Dealer
500605 (18) The Girl from Kansas
CD 10
500612 (19) Football Player and the Syndicate
500619 (20) Vincent and the Painter
CD 11
500626 (21) The Juvenile Gangster
500703 (22) Marty
CD 12
500710 (23) T'will Be the Death of Me
500717 (24) Molly Keller
Item number
OTR-12CDA-Nightbeat1
Currently there are no reviews available for this product. Be the first to write a review.