FREE SHIPPING USA ONLY. International Customers: Please add international shipping: http://m.onesmedia.com/category/313432
THE NEW ADVENTURES OF SHERLOCK HOLMES with Rathbone and Bruce
OLD TIME RADIO - 26 AUDIO CD - 52 Shows - 2 BOX SETS - Total Playtime: 24:57:28
THE NEW ADVENTURES OF SHERLOCK HOLMES Starring Basil Rathbone and Nigel Bruce
by Cameron Estep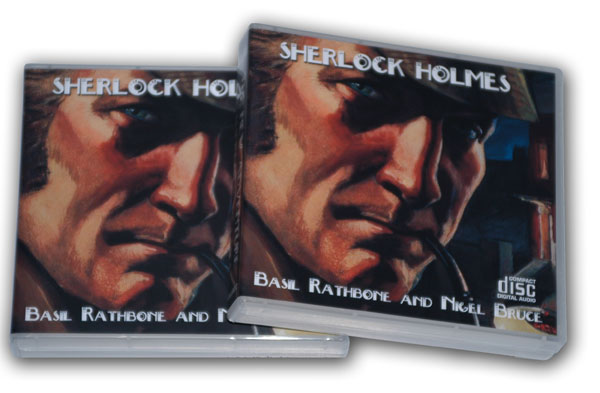 Sherlock Holmes, the quintessential super sleuth of all fictional detectives has been featured not only in the famous adventures written by Sir Arthur Conan Doyle but also in films from the silent era to today, in television programs, and of course in old-time radio from the 1930's to the late 1940's. While there have been several actors who portrayed the famous detective on the air the one that has become not only famous but synonymous with the character was of course Basil Rathbone.
He was born Philip St. John Basil Rathbone on June 13, 1892 in the city of Johannesburg, South Africa to British parents. His distinctive voice, his English bearing, and his ability to swordfight catapulted him into fame often playing swashbuckling scoundrels opposite some exciting leading male stars. For example, Rathbone played Sir Guy of Gisbourne in The Adventures of Robin Hood (with Errol Flynn), Captain Esteban Pasquale in The Mark of Zorro (with Tyrone Power), Tybalt in Romeo and Juliet (with Leslie Howard and Norma Shearer). He also portrayed some other remarkable characterizations such as the abusive Mr. Murdstone in David Copperfield (with Freddie Bartholomew), the hunchbacked and vicious Richard, the Duke of Gloucester in Tower of London (with Boris Karloff and Vincent Price), the Baron Wolf von Frankenstein in Son of Frankenstein, the polished bon vivant sleuth Philo Vance in The Bishop Murder Case, and the RAF commanding officer Major Brand in The Dawn Patrol (with Errol Flynn).
What about Nigel Bruce? Bruce was born in Ensenada, Mexico to British parents on February 4, 1895. Bruce was seen in a number of classic films from the 1930's and the 1940's and usually as a bumbling and (most of the time) warm-hearted gentleman. For instance he played the blustery Squire Trelawney in Treasure Island (with Jackie Cooper and Wallace Beery), the grumbling and irritable Lord Albert Esketh in The Rains Came (with Tyrone Power and Myrna Loy), the Scottish Duke of Rudling in Lassie Come Home (with Roddy McDowall and Elizabeth Taylor), and he did two Alfred Hitchcock films as Major Giles Lacy in Rebecca (with Laurence Olivier and Joan Fontaine) and as Beaky Thwaite in Suspicion (with Cary Grant and Joan Fontaine).
Then in 1939, two things happened: the first-Rathbone and Bruce appeared on radio together for the first time as Holmes and Watson on NBC and the second they did their first of fourteen Sherlock Holmes films beginning with Sir Arthur Conan Doyle's Hound of the Baskervilles for 20th Century Fox.
Soon Rathbone and Bruce's performances as the Great Detective and his loyal companion would become very popular not only with the movie-going audience but with the radio listeners who heard their baffling and exciting adventures for eight years featuring these two superb actors. When Holmes was becoming a popular radio there were two different sponsors the first was Bromo Quinine Cold Tablets and later the Petri Wine Company.
Glenhall Taylor was the producer of the radio series because he was the representative for the advertising agency of Young and Rubicon for Petri Wines. Edna Best (whose husband is the famous British character actor Herbert Marshall) was brought on as the director. At first the radio writers for the series was an Englishman named Denis Green and a man named Leslie Charteris (who wrote for famous Saint magazines). Green was also an actor as well as a playwright and because of his familiarity with England and its surroundings he would write the dialogue for the radio scripts. Denis' wife, Mary Green was not only active in theatre and dance but she would also help her husband with the writing for the scripts. Soon Charteris would no longer co-write the plays and soon a American named Anthony Boucher who was looking for something new would become involved.
Boucher (who was also known as A.P. White) when he went to school at the University of Berkeley in California and was also the mystery reviewer for the San Francisco Chronicle met Green at a cocktail party which was in honor of Basil Rathbone and Nigel Bruce who came to California to do a war bond promotion. Boucher and his wife Phyllis White became friends with the Greens and when Denis needed another co-writer he thought of Boucher at once and he was brought on for the series. Because of his knowledge and respect for the Sherlock Holmes canon he did the plotting and story structure.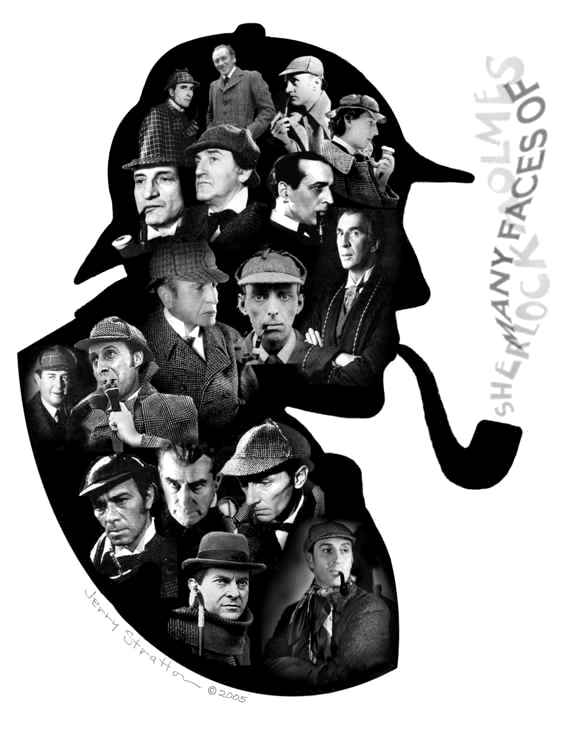 Once the original Holmes stories have been used at least more than once on the radio Green and Boucher had to come with "new adventures" for the Great Detective.
When the show was under the sponsorship of Petri Wines the announcer was a young American named Harry Bartell (who not only appeared in other classic radio shows like Escape and Suspense but he also played some minor roles in the Holmes radio plays. Other members of the radio cast who appeared in the series were a mixture of classic radio players but also some who had appeared in the Sherlock Holmes movies with Rathbone and Bruce such as Frederic Worlock, Carl Harbord, Mary Gordon, Rex Evans, Joseph Kearns, Norma Varden, Eric Snowden, Raymond Laurence, Theodore von Eltz, Paula Winslowe, Ramsey Hill, Lou Merrill, Herbert Rawlinson, and even Denis Green.
While these new adventures were not exactly based from the original canon these are still great to listen to because they are "non-canonical". Green and Boucher would place Holmes and Watson in some locales outside England but would have been popular and well-known in the Victorian Era such as India, Scotland, France, Rome, Vienna, Ireland, and others. They would also have them solve mysteries on holidays from Christmas, St. Patrick's Day, Guy Fawkes Day, and others. They managed to come up with some of the most exciting and intriguing radio mysteries for the "only unofficial consulting detective" and his faithful comrade to solve. For instance, they would determine if a stage actor who played Sweeney Todd is in reality a killer or a victim of a fiendish plot, figure out who killed a French professor without ever meeting any of the suspects, how a man is stabbed in his study with the only entrance guarded and the windows locked from the inside, and catch a Jack the Ripper-like madman who murdered ten young women in Hampstead Heath. On some occasions Moriarty would be featured once again attempting to elude Holmes. One episode told by Dr. Watson deals with what happened to Holmes during the three years he was to believed to be dead at the Reichenbach Falls.
As the series went on and the last Holmes film was done in 1946 Rathbone feared he was being typecast and decided to leave the series for good even though he was offered a seven-year radio contact to continue as Sherlock Holmes. While many of the episodes from 1939 to mid 1945 are lost many surviving episodes from 1945-1946 are available and are some of the best of dramatic American radio in the history of radio detective dramas. At least thanks to the discovery of these long-lost radio shows we can once again listen to Basil Rathbone and Nigel Bruce at the top of their acting ability portraying the world's most famous detective and his loyal companion.
Text Copyright 2013 World Memories, LLC - All Rights Reserved. Reproduction is prohibited.
 
SHOWS LIST
39-11-06 Sherlock Holmes - Bruce-Partington Plans
44-05-15 Sherlock Holmes - Adventure Of The Missing Bloodstain
44-05-22 Sherlock Holmes - Adventure Of The Superfluous Pearl
44-06-19 Sherlock Holmes - Twisted Lip
45-03-26 Sherlock Holmes - The Book of Tobit
45-04-02 Sherlock Holmes - The Amateur Mendicant Society
45-04-09 Sherlock Holmes - The Viennese Strangler
45-04-23 Sherlock Holmes - The Notorious Canary Trainer
45-04-30 Sherlock Holmes - Unfortunate Tobacconist
45-05-07 Sherlock Holmes - The Purloined Ruby
45-05-14 Sherlock Holmes - On the Flanders
45-05-17 Sherlock Holmes - The Speckled Band - Hardwick
45-05-21 Sherlock Holmes - The Paradol Chamber
45-09-03 Sherlock Holmes - The Limping Ghost
45-09-10 Sherlock Holmes - Colonel Warburtons Madness
45-09-17 Sherlock Holmes - Out of Date Murder
45-09-24 Sherlock Holmes - The Eyes of Mr Leyton
45-10-01 Sherlock Holmes - Problem of Thor Bridge
45-10-08 Sherlock Holmes - The Vanishing Elephant
45-10-15 Sherlock Holmes - The Manor House Case
45-10-22 Sherlock Holmes - The Great Gandolfo
45-10-29 Sherlock Holmes - Murder in the Moonlight
45-11-05 Sherlock Holmes - The Fifth of November
45-11-12 Sherlock Holmes - The Speckled Band
45-11-19 Sherlock Holmes - Double Zero
45-11-26 Sherlock Holmes - Accidental Murderess
45-12-03 Sherlock Holmes - Murder in the Casbah
45-12-10 Sherlock Holmes - A Scandal in Bohemia
45-12-17 Sherlock Holmes - The Second Generation
45-12-24 Sherlock Holmes - Night Before Christmas
45-12-31 Sherlock Holmes - Case of the Iron Box
46-01-07 Sherlock Holmes - Hampton Heath Killer
46-01-14 Sherlock Holmes - Murder Beyond the Mountains
46-01-21 Sherlock Holmes - Tell tale Pigeon Feathers
46-01-28 Sherlock Holmes - Sweeney Todd, Demon Barber
46-02-04 Sherlock Holmes - The Indiscretion of Mr Edwards
46-02-11 Sherlock Holmes - The Guileless Gypsy
46-02-18 Sherlock Holmes - The Camberwell Poisoning Case
46-02-25 Sherlock Holmes - Murder at the Opera
46-03-04 Sherlock Holmes - The Submarine Caves
46-03-11 Sherlock Holmes - The Living Doll
46-03-18 Sherlock Holmes - Blarney Stone
46-03-25 Sherlock Holmes - Girl with the Gazelle
46-04-01 Sherlock Holmes - April Fools Adventure
46-04-08 Sherlock Holmes - Disappearing Scientists
46-04-15 Sherlock Holmes - Mystery of the Headless Monk
46-04-22 Sherlock Holmes - Tankervile Club Scandal
46-04-29 Sherlock Holmes - The Waltz of Death
46-05-06 Sherlock Holmes - The Man with the Twisted Lip
46-05-13 Sherlock Holmes - Uneasy Chair
46-05-20 Sherlock Holmes - Haunting of Sherlock Holmes
46-05-27 Sherlock Holmes - Baconian Cipher
THESE ARE REGULAR AUDIO CD
CAN BE PLAYED IN ANY CD PLAYER, DVD PLAYER OR COMPUTERS
CLICK HERE TO LEARN MORE ABOUT OUR PRODUCTS
We guarantee delivery of your item. If your item doesn't get there or is damaged, please notify us and we'll reship for you.
FULL REFUND IF NOT SATISFIED
Item number
OTR-26CDA-SherlockHolmesRB
Currently there are no reviews available for this product. Be the first to write a review.