FREE SHIPPING USA ONLY. International Customers: Please add international shipping: http://m.onesmedia.com/category/313432
CRIME CLASSICS Volume 2
OLD TIME RADIO - 13 AUDIO CD - 25 Shows
Total Playtime: 12:25:25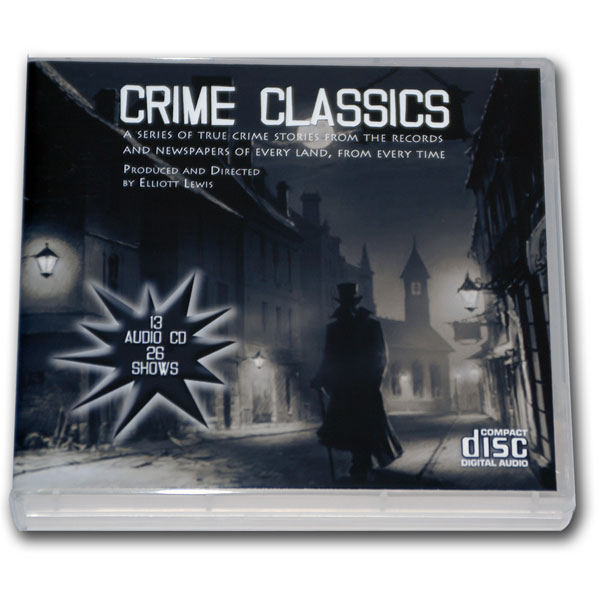 Crime Classics came to CBS September 30, 1953 and was a neat little series of "true crime stories". This show introduces itself succinctly: "A series of true crime stories from the records and newspapers of every land, and from every time. Your host each week, is Mr. Thomas Hyland -- connoisseur of crime, student of violence, and teller of murders. " Thomas Hyland is played by Lou Merrill, although you'd never know it was an "actor" doing the part. The great Elliott Lewis, actor, producer and director of Suspense, Broadway is my Beat and On Stage is in charge of this very intelligent and enjoyable show. Composer Bernard Herrmann duplicated authentic music of the era being dramatized, and Morton Fine and David Friedkin were the writers. Lewis and his writers collected and developed true crime stories expressly for Crime Classics.Thomas Hyland's delivery is measured and mild-mannered, as if giving a college lecture. Would that all professors were this interesting! The actors in the stories themselves are uniformly. Sensitive orchestral scores by the great Bernard Hermann, who did Orson Welles' Mercury Theater Radio show and then Alfred Hitchcock's films, give the stories sophistication and mood. So do the tasteful sound effects. There is a wry, cool-blooded tone to the proceedings.Cases ranged from seventeenth-century murder to the assassination of Abraham Lincoln. Each and every story, however bizarre, is actually based on fact. For example, the show on the Younger Brothers of the American West has some very interesting background details concerning Quantrell's Raiders and the Kansas Jayhawks. In the story of "John Hayes, his Head, and How They Were Parted," we hear the tale of a glassblower who blows glass perfectly and completely surrounding the severed head of a unknown deadman. Then it is placed in a museum where it remained pending identification. Thus his killers were found out by the dead man, using his head.This show is a good companion to other old time radio shows that are historically-oriented, such as Cavalcade of America, You Are There, and American Trail. For science and research, the shows Science Magazine of the Air and Adventures in Research are very good.
Information for this description came from John Dunning's "Tune In Yesterday The Ultimate Encyclopedia of Old-Time Radio"
THESE ARE REGULAR AUDIO CD
CAN BE PLAYED IN ANY CD PLAYER, DVD PLAYER OR COMPUTERS
THIS COLLECTION WILL BE DELIVERED IN A BOX SET WITH ART WORK
We guarantee delivery of your item. If your item doesn't get there or is damaged, please notify us and we'll reship for you.
FULL REFUND IF NOT SATISFIED
SHOWS LIST
CD 1
54-01-06 (27) The Younger Brothers
54-01-13 (28) How Supan Got The Hook Outside Bombay
CD 2
54-01-20 (29) Madeline Smith, Maid or Murderess
54-01-27 (30) The Boorn Brothers & the Hangman
CD 3
54-02-03 (31) The Incredible History of John Shepard
54-02-10 (32) Twenty-Three Knives Against Caesar
CD 4
54-02-17 (33) Jean Baptiste Troppmann
54-02-24 (34) The Good Ship Jane
CD 5
54-03-03 (35) Roger Nems
54-03-10 (36) The Tiger & Brad Ferguson
CD 6
54-03-17 (37) Old Sixtoes
52-12-03 (Audition) The Crime Of Bathsheba Spooner
CD 7
54-03-31 (39) Robby Boy Balfour
54-04-07 (40) A General's Daughter
CD 8
54-04-14 (41) James Evans, Fireman
54-04-21 (42) Cesare Borgia - His Most Difficult Murder
CD 9
54-04-28 (43) Widow Magee & The Three Gypsies
54-05-05 (44) Bunny Baumler
CD 10
54-05-12 (45) Mr. Clarke's Skeleton in Mr Aram's Closet
54-05-26 (46) The Lethal Habit of Marquise De Brinvilliers
CD 11
54-06-02 (47) Mr. Jonathon Jewett
54-06-09 (48) The Assassination of Leon Trotsky
CD 12
54-06-16 (49) The Death of a Baltimore Birdie & Friend
54-06-23 (50) Ali Pasha - A Turkish Delight
CD 13
54-06-30 (51) Good Evening, my Name is Jack The Ripper
Elliott Lewis Biography
Item number
OTR-13CDA-CrimeClassics2
Currently there are no reviews available for this product. Be the first to write a review.