FREE SHIPPING USA ONLY. International Customers: Please add international shipping: http://m.onesmedia.com/category/313432
THE LIVES OF HARRY LIME Volume 2
OLD TIME RADIO - 13 AUDIO CD - 26 Shows
Total Playtime: 12:11:22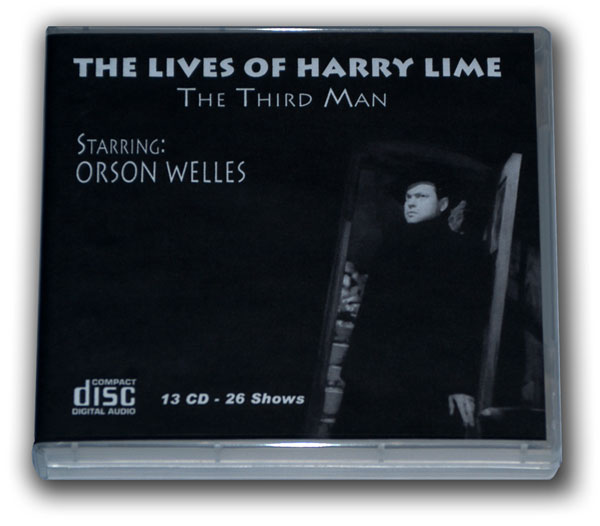 The Adventures of Harry Lime (broadcast in the United States as The Lives of Harry Lime) was an old-time radio program produced in London, England during the 1951 to 1952 season.

Orson Welles reprised his role of Harry Lime from the celebrated 1949 film adaptation of Graham Greene's novel The Third Man. The radio series is a "prequel" to the film, and depicts the many misadventures of con-artist Lime in a somewhat lighter tone than the character's villainy in the film.

Most episodes would begin with "The Third Man Theme" being played, abruptly cut off by an echoing gunshot. Then Welles would speak: "That was the shot that killed Harry Lime. He died in a sewer beneath Vienna, as those of you know who saw the movie The Third Man. Yes, that was the end of Harry Lime ... but it was not the beginning. Harry Lime had many lives ... and I can recount all of them. How do I know? Very simple. Because my name is Harry Lime."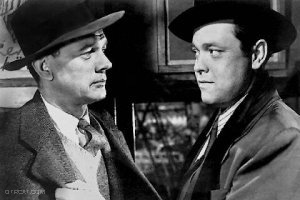 Although often cited as a BBC production, the series was one of a number produced and distributed independently by the prolific Harry Alan Towers. Only sixteen of the episodes were acquired and broadcast by the BBC in the UK. It was the first time that the BBC broadcast episodes of a dramatic series that it did not produce. The full series was syndicated to radio stations in the U.S.
THESE ARE REGULAR AUDIO CD
CAN BE PLAYED IN ANY CD PLAYER, DVD PLAYER OR COMPUTERS
THIS COLLECTION WILL BE DELIVERED IN A BOX SET WITH ART WORK
We guarantee delivery of your item. If your item doesn't get there or is damaged, please notify us and we'll reship for you.
FULL REFUND IF NOT SATISFIED
SHOWS LIST
CD 1
52-02-01 (27) Dark Enchantress
52-02-08 (28) Earl on Troubled Waters
CD 2
52-02-15 (29) Dead Candidate
52-02-22 (30) It's in the Bag
CD 3
52-02-29 (31) Hyacinth Patrol
52-03-07 (32) Turnabout Is Foul Play
CD 4
52-03-14 (33) Violets, Sweet Violets
52-03-21 (34) Faith, Lime, and Charity
CD 5
52-03-28 (35) Pleasure Before Business
52-04-04 (36) Fool's Gold
CD 6
52-04-11 (37) Man of Mystery
52-04-18 (38) The Painted Smile
CD 7
52-04-25 (39) Harry Joins the Circus
52-05-02 (40) Suzie's Cue
CD 8
52-05-09 (41) Vive Le Chance
52-05-16 (42) Elusive Vermeer
CD 9
52-05-23 (43) Murder on the Riviera
52-05-30 (44) Pearls of Bohemia
CD 10
52-06-06 (45) A Night in a Harem
52-06-13 (46) Blackmail Is a Nasty Word
CD 11
52-06-20 (47) The Professor Regrets
52-06-27 (48) The Hard Way
CD 12
52-07-04 (49) Paris Is Not the Same
52-07-11 (50) Honeymoon
CD 13
52-07-18 (51) The Blue Caribou
52-07-25 (52) Greek Meets Greek
Item number
OTR-13CDA-LivesOfHarryLime2
Currently there are no reviews available for this product. Be the first to write a review.