FREE SHIPPING USA ONLY. International Customers: Please add international shipping: http://m.onesmedia.com/category/313432
LIFE WITH LUIGI Volume 2
OLD TIME RADIO - 12 AUDIO CD - 24 Shows
Total Playtime: 11:52:44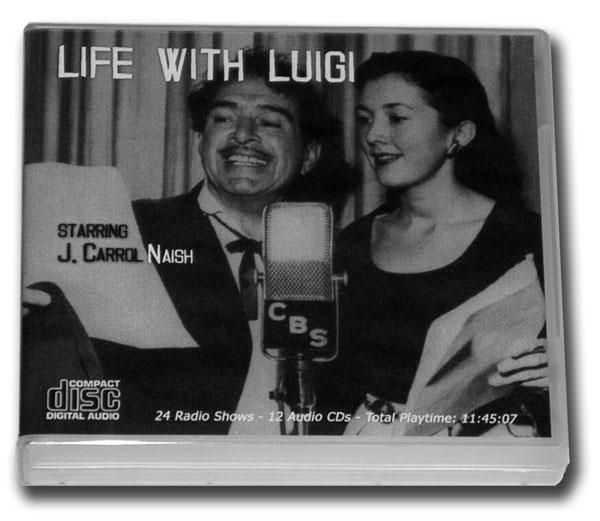 Life With Luigi was a radio comedy-drama series which began September 21, 1948 on CBS Radio, with the final episode broadcast on March 3, 1953.

The story concerned Italian immigrant Luigi Basco, and his experiences as an immigrant in Chicago. Many of the shows take place at the English classes that Luigi attends with other immigrants from different countries, as well as trying to fend off the repeated advances of the morbidly-obese daughter of his landlord/sponsor. Luigi was played by J. Carrol Naish, an Irish-American actor.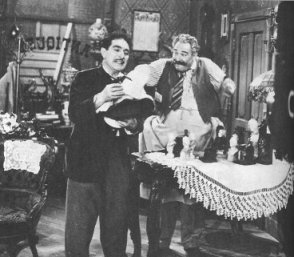 Beginning on September 22, 1952, Naish continued the role on the short-lived CBS Television version and was later replaced by Vito Scotti when the series was briefly revived in the spring of 1953. With a working title of The Little Immigrant, the TV version of Life with Luigi was created by Cy Howard, who earlier had created the hit radio comedy, My Friend Irma. Other characters on the radio show included Pasquale (Alan Reed), another Italian-American who was always trying to set Luigi up with his daughter Rosa, and Shultz (Hans Conreid), a German immigrant and fellow student in Luigi's citizenship class.

The show was sometimes regarded as the Italian counterpart to the radio show The Goldbergs, which chronicled the experience of Jewish immigrants in New York City.
THESE ARE REGULAR AUDIO CD
CAN BE PLAYED IN ANY CD PLAYER, DVD PLAYER OR COMPUTERS
THIS COLLECTION WILL BE DELIVERED IN A BOX SET WITH ART WORK
We guarantee delivery of your item. If your item doesn't get there or is damaged, please notify us and we'll reship for you.
FULL REFUND IF NOT SATISFIED
SHOWS LIST
CD 1
49-06-05 At The Racetrack
49-06-12 Papa's Coat Pocket
CD 2
49-06-19 Pasquale's Birthday Party
49-06-26 Life Insurance Policy
CD 3
49-07-03 July 4th Parade
49-07-10 The Registered Letter
CD 4
49-07-17 At the Beach
49-07-24 Homesick
CD 5
49-07-31 X- Ray Pictures
49-08-07 A Date with Shirley
CD 6
49-08-14 Sore Thumb
49-08-21 The Driver's License
CD 7
49-08-28 Go West, Young Man
49-09-04 Hit and Run Witness
CD 8
49-09-11 Luigi Tries to Become a Singer
49-09-18 Midget Radio Lawsuit
CD 9
49-09-25 Block Party
49-09-27 Stock Investments
CD 10
49-10-04 Luigi Throws a Party at the Store
49-10-11 Columbus Day Play
CD 11
49-10-25 The Zoning Commission
49-11-01 Football Game
CD 12
49-11-08 No Electioneering
49-11-22 Thanksgiving Celebration
Item number
OTR-12CDA-LifeWithLuigi2
Currently there are no reviews available for this product. Be the first to write a review.