FREE SHIPPING USA ONLY. International Customers: Please add international shipping: http://m.onesmedia.com/category/313432
MR. AND MRS. NORTH Volume 1
OLD TIME RADIO - 29 Radio Shows - 13 Audio CDs - Total Playtime: 13:32:45

Mr. and Mrs. North are fictional American amateur detectives. Created by Frances and Richard Lockridge, the couple were featured in a series of 26 Mr. and Mrs. North novels, a Broadway play, a motion picture and several radio and television series.

Mr. and Mrs. North was a radio mystery series that aired on CBS from 1942 to 1954. Alice Frost and Joseph Curtin had the title roles when the series began in 1942. Publisher Jerry North and his wife Pam lived in Greenwich Village at 24 St. Anne's Flat. They were not professional detectives but simply an ordinary couple who stumbled across a murder or two every week for 12 years. The radio program eventually reached nearly 20 million listeners.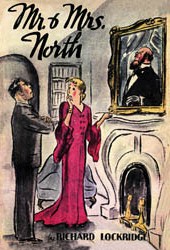 In 1946, Mr. and Mrs. North received the first Best Radio Drama Edgar Award from the Mystery Writers of America (in a tie with CBS's Ellery Queen). The CBS Radio program, which was broadcast once in 1941 and continuously from 1942 to 1955, featured Carl Eastman (1941), Joseph Curtin (1942-54) and Richard Denning (1954-55) as Jerry North. Pam North was played by Peggy Conklin (1941), Alice Frost (1942-54) and Barbara Britton (1954-55). In his book, Radio Crime Fighters, Jim Cox wrote that the couple:

... who passed themselves off as a publisher and his homemaker-spouse continued to make lighthearted wisecracks as they stepped over bodies in dark alleys and were rendered unconscious by unknown assailants dispensing blows to the head almost every week... The feminine half of the twosome was at least equal to the husband in solving cases that often baffled law-enforcement officers with years of training and practice—except in reading clues. No explanation was given, of course, as to why a couple of misfits could be so successful in their preoccupation while the professionals thrashed about ineffectually."
SHOWS LIST
CD 1
42-12-30 Picnic
43-02-03 Russian Restaurant Murder
CD 2
43-03-03 Murder by the Book
43-06-02 Death Takes a Holiday
CD 3
43-08-25 Missing Sparkler Frontline Theatre
43-10-06 The Norths Buy a Letter
CD 4
44-01-26 Pam Takes a Message
44-02-02 The Norths Go to the Dogs
CD 5
44-03-01 The Norths Run Out of Gas
44-04-12 The Little Man Who Wasn't There
CD 6
44-05-24 The Norths are Invited to Murder
44-07-19 The Norths Get Wired for Sound
CD 7
44-08-02 Pam Pops a Question
44-08-09 Pam Stays Out of Trouble
CD 8
44-09-06 Murder by the Book
44-10-11 The Norths Discover C. Columbus
CD 9
45-01-17 Frisbie Proves His Point
46-02-27 An Invitation to Murder
CD 10
47-07-08 Fool's Gold
47-07-15 Milkman's Ring
CD 11
47-12-09 Call Me Choo Choo
50-01-03 Accidents on the Ice Rink
50-03-07 Dime a Dance
CD 12
50-09-05 Million Dollar Murder
50-12-05 Pretty Hands Couldn't Do It
51-01-30 Charles Wyatt Murder
CD 13
51-10-16 Who Killed Mr. Stefano
52-03-04 TCOT Heavenly Body
52-03-11 Cry Wolf
THESE ARE REGULAR AUDIO CD
CAN BE PLAYED IN ANY CD PLAYER, DVD PLAYER OR COMPUTERS
CLICK HERE TO LEARN MORE ABOUT OUR PRODUCTS
We guarantee delivery of your item. If your item doesn't get there or is damaged, please notify us and we'll reship for you.
FULL REFUND IF NOT SATISFIED
Item number
OTR-13CDA-MrAndMrsNorth1
Currently there are no reviews available for this product. Be the first to write a review.