FREE SHIPPING USA ONLY. International Customers: Please add international shipping: http://m.onesmedia.com/category/313432
THE SAINT Volume 1
OLD TIME RADIO - 12 AUDIO CD - 24 Shows
Total Playtime: 10:59:14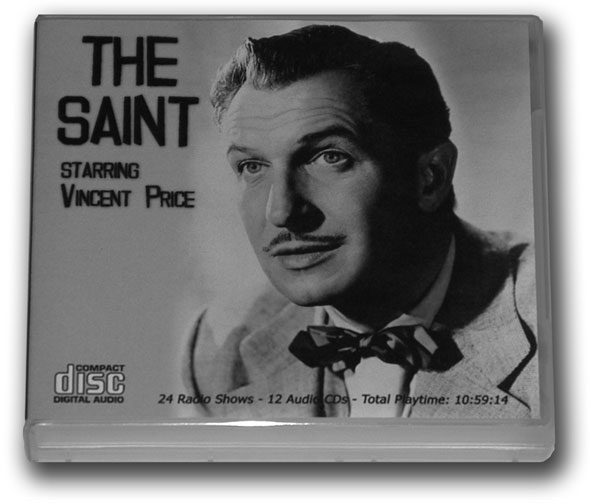 The Saint was first brought to life on the radio in 1940 by Terence De Marney (aka Terrance De Marney) on Radio Athlone. It was then a five-year wait before NBC picked up the option, and featured Edgar Barrier as Simon Templar, alias The Saint. Later in 1945, Brian Aherne took over the role when the show switched over to CBS. Then in 1947, probably the most famous Radio Saint of all-time, Vincent Price, added his golden voice to the role. Vincent Price was once quoted as saying the most difficult thing about the show was coming up with new and unique ways to get conked on the head. After a large number of episodes, Price finally left and his replacement Barry Sullivan only lasted a few episodes before the show was cancelled. It was resurrected due to public demand, with Vincent Price returning to save the day. In 1951, Tom Conway (George Sanders' brother), of The Falcon fame, played The Saint for the last few episodes, with Lawrence Dobkin stepping in for a single episode when Conway was unavailable. Between 1953 and 1957, Tom Meehan starred as The Saint on Springbok Radio in South Africa (in English) with fresh adaptations of the original Charteris stories. It wasn't until 1995 that the Saint returned to radio with new episodes, with Paul Rhys portraying The Saint in three scripts taken directly from the orginal Charteris stories.
THESE ARE REGULAR AUDIO CD
CAN BE PLAYED IN ANY CD PLAYER, DVD PLAYER OR COMPUTERS
THIS COLLECTION WILL BE DELIVERED IN A BOX SET WITH ART WORK
We guarantee delivery of your item. If your item doesn't get there or is damaged, please notify us and we'll reship for you.
FULL REFUND IF NOT SATISFIED
SHOWS LIST
CD 1
47-10-01 Murder on High Seas Aka Color Blind
47-10-15 Gangster District Attorney
CD 2
47-10-29 Greed Causes Murder
47-12-17 Saint Goes Underground
CD 3
47-12-24 Nineteen Santa Clauses
48-03-03 Case of Unhappy Homicide
CD 4
48-05-26 Case of Blond Who Lost Her Head
50-01-08 Cake That Killed
CD 5
50-01-22 Case of Lonesome Slab
50-04-30 Murder of a Champion
CD 6
50-06-11 Sinister Sneeze
50-06-18 A Sonata for Slayers
CD 7
50-07-02 A Real Gone Guy
50-07-09 Problem of Peculiar Payoff
CD 8
50-07-16 Follow Leader
50-07-23 Frightened Author
CD 9
50-07-30 Case of Previewed Crime
50-08-06 Corpse Said Ouch
CD 10
50-08-13 Dossier on a Damsel in Distress
50-08-27 Cupid and Corpse
CD 11
50-09-03 Baseball Murder
50-09-10 Horrible Hamburger
CD 12
50-09-17 Ghost That Giggled
50-09-24 Dossier on a Doggone Dog
 
Item number
OTR-12CDA-Saint1
Currently there are no reviews available for this product. Be the first to write a review.