FREE SHIPPING USA ONLY. International Customers: Please add international shipping: http://m.onesmedia.com/category/313432
21st PRECINCT Volume 2
OLD TIME RADIO - 12 AUDIO CD - 24 Shows - Total Playtime: 11:09:09
21st Precinct broadcast from July 7th 1953 through November 1st 1956 on the CBS network.
21ST PRECINCT was a very dramatic police drama. CBS decided to use New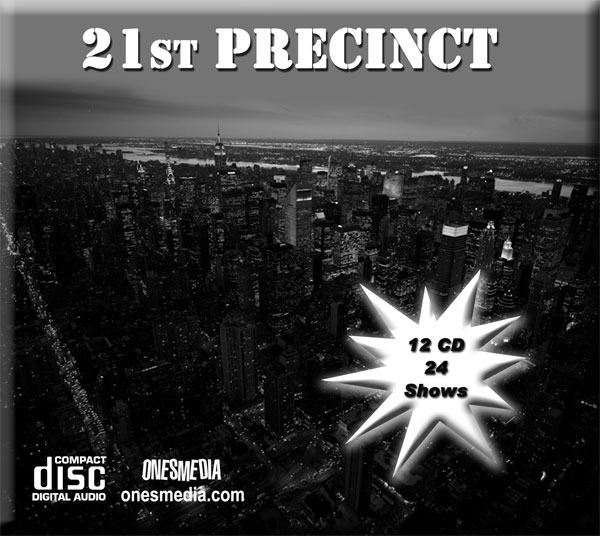 York City as the backdrop for this series and to focus on the happenings in an actual police precinct. The premise was to put the listener into the drama from the opening phone call until the final report was written.
The 21st was described as 'just lines on a map of the city of New your. Most of the 173,000 people wedged into the nine-tenths of a square mile between Fifth Avenue and the East River wouldn't know

if you asked them that they lived or worked in the 21st. The detail was made up of '160 patrolmen, eleven sergeants, and four lieutenants, under the command of one captain - Frank Kennelly. It was mentioned in each episode's closing that , "21st Precinct is presented with the official cooperation of the Patrolmen's Benevolent Association an organization of more than 20,000 members of the Police Department, City of New York."
The Captain was the primary character and also acted as the narrator. Three actors played the Captain's role: Everett Sloane as Kennelly for the first 109 episodes and returned briefly in episode 135., James Gregory as Vincent Cronin for episode 109-144, and Les Damon as Thomas Keough starting in episode 145 through the remainder of the series.. In supporting roles was Ken Lynch as Lt. Matt King and Harold Stone as Sgt. Waters. Santos Ortega appeared frequently as Lt. Patrick "Red" Gorman.
Ninety-two episodes are in circulation for this series. It is generally believed that they were all recorded off the air by one collector as they were broadcast. However, many episodes appear to have been circulating independently of one another in the early 1970s. Several dealer catalogs from that period list them for sale, stating 'dubbed from the original transcription disks'.
SHOWS LIST
CD 1
54-01-20 The Visitors
54-01-27 The Kid
CD 2
54-02-03 The Baker
54-02-10 Case Of The Drive
CD 3
54-02-24 The Cure
54-03-03 The Door
CD 4
54-03-24 The Package
54-04-07 The Collar
CD 5
54-04-14 The Brother
54-04-28 The Story
CD 6
54-05-05 The Cabinet
54-05-12 The Dollar
CD 7
54-05-19 The Day
54-05-26 The Father
CD 8
54-06-02 The Needle
54-06-09 The Book
CD 9
54-06-16 The Sprinter
54-06-23 The Will
CD 10
54-06-30 The Red Tiger
54-07-07 The Mover
CD 11
54-07-14 The Shotgun
54-07-21 The Ledge
CD 12
54-07-28 The DOA
54-08-04 The Job
THESE ARE REGULAR AUDIO CD
WILL PLAY IN ANY CD PLAYER, DVD PLAYER OR COMPUTERS
THIS COLLECTION WILL BE DELIVERED IN A BOX SET WITH ART WORK
CLICK HERE TO LEARN MORE ABOUT OUR PRODUCTS
We guarantee delivery of your item. If your item doesn't get there or is damaged, please notify us and we'll reship for you.
FULL REFUND IF NOT SATISFIED
Item number
OTR-12CDA-21Precinct2
Currently there are no reviews available for this product. Be the first to write a review.