FREE SHIPPING USA ONLY. International Customers: Please add international shipping: http://m.onesmedia.com/category/313432
THE ADVENTURES OF SAM SPADE Volume 2
OLD TIME RADIO - 12 AUDIO CD - 24 Shows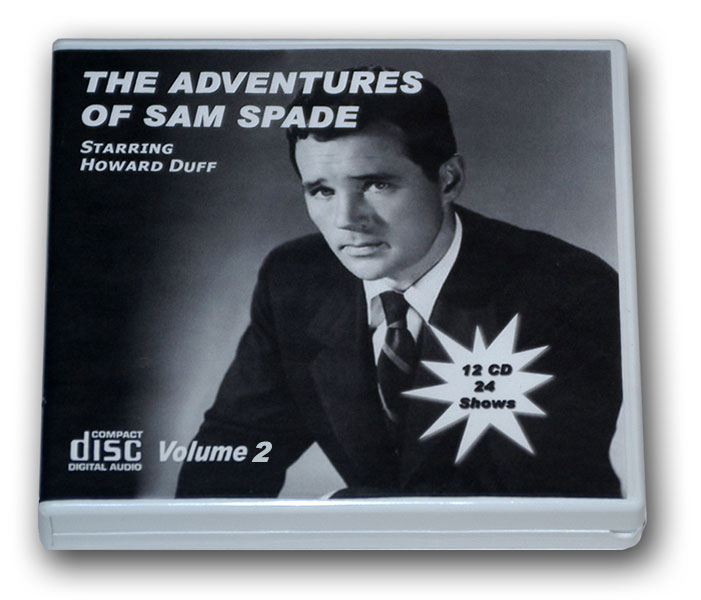 The Adventures of Sam Spade was a radio series based loosely on the private detective character Sam Spade, created by writer Dashiell Hammett for The Maltese Falcon. The show ran for 13 episodes on ABC in 1946, for 157 episodes on CBS in 1946-1949, and finally for 51 episodes on NBC in 1949-1951. The series starred Howard Duff (and later, Steve Dunne) as Sam Spade and Lurene Tuttle as his secretary Effie, and took a considerably more tongue-in-cheek approach to the character than the novel or movie. The series was largely overseen by producer/director William Spier. In 1947, scriptwriters Jason James and Bob Tallman received an Edgar Award for Best Radio Drama from the Mystery Writers of America.
Before the series, Sam Spade had been played in radio adaptations of The Maltese Falcon by both Edward G. Robinson (in a 1943 Lux Radio Theater production) and by Bogart himself (in a 1946 Academy Award Theater production), both on CBS.

Dashiell Hammett's name was removed from the series in the late 1940s because he was being investigated for involvement with the Communist Party. Later, when Howard Duff's name appeared in the Red Channels book, he was not invited to play the role when the series made the switch to NBC in 1950.
THESE ARE REGULAR AUDIO CD
CAN BE PLAYED IN ANY CD PLAYER, DVD PLAYER OR COMPUTERS
THIS COLLECTION WILL BE DELIVERED IN A BOX SET WITH ART WORK
We guarantee delivery of your item. If your item doesn't get there or is damaged, please notify us and we'll reship for you.
FULL REFUND IF NOT SATISFIED
EPISODES LIST
CD 1
The SQP Caper - 48-11-07
The Quarter-Eagle Caper - 48-11-28
CD 2
The Bouncing Betty Caper - 48-12-12
The Betrayal in Bumpass Hell Caper- 49-01-16
CD 3
The Love Letter Caper - 49-03-27
The Stopped Watch Caper - 49-04-10
CD 4
Edith Hamilton - 49-04-17
The Battles of Belvedere - 49-05-01
CD 5
The Red Ampola Caper - 49-05-21
The Honest Thief Caper - 49-05-28
CD 6
The Overjord Caper - 49-06-05
The Apple of Eve Caper - 49-06-19
CD 7
The Queen Bee Caper - 49-07-10
The Tears of Night Caper- 49-07-24
CD 8
The Champion Caper - 49-08-07
The Prodigal Daughter Caper - 49-08-28
CD 9
The Indian Caper - 49-09-25
The Cheesecake Caper - 49-11-06
CD 10
The Flopsy Mopsy & Cottontail Caper- 49-12-04
The Honest Thief Caper - 50-05-13
CD 11
The Red Amapola Caper - 50-05-18
The Farmer's Daughter - 50-09-13
CD 12
The Caper Over My Dead Body - 50-11-17
The Terrified Turkey Caper - 50-11-24
 
Item number
OTR-12CDA-SamSpade2
Currently there are no reviews available for this product. Be the first to write a review.