FREE SHIPPING USA ONLY. International Customers: Please add international shipping: http://m.onesmedia.com/category/313432
THE CBS RADIO MYSTERY THEATER
OLD TIME RADIO - 5 DVD - 1592 mp3 - Total Playtime: 1176:28:55
 
Includes all 1399 Episodes, plus 84 rebroadcasts with Himan Brown as host, and a bonus disc with 109 episodes of the best of SUSPENSE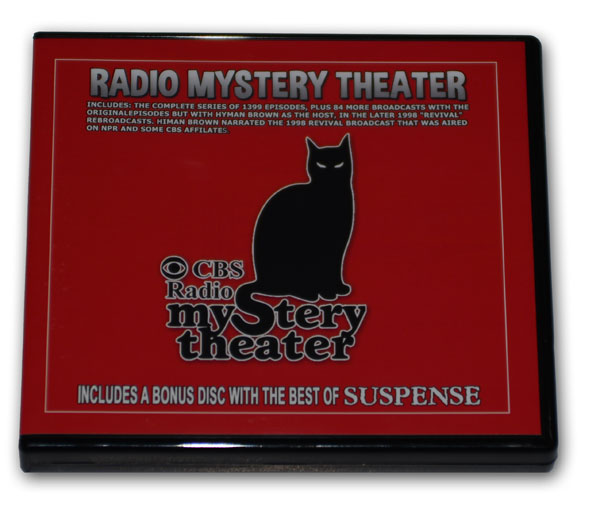 The CBS Radio Mystery Theater was an ambitious effort by veteran radio producer Himan Brown to revive interest in American radio drama. Every night host E. G. Marshall (later Tammy Grimes) ushered listeners through a creaking door -- similar to the one Brown used on Inner Sanctum decades earlier -- for an hour of "the fear you can hear."
Brown produced nearly 200 new episodes of Mystery Theater every year, using both original scripts and adaptations of classic stories by Edgar Allen Poe, Mark Twain, Robert Louis Stevenson and Sir Arthur Conan Doyle.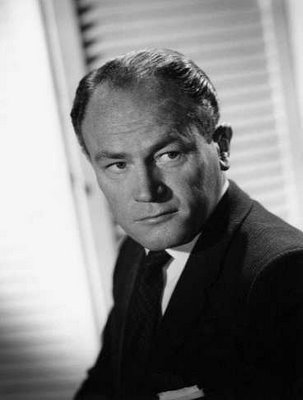 The Mystery Theater brought many veterans from radio's golden age back before the microphone, including Agnes Moorehead, Richard Widmark, Celeste Holm, Mercedes McCambridge and Howard daSilva. The show also featured performances from many up-and-coming stage and film actors, including Tony Roberts, John Lithgow, Morgan Fairchild, Mandy Patinkin and Sarah Jessica Parker.

 
E. G. Marshall died on August 24, 1998.
The CBS Radio Mystery Theater was inducted into the Radio Hall of Fame in 1990.
THESE ARE MP3 DVD RECORDING
WILL NOT PLAY IN REGULAR CD PLAYERS INCLUDING mp3 CD PLAYERS
This DVD will play in your computer.  You can, also, upload the mp3 files to your ipod or itune and finally you can burn CD from your favorite shows and play them in you home or car mp3 CD player.
CLICK HERE TO KNOW MORE ABOUT mp3
CLICK HERE TO LEARN MORE ABOUT OUR PRODUCTS
We guarantee delivery of your item. If your item doesn't get there or is damaged, please notify us and we'll reship for you.
FULL REFUND IF NOT SATISFIED
Item number
OTR-5DVD-MysteryRadioTheaterCase
Considering how impossible it would be to find all 1,399 free episodes on the Internet, this 4-DVD mp3 collection is really an EXCELLENT deal! Before discovering this DVD set here on Amazon, I had spent countless hours searching for downloadable episodes, and after literally weeks of searching, I managed to find only about 350 episodes. I really had no idea there were nearly 1,400 episodes available! Now as far as the actual episodes are concerned, I have determined the following statistics. Keep in mind however, I of course have not \"listened\" to all 1,399 episodes, but I am merely making a general assessment from listening to about 100 of the episodes so far. For even if I listened to one episode per day, it would still take me close to 4 YEARS to listen to them all! (Quite the bargain when you consider the price). Anyway, I transferred all 1,399 episodes onto my computer and then arranged them by \"duration\" (track length). (This can be done on a Windows computer by: Right-clicking within the folder containing the mp3 tracks, then selecting \"View\" then \"Details\", then right-clicking on the displayed \"details menu bar\" and adding \"Duration\" as an additional column). I immediately noticed that the tracks varied in length from about 40-60 minutes. I later learned that this is because some shows have had all the newsbreaks & commercials edited out, and others have left some, or evan ALL of them in (which would be the full/original 1-hour show). So, if you enjoy the \"nostalgic factor\" of listening to the old-time news briefs (at the beginning of the show), plus the 3-5 commercial breaks, then you will want to load your MP3 player with the tracks that are only 47 MINUTES AND LONGER. But, if you want to listen to the SHOW ONLY, (with NO interruptions), then you will want to load your MP3 player with the tracks that are only 46 MINUTES AND SHORTER. Again, this is just a general assessment, for it would take a lot of listening to determine an \"exact\" dividing line. Therefore, according to the above figures, there are \'around\' 271 shows that CONTAIN a varied mixture of news and/or commercials... and around 1,128 shows that are FREE from all news/commercial breaks. I honestly can\'t imagine someone editing out all the news/commercial breaks from over 1,100 episodes, but to whomever did this, THANK YOU!! I say this because even though the nostalgic factor of listening to the mid-70\'s news briefs & commercials is initially very interesting, I must admit that after awhile, it becomes more of a minor annoyance than anything, especially the long commercial interruptions between each of the \"3 acts\" of a great suspense story. But that is just my own opinion, for I can definitely still appreciate the nostalgic value of a mid-70\'s news break. Plus, a previous reviewer mentioned that the volume level differs between shows, in some cases quite dramatically...this is true. But there is a free program available that can solve this problem. This program will \"level-out\" all the tracks to a customizable db level (listening volume). Mind you, the program does NOT alter the original track\'s frequency data/code whatsoever, but merely analyzes and levels-out the entire track to a specific volume (db) level. (This is a great program for your MP3 music collection as well, in which it will level-out your large mp3 collections to a equal listening volume). Just do a Google search for: \"Soundforge mp3 Gain\"...it should be the first hit, located at \"soundforge. net\". I\'ve been using the program for over 4 years now, and even sent a $5 PayPal donation to the programmer, for it has been a great mp3 tool for an audio enthusiast like myself. I have found that adjusting these 1,399 old tracks to 95.5db works well, and about 92.5db seems to be a nice \"non-aggressive\" \"sweet spot\" for all your other mp3 music. The difference being is that these old-time radio tracks are sometimes \"muffled\" recordings, so they are better heard at a higher db level. You can pretty much ignore the \"clipping\" warning at these suggested db levels, for it is a VERY \"sensitive\" warning, and would be extremely difficult for the human ear to detect any difference in the sound quality. The clipping warning could simply mean that 1/100th of a second of a single frequency spike got slightly clipped...which is not a big deal, even for an hard-core audiophile like myself. With all that said about this program, if you use it, I would humbly suggest processing only about 150 of these very long radio tracks at a time between computer reboots. For to batch-process all 1,399 tracks at once (which is a whopping 14GB of total data) would be a MASSIVE project for a computer\'s limited RAM to handle all at once. But, every computer is different, so it\'s just a suggestion. ;) Anyway, I hope this information was helpful.
---