FREE SHIPPING USA ONLY. International Customers: Please add international shipping: http://m.onesmedia.com/category/313432
HORROR ON THE ROAD
OLD TIME RADIO - 12 AUDIO CD - 24 Shows
Total Playtime: 10:36:43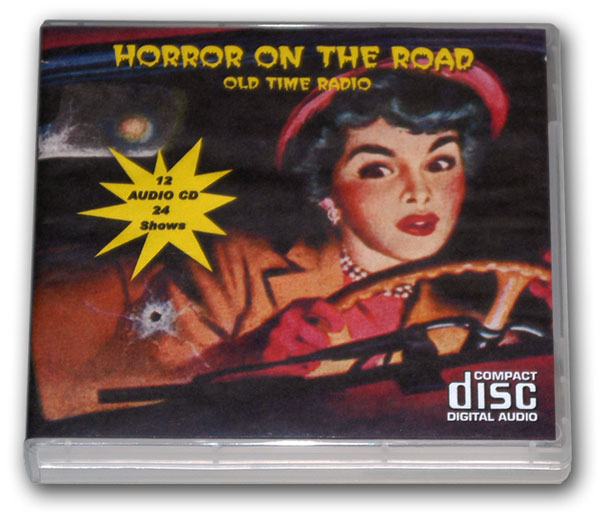 A great collection of the best Old Time Radio on the road horror stories. Includes legendary actors like Gregory Peck in The Lonely Road and Hich-Hike Poker, Orson Welles in The Hitch-Hiker, and Cary Grant in On A Country Road. Enjoy, and re-live what people was listening in the Golden Age of Radio. Old-Time Radio (OTR) and the Golden Age of Radio refer to a period of radio programming in the United States lasting from the proliferation of radio broadcasting in the early 1920s until television's replacement of radio as the dominant home entertainment medium in the 1950s. During this period, when radio was dominant and the airwaves were filled with a variety of radio formats and genres, people regularly tuned in to their favorite radio programs. In fact, according to a 1947 C. E. Hooper survey, 82 out of 100 Americans were found to be radio listeners.
THESE ARE REGULAR AUDIO CD
CAN BE PLAYED IN ANY CD PLAYER, DVD PLAYER OR COMPUTERS
THIS COLLECTION WILL BE DELIVERED IN A BOX SET WITH ART WORK
We guarantee delivery of your item. If your item doesn't get there or is damaged, please notify us and we'll reship for you.
FULL REFUND IF NOT SATISFIED
SHOWS LIST
Disc 1
Calling All Cars 35 12 18 Corpse By The Road
Dark Fantasy 42-03-20 Pennsylvania Turnpike
Disc 2
Suspense 42-09-02 The Hitch-Hiker with Orson Welles
Tonight At Nine Thirty 45-03-30 The Road To Decosel
Disc 3
Whistler 45-07-09 Highway of Escape
Suspense 46-03-21 The Lonely Road with Gregory Peck
CD 4
Boston Blackie 47-05-28 The Ghost Of Florence Newton
Suspense 48-09-16 Hitch-Hike Poker with Gregory Peck
CD 5
Inner Sanctum 49-06-06 Death on the Highway
Screen Directors Playhouse 49-10-10 Criss Cross
CD 6
Inner Sanctum 50-04-17 Beneficiary Death
Inner Sanctum 52-08-31 Strange Passenger
CD 7
Inner Sanctum 52-09-21 The Corpse Nobody Loved
Whistler 53-12-27 Lonely Highway
CD 8
Casey, Crime Photographer 54-01-13 The Road Angel
Gang Busters 55-04-02 Roger Kessel Shot By Hitchhikers
CD 9
Suspense 55-07-19 Backseat Driver
CBS Radio Workshop 57-03-17 The Endless Road
CD 10
CBS Radio Workshop 57-09-01 Grief Drives a Black Sedan
True Detective Mystery 58-06-08 Hitchhiking Pyscho
CD 11
Suspense 59-01-18 Ride Down Cajon
Suspense 59-05-10 On A Country Road with Cary Grant
CD 12
Suspense 60-01-31 End Of The Road
Suspense 62-07-15 Snow on 66
Item number
OTR-12CDA-HorronOnTheRoad
Currently there are no reviews available for this product. Be the first to write a review.