FREE SHIPPING USA ONLY. International Customers: Please add international shipping: http://m.onesmedia.com/category/313432
CHRISTMAS FAVORITES Volume 3
OLD TIME RADIO - 12 AUDIO CD - 24 Shows - Volume 3
Total Playtime: 11:34:22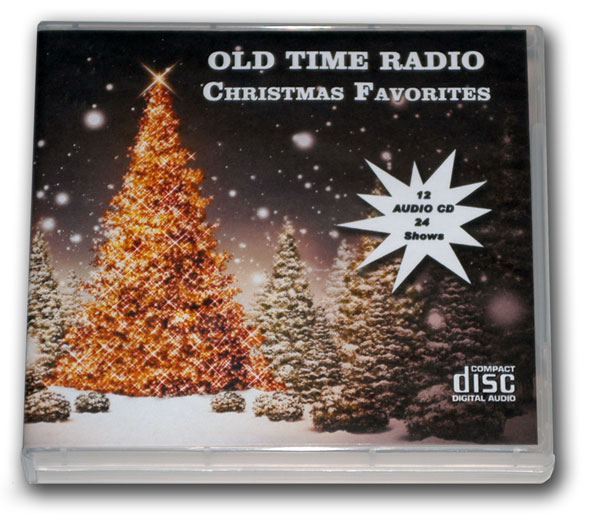 A great collection of the best Old Time Radio Christmas Shows. Enjoy, and re-live what people was listening in the Golden Age of Radio. Old-Time Radio (OTR) and the Golden Age of Radio refer to a period of radio programming in the United States lasting from the proliferation of radio broadcasting in the early 1920s until television's replacement of radio as the dominant home entertainment medium in the 1950s. During this period, when radio was dominant and the airwaves were filled with a variety of radio formats and genres, people regularly tuned in to their favorite radio programs. In fact, according to a 1947 C. E. Hooper survey, 82 out of 100 Americans were found to be radio listeners.
THESE ARE REGULAR AUDIO CD
CAN BE PLAYED IN ANY CD PLAYER, DVD PLAYER OR COMPUTERS
THIS COLLECTION WILL BE DELIVERED IN A BOX SET WITH ART WORK
We guarantee delivery of your item. If your item doesn't get there or is damaged, please notify us and we'll reship for you.
FULL REFUND IF NOT SATISFIED
SHOWS LIST
Aldrich Family 481223 Christmas Program
Amos and Andy 51-12-23 Andy Plays Santa Claus
Boston Blackie 48-12-22 Stolen Rings At Christmas
Burns and Allen Show 47-12-18 Gracie's Last Minute Christmas Gift
Casey Crime Photographer - 461219 Christmas Shopping
Cavalcade of America 441225 America for Christmas
Chesterfield Show 411224 Christmas Show
Columbia Workshop 461221 The Day They Gave Babies Away
Family Theater 53-12-23 Ruth
Fibber McGee And Molly 46-12-24 Fixing Toys the Day Before Christmas
Great Gildersleeve 47-12-24 Leroys Christmas Dog
Honest Harold 1950-12-20 Childrens Christmas Party
Jack Benny Program 48-12-19 Jack Buys a Wallet for Don as Christmas Gift
Jimmy Durante Show 481224 Problems With Christmas Dinner With Rose Marie
Life of Riley 44-12-17 The Christmas Present
Lone Ranger 48-12-24 Christmas Comes to Sandy
Lux Radio Theater 471222 Miracle on 34th Street
Milton Berle Show 47-12-23 Salutes Christmas
Mysterious Traveler 511225 Christmas Story
Night Beat 511221 (073) Five Days off for Christmas
Norman Corwin 421224 The Plot To Overthrow Christmas
Philco Radio Time 46-12-25 Skitch Henderson and the Charioteers
Red Skelton 501224 Christmas Show
Rocky Fortune 53-12-22 The Plot To Murder Santa Claus
Item number
OTR-12CDA-ChristmasFavorites3
Currently there are no reviews available for this product. Be the first to write a review.