FREE SHIPPING USA ONLY. International Customers: Please add international shipping: http://m.onesmedia.com/category/313432
CHRISTMAS FAVORITES Volume 2
OLD TIME RADIO - 12 AUDIO CD - 24 Shows - Volume 2
Total Playtime: 11:34:57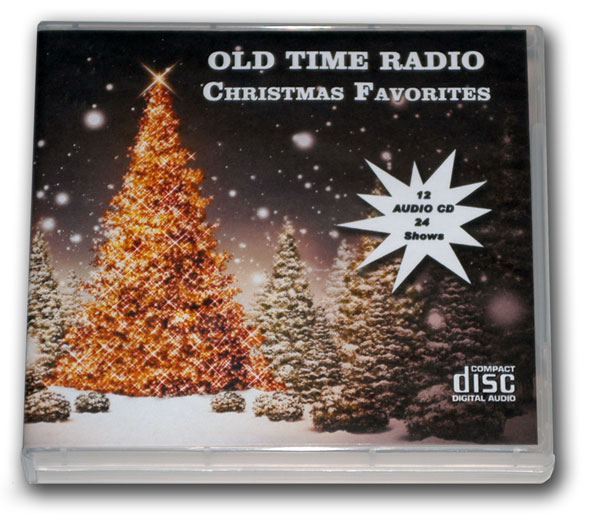 A great collection of the best Old Time Radio Christmas Shows. Enjoy, and re-live what people was listening in the Golden Age of Radio. Old-Time Radio (OTR) and the Golden Age of Radio refer to a period of radio programming in the United States lasting from the proliferation of radio broadcasting in the early 1920s until television's replacement of radio as the dominant home entertainment medium in the 1950s. During this period, when radio was dominant and the airwaves were filled with a variety of radio formats and genres, people regularly tuned in to their favorite radio programs. In fact, according to a 1947 C. E. Hooper survey, 82 out of 100 Americans were found to be radio listeners.
THESE ARE REGULAR AUDIO CD
CAN BE PLAYED IN ANY CD PLAYER, DVD PLAYER OR COMPUTERS
THIS COLLECTION WILL BE DELIVERED IN A BOX SET WITH ART WORK
We guarantee delivery of your item. If your item doesn't get there or is damaged, please notify us and we'll reship for you.
FULL REFUND IF NOT SATISFIED
SHOWS LIST
Abbott & Costello 47-12-24 Christmas Program
Bing Crosby Show 471224 Christmas Show
Burns and Allen Show 43-12-21 Playing Santa Claus
Capeharts Christmas Show 491225 - Lionel Barrymore
Challenge of the Yukon 48-12-22 The Man with the Red Coat
Doctor Sixgun 54-12-19 A Pony for Christmas
Family Theater 52-12-17 Crossroads of Christmas
Fibber McGee And Molly 45-12-18 White Christmas Tree
Great Gildersleeve 46-12-18 Leroy Wants a Motor Scooter
Henry Morgan Show 461225 Christmas Story
Jack Benny Program 44-12-24 Trimming a Tree
Jack Carson Show 46-12-18 Kids Record
Judy Canova 46 12 21 A Quiet Christmas Party
Let George Do It 50-12-25 Santa Claus in Glass
Lights Out 371222 A Christmas Story
Mel Blanc 461224 Mel Plays Santa Claus
Nick Carter 43 12 25 Nick Carter Carter's Christmas Adventure
Phil Harris and Alice Faye 491218 City Hall Xmas Tree
Radio City Playhouse 491225 The Night Before Christmas
Richard Diamond 49 12 24 A Christmas Carol
Rogers Of The Gazette 1953-12-23 A White Christmas In Illyria
Sherlock Holmes 45-12-24 Rathbone & Bruce - Night Before Christmas
Suspense 551220 629 The Cave
The Shadow 401222 Joey's Christmas Story
Item number
OTR-12CDA-ChristmasFavorites2
Currently there are no reviews available for this product. Be the first to write a review.