FREE SHIPPING USA ONLY. International Customers: Please add international shipping: http://m.onesmedia.com/category/313432
CHRISTMAS FAVORITES Volume 1
OLD TIME RADIO - 12 AUDIO CD - 24 Shows - Volume 1
Total Playtime: 11:54:58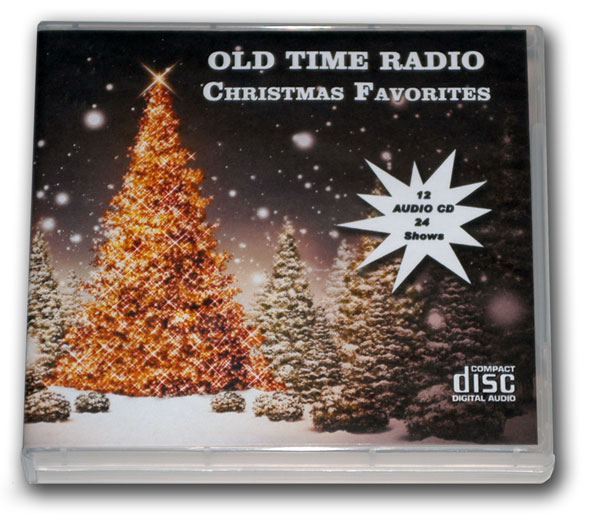 A great collection of the best Old Time Radio Christmas Shows. Enjoy, and re-live what people was listening in the Golden Age of Radio. Old-Time Radio (OTR) and the Golden Age of Radio refer to a period of radio programming in the United States lasting from the proliferation of radio broadcasting in the early 1920s until television's replacement of radio as the dominant home entertainment medium in the 1950s. During this period, when radio was dominant and the airwaves were filled with a variety of radio formats and genres, people regularly tuned in to their favorite radio programs. In fact, according to a 1947 C. E. Hooper survey, 82 out of 100 Americans were found to be radio listeners.
THESE ARE REGULAR AUDIO CD
CAN BE PLAYED IN ANY CD PLAYER, DVD PLAYER OR COMPUTERS
THIS COLLECTION WILL BE DELIVERED IN A BOX SET WITH ART WORK
We guarantee delivery of your item. If your item doesn't get there or is damaged, please notify us and we'll reship for you.
FULL REFUND IF NOT SATISFIED
SHOWS LIST
CD 1
Abbott & Costello 45-12-20  Lou's Christmas Party
Big Town 48-12-21 - Prelude To Christmas
CD 2
Burns & Allen 47-12-25 Gracies Christmas Party
The Whistler 50-12-24 Three Wise Guys 
CD 3
Doctor Christian 38-12-20 Danny Gets Married
Exploring The Unknown 47-12-21 The Christmas Cloud
CD 4
Falcon 50-12-24 Unwelcome Christmas Present
Family Theater 49-12-14 The Other Wise Man
CD 5
Fibber McGee & Molly 44-12-19 Early Christmas Presents
Great Gildersleeve 44-12-24 Twas the Night Before Christmas 
CD 6
Have Gun Will Travel 58-12-21 Hanging Cross
Jack Benny 43-12-26 Christmas at Jack's House
CD 7
Lux Radio Theater 47-03-10 It's a Wonderful Life  
Calling All Detectives 48-12-24 Too Many Santas  
CD 8
Mayor of the Town 42-12-24 A Christmas Carol
Nero Wolfe 50-12-22 The Slaughtered Santas 
CD 9
Our Miss Brooks 50-12-24 Magic Christmas Tree
Phil Harris & Alice Faye 48-12-26 Broken Christmas 
CD 10
Radio City Playhouse 49-12-25 Twas the Night Before Christmas
Red Skelton 46-12-24 Christmas Stories
CD 11
The Saint 50-12-24 Santa Claus is No Saint
Tales of the Texas Rangers 50-12-24 Christmas Present
CD 12
Lum & Abner 41-12-25 Traditional Christmas Story
Yours Truly, Johnny Dollar 551219-23 The Nick Shurn Matter
Item number
OTR-12CDA-ChristmasFavorites1
Currently there are no reviews available for this product. Be the first to write a review.