FREE SHIPPING USA ONLY. International Customers: Please add international shipping: http://m.onesmedia.com/category/313432
THE WHISTLER Volume 1
OLD TIME RADIO - 12 AUDIO CD - 24 Shows - Volume 1 - Total Playtime: 10:46:37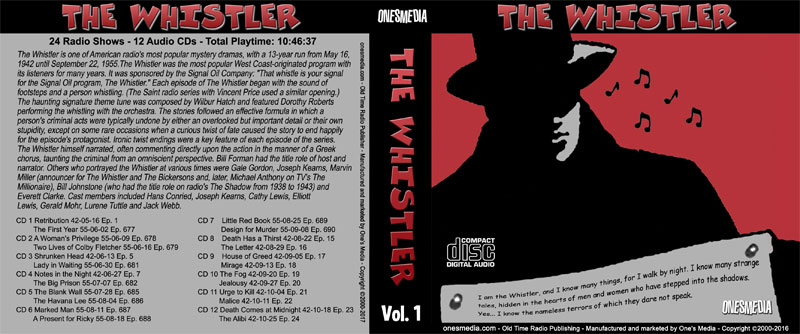 The Whistler is one of American radio's most popular mystery dramas, with a 13-year run from May 16, 1942 until September 22, 1955.The Whistler was the most popular West Coast-originated program with its listeners for many years. It was sponsored by the Signal Oil Company: "That whistle is your signal for the Signal Oil program, The Whistler."

Characters and story

Each episode of The Whistler began with the sound of footsteps and a person whistling. (The Saint radio series with Vincent Price used a similar opening.) The haunting signature theme tune was composed by Wilbur Hatch and featured Dorothy Roberts performing the whistling with the orchestra.


The stories followed an effective formula in which a person's criminal acts were typically undone by either an overlooked but important detail or their own stupidity, except on some rare occasions when a curious twist of fate caused the story to end happily for the episode's protagonist. Ironic twist endings were a key feature of each episode of the series. The Whistler himself narrated, often commenting directly upon the action in the manner of a Greek chorus, taunting the criminal from an omniscient perspective.


Bill Forman had the title role of host and narrator. Others who portrayed the Whistler at various times were Gale Gordon, Joseph Kearns, Marvin Miller (announcer for The Whistler and The Bickersons and, later, Michael Anthony on TV's The Millionaire), Bill Johnstone (who had the title role on radio's The Shadow from 1938 to 1943) and Everett Clarke. Cast members included Hans Conried, Joseph Kearns, Cathy Lewis, Elliott Lewis, Gerald Mohr, Lurene Tuttle and Jack Webb.

Writer-producer J. Donald Wilson established the tone of the show during its first two years, and he was followed in 1944 by producer-director George Allen. Other directors included Sterling Tracy and Sherman Marks with final scripts by Joel Malone and Harold Swanton. A total of 692 episodes were produced, of which over 200 no longer have copies in existence. In 1946, a local Chicago version of The Whistler with local actors aired Sundays on WBBM, sponsored by Meister Brau beer.
THESE ARE REGULAR AUDIO CD
CAN BE PLAYED IN ANY CD PLAYER, DVD PLAYER OR COMPUTERS
THIS COLLECTION WILL BE DELIVERED IN A BOX SET WITH ART WORK
We guarantee delivery of your item. If your item doesn't get there or is damaged, please notify us and we'll reship for you.
FULL REFUND IF NOT SATISFIED
SHOWS LIST
CD 1
Retribution 42-05-16 Ep. 1
The First Year 55-06-02 Ep. 677
CD 2
A Woman's Privilege 55-06-09 Ep. 678
Two Lives of Colby Fletcher 55-06-16 Ep. 679
CD 3
Shrunken Head 42-06-13 Ep. 5
Lady in Waiting 55-06-30 Ep. 681
CD 4
Notes in the Night 42-06-27 Ep. 7
The Big Prison 55-07-07 Ep. 682
CD 5
The Blank Wall 55-07-28 Ep. 685
The Havana Lee 55-08-04 Ep. 686
CD 6
Marked Man 55-08-11 Ep. 687
A Present for Ricky 55-08-18 Ep. 688
CD 7
Little Red Book 55-08-25 Ep. 689
Design for Murder 55-09-08 Ep. 690
CD 8
Death Has a Thirst 42-08-22 Ep. 15
The Letter 42-08-29 Ep. 16
CD 9
House of Greed 42-09-05 Ep. 17
Mirage 42-09-13 Ep. 18
CD 10
The Fog 42-09-20 Ep. 19
Jealousy 42-09-27 Ep. 20
CD 11
Urge to Kill 42-10-04 Ep. 21
Malice 42-10-11 Ep. 22
CD 12
Death Comes at Midnight 42-10-18 Ep. 23
The Alibi 42-10-25 Ep. 24
 
Item number
OTR-12CDA-Whistler1
Currently there are no reviews available for this product. Be the first to write a review.