FREE SHIPPING USA ONLY. International Customers: Please add international shipping: http://m.onesmedia.com/category/313432
OLD TIME RADIO FOR CHILDREN Volume 1
OLD TIME RADIO - 12 mp3 AUDIO CD - 1375 Shows - Volume 1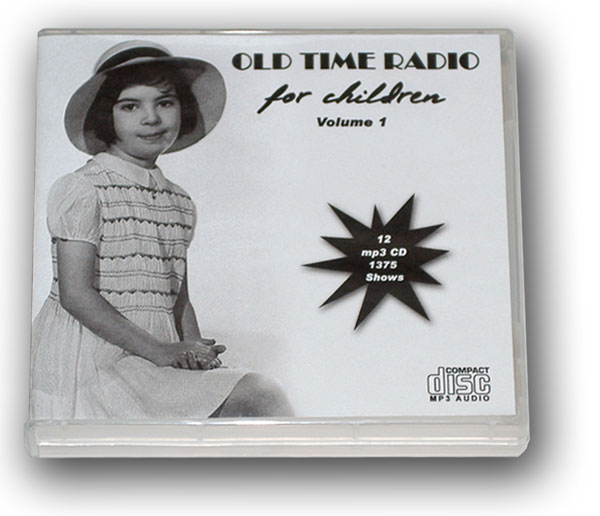 INTRODUCE OLD TIME RADIO TO THE 21st CENTURY CHILDREN
Old-Time Radio (OTR) and the Golden Age of Radio refer to a period of radio programming in the United States lasting from the proliferation of radio broadcasting in the early 1920s until television's replacement of radio as the dominant home entertainment medium in the late 1950s. During this period, when radio was dominant and the airwaves were filled with a variety of radio formats and genres, people regularly tuned in to their favorite radio programs. In fact, according to a 1947 C. E. Hooper survey, 82 out of 100 Americans were found to be radio listeners. Children were among them. In this Old Time Radio collection some of the more popular children show of all genres, as Adventure, Sci-Fi and Christmas time stories.
PLEASE READ HOW TO LISTEN TO THESE CDs
THESE ARE MP3 CD RECORDINGS
THEY WILL NOT PLAY IN REGULAR CD PLAYERS
You will need CD players that read mp3 files.
Here some of the more popular mp3 players:
Coby, Memorex, Panasonic, Philips, Sony and many more. Be sure you buy a model that support mp3 files.
You can upload the files in ipods like Apple Ipod, Sansa and 100's more.
Many new car CD players reads mp3, again check your player first.
Many new home DVD players and virtually every Blu Ray reads mp3 files, please check your manual. Finally you can use your computer. If you're reading this web page, you already have everything you need to listen this mp3 CD
THESE CD WILL BE DELIVERED IN WHITE PAPER SLEEVE
We guarantee delivery of your item. If your item doesn't get there, or it's damaged, please notify us and we'll reship for you.
FULL REFUND IF NOT SATISFIED
SHOWS LIST
CD 1
Air Adventures Jimmie Allen 92 mp3 Total Playtime: 17:08:50
CD 2
Big John and Sparkie 97 mp3 Total Total Playtime: 18:06:49
CD 3
Captain Midnight 134 mp3 Total Playtime: 30:12:01 
CD 4
Cinnamon Bear 28 mp3 28 mp3 Total Playtime: 6:32:34 
CD 5
Fire Fighters 140 mp3 Total Playtime: 28:12:08
CD 6
The Cruise Poll Parrot 39 mp3 Total Playtime: 7:42:48 
CD 7
Jack Armstrong, the all American Boy 94 mp3 Total Playtime: 21:19:19 
CD 8
Jerry of the Circus and Fair Oaks 193 mp3 Total Playtime: 46:46:00
CD 9
Magic Island 130 mp3 Total Playtime: 25:09:56 
CD 10
Space Patrol 100 mp3 Total Playtime: 47:42:05
CD 11
Speed Gibson 178 mp3 Total Playtime: 38:41:56
CD 12
Terry and the Pirates 150 mp3 Total Playtime: 33:55:59
Item number
OTR-12CDA-OTRForChildren1
Currently there are no reviews available for this product. Be the first to write a review.